The referee reached into his pocket and showed Marco Verratti his second yellow card, adding a final nail into Unai Emery's coffin. PSG were in the latter stages of their Champions' League tie, and had almost no hope of qualifying … Read more »
OGC Nice forward Alassane Pléa has become the first Ligue 1 player to follow Juan Mata's example in offering 1% of his annual wage to charity. Le Monde report that this will translate into €14,000 a year, but Pléa has …
Read more »
Speaking in today's press conference ahead of tomorrow's friendly encounter with Colombia, France captain Hugo Lloris was asked about Paul Pogba's current rough patch at Manchester United. "Paul remains a member of our team of great value, he is one …
Read more »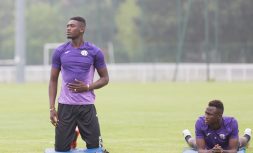 It's springtime in Ligue 1 and for Toulouse FC that can only...
Nathan Staples, Rich Allen and Peter Rutzler talk the Olympique derby, PSG's close call at Nice, Rennes' resurgence and the upcoming friendlies for France.
Following a disciplinary investigation from UEFA in regards to the second leg incidents against Bilbao and CSKA Moscow respectively, Marseille and Lyon run the risk of being sanctioned. This investigation into two of France's major clubs follows fan-related commotion during …
Read more »
"There is only one thing inescapable in life, that is death."...