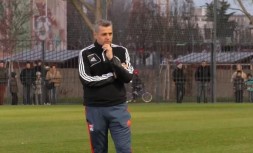 Lost in the shuffle of their bad form and a more...
Atletico Madrid attacker Antoine Griezmann discussed in an interview with RMC the possibility of joining Marseille or Lyon in the future. "Marseille, they have been my club since I was small. Aside from that, I felt close to Lyon, because it …
Read more »
Lyon suffered another loss at the weekend, their fourth in five...
According to L'Équipe, Ligue 1 side Lyon will hold out for €70m to sell want-away striker Alexandre Lacazette in this summer's transfer window. The player confirmed in an interview with Canal Football Club that he believes that now is the right time to …
Read more »
Speaking in an interview with Canal Football Club, Lyon striker Alexandre Lacazette confirmed that he will be seeking to leave the club in the summer. "I think that the right moment has arrived to leave. I think that this summer I …
Read more »
Championship outfit Newcastle United are making a deadline day play for Angers SCO striker Nicolas Pepé, according to our colleagues at L'Équipe. Hull City have already made a €9m offer to try to sign the Ivorian international, but that bid has …
Read more »