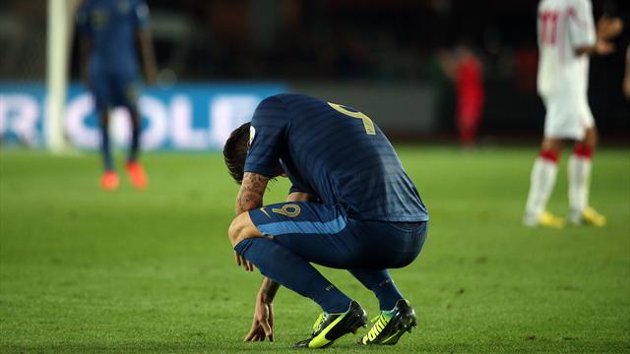 French Player Ratings vs Georgia
Following France's damaging 0-0 draw in Georgia, we take a closer look at the individual performances of 'Les Bleus:'
Hugo Lloris: 7/10
Lloris didn't have much to do at all, but he made a brilliant save at the beginning of the second half which could potentially have saved his side the embarrassment of losing the match. He was his usual confident self, and kept a good clean sheet.
Eric Abidal: 6/10
The 33 year old had an average game today. He was not afraid to join the attack, but when he did his delivery was often wayward. Solid in defence though.
Bacary Sagna: 6/10
The Arsenal defender had a decent game today – his delivery was better than usual and his defence was accomplished as normal. Had a very good chance saved at the death by Loria though, which could have made a big difference.
Laurent Koscielny: 5/10
Sagna's clubmate was not troubled in defence, but the problems were at the other end of the pitch. Twice in the last 10 minutes he should have done much better with two headers, the second of which, from Nasri's free kick, should really have been buried in the back of the net and would surely have won the match for his team.
Patrice Evra: 5/10
Not troubled by the Georgian wingers too much, and eager as ever to get forward. He was, however, guilty of some very lazy challenges when Georgia were counterattacking and, against a more accomplished team, these errors could have been costly. He has clearly lost that extra yard of pace over the last few years.
Moussa Sissoko: 6/10
He won the midfield battle against his Georgian counterparts, which allowed France to control the game, and did the job asked of him well, but lacked imagination going forward. However it is Deschamps, not Sissoko, who should be blamed for his defensive frame of mind.
Josuha Guilavogui: 6/10
The difference when Samir Nasri came on to the pitch was very clear – although Guilavogui was solid in defence, he was devoid of any ideas once he passed the half way line. Domenech made a mistake in starting both Josua and Sissoko.
Franck Ribery: 7.5/10
The only bright spark in an otherwise very dull French performance. Although he was denied space by the Georgian defenders, he still came up with moments of inspiration, and had a few good shots saved by Loria in the Georgian goal.
Mathieu Valbuena: 5/10
Barring a few decent deliveries from set pieces, Valbuena produced very little for his side. Normally the heartbeat of his beloved Marseille side, he was not sharp enough today and was almost lost on the pitch.
Karim Benzema: 3/10
Once again, Benzema did not produce for France. He had a horrible game today, wasting the few chances he had completely. He looked bored on the field and, with performances like that, it is no surprise that he has gone over 20 hours without a goal for Les Bleus. I wonder how long Deschamps will insist on playing him, because it clearly isn't working. Maybe taking him out of the setup for a while will bring his desire back, because he looked completely uninterested today.
Olivier Giroud: 5/10
The form player of this French side was not his usual self today. Whether this was because of an injury or not is unclear, but he was clearly not at his best today. He did, however, have a late chance saved brilliantly by Loria and was clearly better than Benzema throughout.
Substitutes: 
Samir Nasri: 6/10
Changed the game when he came on – France looked a different team in the last 10 minutes.
Andre-Pierre Gignac: 4/10
Came on for Benzema in the 62nd minute, but his presence was barely noticed.
Manager: Didier Deschamps: 3/10
He got his tactics completely wrong today. First of all, he insisted in playing Benzema and Giroud together, which he has done before, and it did not work. It never has! He also played two defensive minded midfielders in Sissoko and Guilavogui, which really prevented France from expressing themselves further forward. As soon as he subbed on a creative player in Nasri, France looked a different side. Deschamps must hold his hand up and say that he got it wrong today.