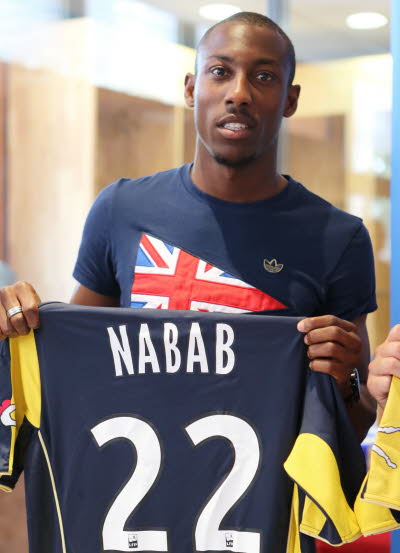 Get French Football News caught up with Arles-Avignon's forward Livio Nabab to talk about his recent move from Caen.
Born: 14th June 1988
Nationality: French, Guadeloupean.
Current Club: AC Arles-Avignon
Previous Clubs: SM Caen, Laval (loan)
Are you happy to have quit Caen for Avignon?
It is a new life that is starting for me. I was set to start my 8th year with Caen and I knew everybody and everything over there is it is a bit sad to leave in truth. It was my choice though. 
If you were happy at Caen why did you leave?
It was time for a change and Arles offered me that chance. So I took it. There were other teams in Ligue 2 and abroad who were interested in me yes. 
You have represented Guadeloupe at an international level. Tell us, is football developing rapidly in that corner of the world?
Unfortunately, football over there is not able to develop into anything more than average. Some of the facilities perhaps lets the country down. I think there are a lot of talented players over there who deserve more than to be playing for a side in Guadeloupe. 
Do you think you can become the greatest ever Guadeloupean player?
The greatest player from Guadeloupe is Lillian Thuram. 
Yes, but he never played for Guadeloupe?
No but he embodies the Guadelopean success story with his career.
Realistically, what can you achieve this season with Guadeloupe and with Arles?
With Guadeloupe, we want to qualify for the next 'Good Cup' and with Arles staying up is a good starting point. From then onwards, why not play for the top half of the table. 
Do you dream to play in Ligue 1?
I have once, but I dream to do it again. With Arles. 
How are you settling in at Avignon?
I am still staying in a hotel (at the time of the interview). It has been just one week for me here in Avignon. 
Thank you very much to Livio for his time. We wish him and Arles all the best for a successful Ligue 2 season.