Get French Football News had the pleasure of asking Ligue 1 outfit Lorient's President Loic Fery a few questions about the club's latest transfer dealings, his hopes for Lorient in the future and why Les Merlus currently stand out from the crowd.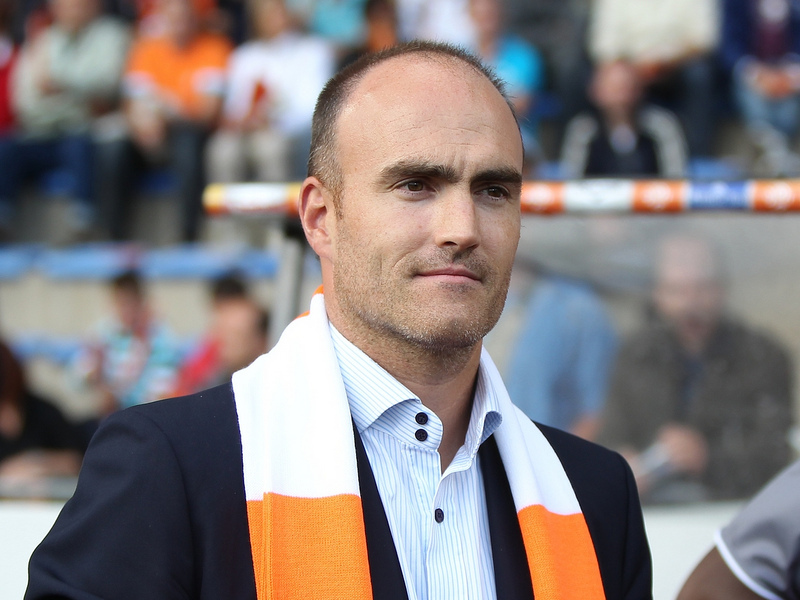 Age: 39 (Born 15th March 1974)
Job: President of FC Lorient
Did you play football as a child and have you always enjoyed it?
I did not play football in a club as a child. The sport I played competitively was tennis. However, I have always enjoyed playing football socially. I ended up playing football in my 20's when I was living in Asia.  
What motivated you to invest in Lorient and why Lorient?
Getting involved in a professional football club was an ambition I already had when I was still in business school. Over the past 10 years, I had several possibilities to step in to develop a football club, not all of them in Ligue 1. However, there were always a specific reason why I did not do it. FC Lorient has been the only one where I felt it was right for me, because I felt I could really bring it something valuable beyond an investment. It was a club that needed a transformation in terms of structure, business model while it has a strong football culture. I felt it was the right mix.   
We understand that you looked at investing in OGC Nice, Sheffield Wednesday, Nimes, Grenoble and others. Why didn't they work out?
I have indeed had discussions with the owners of these clubs over the past 12 years. However to justify involving yourself in a club, you need to be convinced that all the pieces of a complex puzzle are in order, which had never been the case until I got to know FC Lorient.   
 What do you think of the Ligue 1 compared to the Premier League? Can Ligue 1 ever be on par with the Premier League?
Ligue 1 could be on par with Premier League, mainly because there are so mainly top French players "produced" by the French clubs' academies. France has the second most players  represented in the Champions League after Brazil.  If the TV rights of the French Ligue 1 were on par with the Premier League, it would be a different matter entirely. 
Tell us a bit about the financial model that you employ at Lorient. Do you feel your model is a viable way forward for other Ligue 1 clubs and potentially other European leagues?
FC Lorient model is financial stability. We are the only club in France who has not lost money over the past 3 years. I don't think that there are many clubs in Europe who are in the same situation.
What are your views on UEFA's Financial Fair Play regulations?
I think this is a move in the right direction, but in my view it is very unfair on the smaller clubs. These regulations are negative as they "freeze" the respective situation. The big clubs will stay big and the small clubs can no longer really get to the next level, even it they want to invest aggressively in players over a few years.
What are the greatest difficulties in running a top football club?
Combining both the will to sign top players to compete at the highest level and the need to have a balanced budget.
Why did you let Alaixys Romao leave? Surely he is a big loss?
This was his third year at the club. Marseille came to transfer him with a reasonable transfer price for the club. This was also an opportunity for younger players to step in and assume a great role in the squad, such as Lautoa, Reale. Let's also not forget Remi Mulumba who has a long term contract with us who currently plays with Dijon on loan at the moment.
Who do you most admire in the world of football and why?
Admire is too strong a word, but obviously there always business leaders in your industry whom you learn from. David Dein and Arsene Wenger are role models for football club industry leaders.  I am very impressed by managers / owners who have managed to develop their clubs while maintaining a healthy balance sheet. I view a football club as a company that shall operate like any other company.
If money were no object, which players would you love to see playing in a Lorient shirt?
Xavi, Messi and Gameiro
What do you want Lorient to achieve in the coming years?
Consistently end up in Top 10 of the Ligue 1. At some point, we will achieve great things. 
How much of a blow was it to lose Fofana to Manchester City? Is there anything you can do to stop the young talent in Ligue 1 leaving abroad? Was it not too early in the player's development for him to makes such a big move?
We transferred Fofana to Man City. So it was not a blow. When you deal with obviously larger clubs, if they show respect in the transfer price they offer, then we are able to reinvest in other good players. We live in an industry where you can never assume that a player will stay with you forever. 
 Would you ever envisage investing in a Premier League club?
My objective is to keep on developing FC Lorient. Nothing else at the moment.
What is your personal relationship with Christian Gourcuff like? We understand you were the key factor in making him stay?
I guessed that he indeed decided to extend his contract with FC Lorient because I took over the club and showed to him that I had very concrete plans for the club, in both infrastructure investments, players acquisitions and that I would not interfere in the team management.
 Do you agree with the financial model in place at Arsenal compared with the likes of Chelsea and Manchester City?
I think that Arsenal is the most successful club in terms of club management, possibly with Bayern Munich.
Were there any players you tried to bring in in January whom you couldn't agree terms with?
Yes, we tried Lionel Messi but he decided to stay in Barcelona.
Do you agree with several leading football managers that the January transfer window should be scrapped?
I don't have a too firm view on this. It would not hurt to scrap it, but at the same time, I don't think it is a major issue.
Thank you very much to Mr Fery for his time.
A French version of this interview will be available shortly.