Here we look at young players across the globe who we believe have the potential to become the next big thing. Today Nico Faure, an expert on South American football gives detailed insight into Bordeaux's January signing Diego Rolán, the 19 year old delicate goal craftsman from Montevideo.
Rolán moved to Girondins de Bordeaux from Uruguay during the January transfer window, but because of some reoccurring ankle injuries the Uruguayan striker is struggling to show his quality. However he is an undoubtedly talented forward as he shown during the Sudamericano U20's where he had scored 4 goals in 6 games and formed one of the most feared pairings up top of any young national team with Nicolás López, who finished top scorer of the championship with 6 goals. The French side took some risks signing this young South American player; Ligue 1 clubs historically have no real interest in this market. After signing a contract for 4 and a half years until 2017 with Girondins, Dieguito Rolán is set to be the long-term replacement for Yoann Gouffran who left Bordeaux for Tyneside (Newcastle) in the very same window, and in the process leaving the French side with no real centre-forward.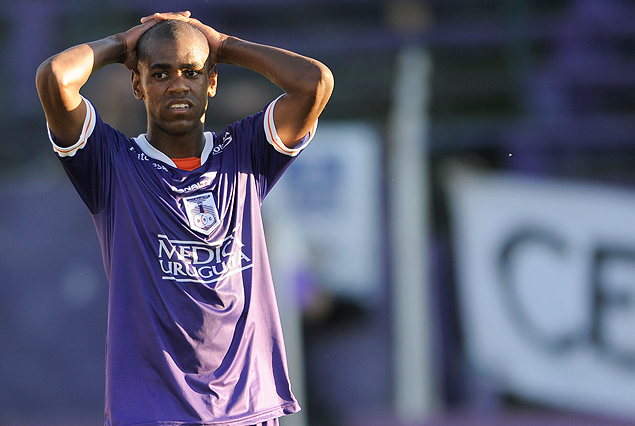 The young Uruguayan can be assured of his new club's belief in his potential, because of the uncharacteristically long-term contract that chairman Jean – Louis Triaud and his coach Francis Gillot offered him. Gillot has confessed that he never actually saw Rolán play and only watched a couple of DVD's of the youngster. Having said this, Bordeaux's scouting team had been watching him for 6 months prior to the deal occurring.
Pace, talent and versatility
When Gillot watched the DVD's of the striker given to him by his scouts he fell in love with the man's talent and has already formulated a plan for him: «He is a player for the future, he can bring something this year but will continue to grow because here we have the staff who are used to getting the best out of our youngsters.» Diego knows what he wants too: «I am here to score goals». Truthfully, he may not play upfront, but his versatility being a big asset of his in his attempts to make the starting XI and for the club. Diego can also play down the wing, but Gillot knows that if he is to make the most of the Uruguayan than he must give him game time up front for Rolán to really impress.
He has the ability to give Girondins something they have been lacking in this season. He can inject some pace and unpredictability into a strong, but slow Bordeaux attack. His first goal at professional level was for Defensor Sporting against Cerro Lago on the 13th of November 2011, an absolute beauty (below). Rolán dribbles past 4 opponents, starting from the middle of the pitch and after a nice one-two with a teammate slots home in front of the fans at the little Antonio Eleuterio Ubilla stadium in Melo.
[youtube_sc url=http://youtu.be/VVU_bUVycmI]
That goal shows the great qualities young Rolán has, but he needs to put in the hours to refine his talent to become one of the best of forwards in Ligue 1. In his country and continent he has already shown what he is capable of and he came to Europe to meet world football's expectations of him.
2012, the breakthrough year
Rolán arrived to Defensor Sporting when he was only eleven years old and made his debut on 8th August 2011 when Defensor played host to Cerrito in Montevideo. Diego was only 18 years old and after great work from the youth the Defensor youth setup, he was able to become an integral part of the team, taking part in 23 games during his first year. He finished that year with just 2, mainly because he was overshadowed by one of his hero's Andrés Fleurquin (the former Rennes player) that year upfront. The year after that he clearly became a vital part of the team under coach Tabaré Silva and returned all the confidence that his coach had in him, scoring 8 goals in 15 games. After that superb start to the season he was obviously called by Juan Verzeri to play the Sudamericano U20 in Argentina. This was his moment to make it big time. He took his chance, scoring 4 goals: twice against Peru, and 1 against Brazil and Venezuela. He was a great success, leading the line for Uruguay next to Nico López to qualification for the next U20's World Cup in Turkey. The striker's dazzling performances were the displays that gave him the chance to move to Europe where he must now confirm that he is one of the Uruguay's greatest talents.
Bordeaux's faith in the 'goleador' is great but so are the expectations; after 4 games with his new side the concerns about his fitness are back. The striker suffered a sprained ankle during as recent defeat to Bastia, the second time he has picked up an injury with his new club. He suffered exactly the same injury against Lyon, same ankle. Incidentally, he suffered the exact same injury in November 2012, his second ankle injury with Defensor. A lot of questions have been raised about the durability of his right foot, could this lethal weapon endure the often-aggressive nature of the French Ligue 1? A question which cannot be answered for the meantime. However, if he can remain fit he could be one of the most prolific players in the league and maybe have a chance to play alongside strikers like Cavani, Suárez or Forlán in a Uruguayan shirt, el celeste.
By Nico Faure