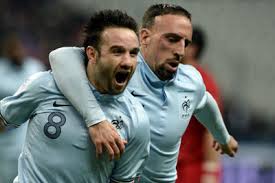 Ribery asked to go to Chelsea!
Monday 26th August:
Today Frank Ribery surprised us all by claiming that Chelsea Manager Mourinho wanted to bring him to England. Ribery, who has no previous experience working with Mourinho, has not fulfilled Mourinho's wishes.
The Frenchman, who currently plays in Champions League winners Bayern Munich, claims that Chelsea's Jose Mourinho wanted to bring him to the 2012 European Champions. Ribery was quoted as saying: 'We often talk… he wanted me to go to Chelsea' in German magazine Kicker. This story came out of the blue as there had previously been no sign of contact between the Blues manager and the French International.