From Thursday 00.00 GMT up until Friday 01.00 GMT follow LIVE, up-to-the-minute and non-stop coverage of Transfer Deadline Day with all the news from the French footballing world on this timeline! GFN France: First for French Football. Manually refresh this page for the latest updates!
23.25 The transfer window is now over and therefore so is this 23 and a half hour coverage. An ever intriguing window comes to end. We would like to thank all our followers and supporters throughout this month. You all make this worthwhile. Remember to keep following us for all the latest transfer speculation in the coming months, there will, without a doubt, be plenty. Plus extensive Champions League, Europa League, Equipe de France and of course Ligue 1 coverage as before. We are so thankful to you for making this your home of French Football and we want it to remain that way. We hope you have enjoyed this January window as much as we did. All the best, the GFN France team.
23.09 Alaixys Romao: 'I gave 100% as a Lorient player but now I join the biggest club in France.'
23.02 OFFICIAL: Saint Etienne have confirmed the signing of Mathieu Bodmer on loan until the end of the season from PSG. The player's contract is out in June.
23.00 The Transfer Window is now CLOSED.
22.53 BREAKING: DONE DEAL: According to our sources Everton have sent attacking midfielder and centre forward Magaye Gueye out on loan to Ligue 1 side Brest until the end of the season. There is a purchase option reportedly as part of the deal, although we're unable to confirm that part.
22.36 I think at this late stage in the window we can rule out moves for Bafetimbi Gomis and Lisandro Lopez for any clubs this month. Lyon will certainly need them in their ongoing fight for the Ligue 1 title.
22.30 Valencia fans will be pleased to know that the Spanish side rejected an approach for their key French central defender Adil Rami from Anzhi today and that the player is going nowhere.
22.27 Theo Walcott has told English press that he feels that Olivier Giroud is 'on fire' at the moment.
22.23 OFFICIAL: Lorient's President confirms the departure of young Fofana to Manchester City and also the arrivals of 3 new players which we had confirmed to you in the last 2 hours.
22.14 Aurelien Chedjou will not be leaving this transfer window but has indicated that he feels he is nearing the end of his time at Lille. He is likely to leave this summer.
22.05 Gaetan Bong is not going anywhere. The strong rumours linking him to Arsenal earlier today have dissipated after it appears Arsenal have signed Monreal. The VAFC full back is staying put.
22.02 Barring a miracle in the Kabore to Lorient loan negotiations, we can confirm that Marseille are finished with this month's transfer dealings.
21.57 BREAKING: DONE DEAL: Deary me Bastia are busy. It appears that they have pulled off a massive coup in signing full back Samuel Inkoom on a 2.5 year contract from Dnipro.
21.54 Francois Marque has terminated his contract with Bastia with immediate effect.
21.48 OFFICIAL: A deal we already confirmed for you late last night, but Evian have officially signed Brazilian Diogo Campos from Atletico Goianiese on loan until the end of the season.
21.47 With Tottenham failing to sign Damiao, does it mean that Lisandro Lopez may be a last minute signing for THFC? We have no information, but anything is possible.
21.42 We believe that Charles Kabore's proposed loan move from Marseille to Lorient is off as both clubs have run out of time to come to a suitable agreement. Just over an hour to go in France before the window officially closes, but you can be sure they'll be some news coming out after that.
21.38 DONE DEAL: Bastia have let go of Salim Moizini who has joined National side Paris FC. The right midfielder terminated his contract with the Corsicans.
21.32 We understand that Younes Belhanda will finally remain with Montpellier. After official confirmation that Fenerbahce had pulled out, MHSC were unable to find another buyer.
21.24 Fofana has said he is 'really very happy with this move.' The midfielder has signed a 3.5 year contract with Manchester City. We understand that Lorient have secured a hefty sell on clause which will see them recuperate 25% of any future sales of the player.
21:15 DONE DEAL: According to Matt Spiro, Manchester City have signed Lorient 17 year old midfielder Seko Fofana. Bright talent. One for the future. The player is said to have turned down a professional contract offer from Ligue 1
21:05 OFFICIAL: Both Rennes and West Ham have confirmed that Alou Diarra has joined the French club until the end of the season.
21:00: A few sources are now claiming that Everton's Magaye Gueye could be on his way to Troyes to sign on loan until the end of the season. This is unconfirmed and the player's whereabouts are currently unknown. The player was linked with a move to Lyon earlier this market.
20:55 Various sources are now claiming that Arsenal are coming back onto Gaetan Bong because negotiations have failed with Nacho Monreal. Doubt it. Seems very unlikely. The player is definitely seem as back up though, in case the move does not go through. The player was close to a move to both Newcastle and West Ham, earlier this month, but it never materialised.
20:52 RE Fofana: A 17 year old defensive midfielder, who has played for the French U18 team. Looks a great star the future. Would possibly be loaned back out of City, if they signed him. Unconfirmed reports at this stage. No appearance for Lorient this season.
20:50 NO DEAL: According to the BBC, Fulham will be signing Eyong Enoh from Ajax before the closing of the transfer window and not Bafetimbi Gomis. Looks unlikely that the Lyon player will leave now.
20:47 BREAKING: CLOSE: France Football are reporting that Manchester City are in talks with Lorient over signing highly rated 17 year old Seko Fofana. More to follow
20:37: We understand that Bolton have resisted Fulham's attempts to sign David NGog and that the club will not be signing the Frenchman. This surely makes Gomis an even larger possibility. We shall wait and see.
20:34: BREAKING: The BBC have announced that Fulham will sign 1 more player before the window closes. Could be Bafetimbi Gomis we understand. We have heard that Lyon are set to sell one key player before the window is out. This makes the final few hours very interesting.
20:32 DONE DEAL: Ajaccio man Dimitri Sarasar has been loaned to Martigues until the end of the season. The 22 year old is said to be unhappy at lack of playing time.
20.27 Monaco's new centre-back Carl Medjani has signed a 3 and a half year deal after making the switch from Ajaccio. Until June 2016.
20.21 OFFICIAL: Artistic image showing two major signings today (Faubert and Beckham):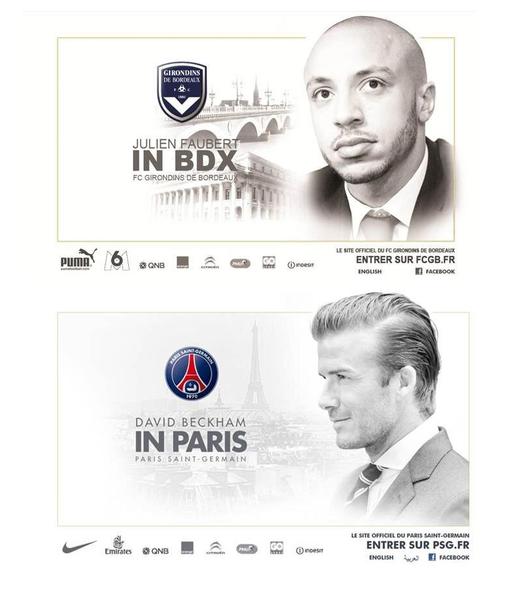 20.14 PSG release image of David Beckham holding his new PSG jersey:
20.10 We have received confirmation from Nice and Bordeaux that the window is over for their respective clubs. However we understand that Sochaux are still trying to make things happen. Time will tell.
20.04 RC Lens will NOT be signing anyone before the window is closed.
19.54 FC Lorient have confirmed the departure of Alaixys Romao to Marseille. The player has signed a contract until June 2016. The fee is undisclosed, but likely to be around €2m we are led to believe.
19.49 DONE DEAL: At the same time, Lorient took the opportunity to announce the loan signing of another man from England, this time from Tottenham, Ryan Mason. The player has played for England U20's and has already previously been loaned from the club 3 times.
19.46 DONE DEAL: Lorient have announced the loan signing of Manchester City's young Ghanian international Mohamed Abu until the end of the season. No option to buy.
19.41 DONE DEAL: Newcastle United have loaned out young Mehdi Abeid to Scottish Premier League side St Johnstone to gain some vital 1st team experience. No option to buy, a bright prospect for the future.
19.24 DONE DEAL: We understand that Lorient have signed Ivorian attacker Tony Koutouan from UAE side Baniyas for a small fee. The player has signed a contract just until the end of the season.
19.22 We understand that a clause in Adrien Rabiot's loan contract with Toulouse means that he cannot face his actual club PSG tomorrow in their Ligue 1 game.
19.19 DONE DEAL: Tours have sent 20 year old attacker Jean-Bryan Boukaka to USBCO on loan until the end of the season.
19.15 Now that Arsenal are set to sign Nacho Monreal, they will certainly not be signing Valenciennes' Gaetan Bong, the left back.
RECAP: Major Unofficial Transfers Today:
Note: We have confirmation that these are done deals, but the respective clubs have not announced it yet.
Mathieu Bodmer (loan) PSG to Saint Etienne
Alou Diarra (loan) West Ham to Rennes
Mamadou Niang (undisc.) Al-Saad to Besiktas
Alaixys Romao (undisc.) Lorient to Marseille
RECAP: Major Confirmed Transfers Today:
Mohammed Sissoko (loan) PSG to Fiorentina
David Beckham (unattached) to PSG
Eden Ben Basat (undisc.) Brest to Toulouse
Emmanuel Riviere (€4m) Toulouse to Monaco
19.02 Re: Romao. We understand that the player's contract with new club Marseille will be for 3.5 years until 2016.
18.55 Emmanuel Riviere's 1st words as a Monaco player: 'I am really happy and proud to arrive at this club Monaco who have a good looking project ahead. This club's attempt to achieve Ligue 1 status once again should happen.'
18.54 According to Sky Sports, Fulham are set to make a last grasp bid for Lyon's Striker Bafetimbi Gomis.
18:52 Belhanda Latest: Time is running out. Montpellier need someone to make a move now, so that everything can be wrapped up in time. Looking less and less likely, but still possible. We will keep you right up to date with all the latest developments on this one.
18:49 NO DEAL: After being linked with the club for some time, it has finally been revealed that Tour man Prince Oniangue will not go to Troyes. Been a reasonably busy day for the Ligue 2 side.
18:46 After the signing of Ben Basat, it appears that the transfer market is over for Toulouse. It is now looking very unlikely that Capoue will leave the club.
18:32 BREAKING CONTACT: According to France Football, Fenerbahce have contacted Marseille over Mathieu Valbuena. The Turkish side had a bid rejected earlier this window, but are said to be ready to step it up to above the five million euro mark. Valbuena is not said to be too keen on a move to Turkey, but that does not mean that the deal can not take place. We shall have to wait and see if there is any movement on this one.
18:29 DONE DEAL: Carquefou have loaned Lille starlet Omar Wade until the end of the season. The player recently finished a fairly successful loan spell at Nantes. Wade is being given vital playing time and experience in order to mold him into the player that some believe that he can become.
18:26 DONE DEAL: Riffi Mandanda, brother of Marseille goalkeeper Steve has moved from Cannes to Compiègne, where he will be first choice and get the playing time he desires.
18:16 OFFICIAL: Bordeaux have confirmed the signing of striker Diego Rolan on four and a half year deal. Bordeaux have announced that they want another striker, but need to act fast to bring one in. They have already ruled out a move for West Ham's Maiga.
18:11 DONE DEAL: Benin international Djiman Koukou has been snapped up by Niort as a free agent, having had a trial at the club for the past two weeks. He has played at Evian.
17.50 BREAKING: DONE DEAL: Julien Faubert, the ex-West Ham United utility player has officially signed a contract with Bordeaux until the end of the season. The player was a free agent.
17.48 Image of David Beckham during his 1st Press Conference as a PSG player (see below for quotes from the conference):
17.46 Valenciennes' manager Daniel Sanchez announces that the window is over for his club suggesting that Nicolas Isimat-Mirin will not leave this window. Still feel there could be movement there. Take that announcement to mean that the club will not be signing anyone.
17.44 After about 2 weeks of it having been done, Sunderland have officially announced the termination of Louis Saha's contract. The player is unlikely to find a new club tonight although he has propositions all over the world.
17.43 An earlier image showing Alou Diarra arrive at Rennes to complete his 6-month loan deal from West Ham:
17.40 Some unrelated transfer news for just a minute. We understand that former PSG manager Antoine Kombouaré has been sacked by his employers Al-Hilal.
17.38 Ex-Marseille Striker Mamadou Niang has arrived in Turkey to become a Besiktas player.
17.34 Reports emerging that Julian Faubert will finally sign for Bordeaux in the coming hours. Unconfirmed.
17.31 BREAKING: DONE DEAL: Brest have announced the sale of talismanic Striker Eden Ben Basat for a fee we believe to be around €3m. The player has signed until 2017.
17.29 Re: Riviere. Details emerging from the Riviere to Monaco deal. The player has signed a contract until 2017. He is reportedly to become one of Monaco's highest earners in the process.
17.27 Marseille's Rod Fanni will NOT be leaving the club today despite an offer from Stoke City.
17.24 BREAKING: DONE DEAL: We can confirm that Fiorentina have completed the signing of Mohammed Sissoko on loan from PSG until the end of the season. There is a €3.5m buyout clause in place meaning the Serie A side can purchase the player for that sum during any point of the loan.
17.23 We understand that Lorient's winger (ex-Arsenal) Giles Sunu is close to moving to Ligue 2 side RC Lens. The Everton winger Magaye Gueye will not be signing.
17.20 David Beckham has said that it feels great to be the 'grandpa of the league' and he will look to advice players if he can. He will wear the number 32 jersey like he did at AC Milan.
17.17 OFFICIAL: Both of Bastia's new signings Beauvue and Faty:
17.03 Lille have rejected a €10m offer from Rubin Kazan for defender Aurelien Chedjou.
17.02 Re: Lopez. We understand that Tottenham have not given up signing Lyon striker Lisandro Lopez. Would have to be a straighforward fee, loan move will not occur.
16:54: DONE DEAL: Monaco have sold defender Eric Marester to Arles-Avignon, as after the arrival of Carl Medjani, he is no longer needed at the club.
16.44 Quotes from David Beckham's unveiling with PSG directly from our twitter:
David #Beckham: 'I have been successful with every club I have played in the world.'

David #Beckham: 'I got offered more offers now than I have ever in my career.'

David #Beckham: 'It is something we have been working towards for quite sometime.'
David #Beckham: 'I haven't spoken much French since I was at school. I'm excited.'
16.39 OFFICIAL: Aston Villa official image of Yacouba Sylla: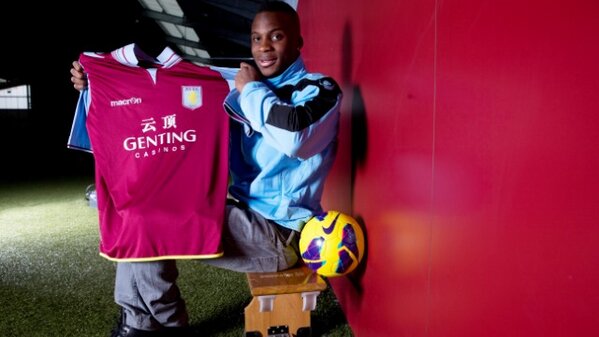 16.25 PSG will absolutely not be signing Marek Hamsik of Napoli this transfer window.
16.22 DONE DEAL: Marseille and Lorient have agreed a suitable price for OM to buy Alaixys Romao the midfielder. The player has in the last minutes agreed personal terms with the club as well. Just the medical left.
16.14 BREAKING DONE DEAL: Mathieu Bodmer has been loaned to Saint-Etienne until the end of the season. The player is out of contract at the end of the season, so if ASSE want I'm sure they will be in pole position to sign him on a free in June.
15.58 BROKEN DOWN: Jimmy Briand's loan move to Monaco has inexplicably broken down at the last minute. The player had everything agreed. We believe that Monaco are freeing up other funds to bring someone else in and have effectively played Lyon and Briand.
15:24 BREAKING DONE DEALS: Lille have loaned both Dorian Klonaridis and Anice Baldri to Belgium side Mouscron until the end of the season.
15:15 OFFICIAL: Jussie to Al-Wasl on loan has been confirmed. We told you three days ago. Option to buy at the end of the season.
15:03 DONE DEAL: Amiens have signed Laval's 24 year old Romain Ciaravino on loan until June.
14:57 DONE DEAL: Amiens have snapped up snapped up Marseille youngster Pope M'Bow on loan for the rest of the season.
14:52: DONE DEAL: Troyes have loaned 22 year old midfielder Mickaël Barreto to Cannes. He had just finished a loan spell at Frejus.
14:48 DONE DEAL: Amneville have snapped up Senegalese player Demba Bohamadou Mansour on a free transfer.
14:46 DONE DEAL: Amiens' Jonathan Isambart has left the club to join Cannes.
14:45 DONE DEAL: Kevin Fortune has been loaned to Albi by Luzenac.
14:23 BREAKING: Lorient's Jacques-Alaixys Romao has confirmed that he is close to moving to Marseille. Personal terms are now being discussed and Romao is optimistic things can be resolved quickly.
14:15 France Football are reporting that Toulouse are weighing up a move for Valenciennes striker Vincent Aboubakar, after Riviere left for Monaco.
14:00 BREAKING: David Beckham has passed his medical at PSG ahead of his move to the club.
13:42 BREAKING DONE DEAL: Besiktas have announced the signing of Ex-Marseille man Mamadou Niang from Qatari club Al-Saad in what is said to be a one and a half year deal.
13:40 BREAKING Marseille have reached an agreement with Lorient over signing Romao.
13:20 REJECTED: Marseille are rumoured to have rejected a bid from stoke for Rod Fanni.
12:59 OFFICIAL: Aston Villa have confirmed the signing of Clemont Foot man Yacouba Sylla for around €2.5 million
12:58 CLOSE: Marseille appear to be moving closer in their pursuit of Lorient's Romao. Expect a move on this one.
12:48 DONE DEAL: Frejus have snapped up Ex-Lens player Romaric R0gombe for a free transfer.
12:44 DONE DEAL: Niort have signed Pape Sane from Senegalese side Casa Sports FC on a two and a half year deal.
12:30 Re Beckham We understand that the player will join PSG for six months. Great player, but surely past his best
12:05 Breaking CLOSE Arsenal are rumoured to be closing in on a move for Valenciennes left back Bong. Unconfirmed at this point.
12:00 Breaking DONE DEAL Beckham has signed for PSG
11.09 DONE DEAL Le Mans have loaned 19 year old Anthony Koura to Luzenac until the end of the season.
11.03 Al-Sadd's Frenchman Mamadou Niang is closing in on a move to Besiktas despite the fact that he woul prefer to move back to France. Deal can still be hijacked.
10.52 Re: Riviere. We understand that the player is currently en route to Monaco for a medical. It is thought that the Striker's move is money motivated.
10.46 BREAKING: DONE DEAL: We understand that Monaco have struck a €4m deal with Toulouse to sign Emmanuel Riviere. More to follow.
10.44 Re: Nego. The right-back's loan is until June and there is no purchase option included in the deal. The player has emphasised that game time is his priority.
10.41 DONE DEAL: We have received some breaking information indicating that Loïc Nego has signed a loan deal with Standard form Roma until the end of the season. This is subject to a medical.
10.40 If Valenciennes do sell Isimat-Mirin today they are said to be lining up Gregory Bourillon as a replacement.
10.34 Re: Belhanda. No fresh information for you on the Belhanda from apart from the fact that Montpellier are actively looking to offload the attacking player today.
10.24 According to Le Corriere dello Sport, PSG have had a bid for Danielle De Rossi rejected by Roma. With the Corriere dello Sport who knows if this is true.
10.21 We understand that Frenchman and Roma right-back Loïc Nego could be making a move before the day is up. We understand that Standard Liege are looking to loan the player until the end of the season where he will join countryman William Vainqueur.
10.18 French media really whipping up speculation that PSG are going to make a big money transfer happen today because they could lose 2 midfielders by the end of the day. Marek Hamsik, David Beckham and Daniele De Rossi are the names being put in the ring. Again, very unlikely anything will happen.
10.14 Re: Isimat-Mirin. We understand that negotiations are continuing today between Valenciennes and both Lille and Fulham about bringing the centre-back in. VAFC in no rush. Ideally for Valenciennes the deal would involve the player being loaned straight back to his current club until the end of the season.
10.07 The 'RC Lensois' who are usually very reliable are suggesting that Ligue 2 side Lens are in discussions with Everton to bring Magaye Gueye to the club. They need a replacement for David Pollet.
10.03 Re: Momo Sissoko. No club apart from Fiorentina has yet to propose an acceptable offer to PSG for their defensive midfielder Momo Sissoko. We anticipate that the player will sign for the Italians on loan until the end of the season with a €3m buyout option.
09.56 According to The Times, Tottenham are thinking about making a bid for a Lyon Striker, but it is not Lisandro Lopez. They suggest that AVB is interested in making an offer for Bafetimbi Gomis. Again, very unlikely.
09.54 Foot Anglais are claiming that Arsenal have sent representatives to South Africa to try and sign Alain Traore from Lorient. One of Ligue 1's brightest stars this season. An interesting, but probably false rumour.
09.47 According to Super Deporte, Frenchman Adil Rami could be making an exit from Valencia today. We understand that Anzhi have been in contact with the player who may be ready for a change of scenery.
09.40 We reiterate that Lisandro Lopez's asking price is €4m straight in cash immediately, but Lyon are likely to want some more capital through add ons IF anyone makes an actual transfer bid.
09.38 CONTACT: Fulham have enquired about the availability of Bolton's French Striker David NGog. No more than that for now.
09.10 While Alaixys Romao may well be coming in for Marseille today, Charles Kabore is supposedly on his way out. OM reportedly offering him to multiple clubs on loan until the end if the season.
09.03 OFFICIAL: Adrien Rabiot has signed for Toulouse on loan until the end of the season from PSG. Massive coup for Toulouse, great player:
08.57 BREAKING: CONTACT: Information from our sources suggesting that Arsenal's outcast Sebastien Squillaci could be on his way to Brighton. These are unconfirmed reports. We are looking to confirm them ourselves.
08.53 Re: Lopez. Lyon would not accept any sort of loan offer for Lisandro Lopez according to various French sources, but they would probably accept a transfer fee of around €4m. Something for Tottenham to think about.
08.44 Re: Ouaddou. The player who quit Nancy just days after signing for them early this month has been blocked from signing for Ligue 2 side Le Mans by the LFP. We understand that Abdeslam Ouaddou will therefore remain a free agent.
08.21 Didier Deschamps will be making his squad announcement for the international friendly against Germany at 1230 GMT today. Make sure you're here for the latest updates and reaction to that.
08.16 Brest confirm their awarding of professional contracts to both youngsters Andre Auras and Thimothee Dieng.
08.14 We are led to believe that Alaixys Romao will go to Marseille today and that he will be their only signing of this deadline day.
07.57 Alou Diarra: We understand that Rennes will be paying very little of Diarra's wages but the purchase option is set at around €1.5m.
07.52: Marseille have in the past hours held talks with Alaixys Romao's delegation over a potential move from Lorient.
07.39 DONE DEAL: Subject to a medical ESTAC Troyes have secured the loan signing of Islam Slimani on a 6 month loan deal with the option to buy from CR Belouzidad.
07.33 As we continue our roundup of L'Equipe's paper this morning, they are reporting that PSG defensive midfielder Mathieu Bodmer could be loaned to Saint-Etienne in the coming hours. We feel this is however unlikely.
07.30 L'Equipe also reporting that Lyon's man Bakary Kone will be allowed to leave on loan today. Zenit and Shakhtar are reportedly interested.
07.25 L'Equipe are reporting that unsettled Brest striker Eden Ben Basat is in talks about a deadline day move to Toulouse. This would make sense especially if Riviere was to leave for Monaco.
07.19 BREAKING: DONE DEAL: As we reported to you yesterday, we can now confirm that the 1st done deal of transfer deadline day sees Alou Diarra leave West Ham United to join Rennes on a 6 month loan with the option to buy. More to follow.
07.16 Bordeaux have finished their dealings for players coming in this window.
07.13 According to PSG's Sporting Director Leonardo, David Beckham forever remains on the club's short list and does not rule out a potential move for the Englishman today.
07.04 Bordeaux's President also explained that the reason why Julian Faubert, the ex-West Ham man's deal fell through was because the player felt he was not offered a 'durable contract.'
07.01 Bordeaux's President Jean-Louis Tiraud claims that West Ham were 'not interested' in helping Bordeaux to make a loan deal for Modibo Maiga work.
06.51 CLOSE: We can confirm that Panathinaïkos are close to signing Tripy Makonda the Brest left-back on loan with the option to buy in June. The player does have interest from Belgium as well however and these clubs may attempt to hijack the move.
06.46 CONTACT: We understand that Marseille have enquired about the availability of Estoril's defender Jefferson Nascimento. Estoril is his fourth club in as many years.
06.40 Newcastle's new forward Yoan Gouffran has told l'Equipe that the game in France is 'technically better' but that in England, clubs are not afraid to lose.
06.36 Lopez Update: We understand that Lyon have rejected 3 loan offers from Juventus for striker and former Captain Lisandro Lopez in the last few days. L'Equipe are this morning reporting that PL side Tottenham have made a loan bid for the player, but the newspaper does not believe OL will accept.
03:15 Zubar back in Ligue 1: Ex-Marseille and Caen man Ronald Zubar has returned to Ligue 1 to join Ajaccio. Zubar was playing for Wolves, but the Championship side needed to lower their wage bill and so terminated Zubar's contract. Zubar was highly impressive for Caen in his youth and has made over 10 French U21 appearences. Zubar has failed to hit consistently good form since his move from Marseille to Wolves and he will hope a return to Ligue 1 will help him find it again
03:03 FALSE As far as we are concerned, Gomis is staying put and rumours over him leaving to Newcastle are false.
03:00 FALSE As we mentioned earlier, De Rossi to PSG speculation is false for the moment. No contact what so ever.
02:47 Announcement: Lorient President Loic Fery says that he is expecting three new arrivals and one departure. Keeping us guessing!
02:45 Squillaci: Where is he going? The Arsenal centre back has announced his desire to leave the London club openly and Wenger has admitted that he is willing to sell. Squillaci drew up a list of 5 Ligue 1 clubs that he was interested in moving to. Ajaccio and Monaco were on this list, and both clubs are said to be weighing up a move for the player. We understand that a bid from either suits the player. Expect movement on this one.
02:30 Toulouse bring in two Toulouse have confirmed the signing of both talented midfielder Rabiot from PSG (on loan) and Adil Hermach, (also on loan) a defensive midfielder from Al-Hilal. This is to add strength in depth to the squad, but Hermach seems a weird choice, especially with Capoue now staying put. As mentioned, Riviere could be on his way out. Toulouse have received a 4 million euro offer for the player. They have not replied as yet.
02:09 DONE DEAL: PAOK have signed Abdoul Camara from Sochaux for an undisclosed fee.
02:00 Bong departure still possible? Having received offers from both West Ham and Newcastle for Gaeten Bong, Valenciennes had looked set to lose another player. They have held on, however, and we are into our final day. West Ham still need a left back after an injury to Potts and after failing to sign Bedimo, Bong is an option they will look at again. Expect a possible offer, but if Isimit Mirin goes, one would doubt that Valenciennes would be willing to sell another major player. We shall wait and see
01:45 Momo Sissoko set to leave PSG Fiorentina have announced that they are in talks over signing PSG midfielder Momo Sissoko. The player has been linked with a move away from the club for a while and he now he looks set to possibly do just that. The move to Fiorentina would be a loan, but there are still other clubs across Europe that could put a last minute offer in to change the player's mind.
1:00 Monaco busy in the market Monaco have signed Carl Medjani, a centre back from Ajaccio and are close to Jimmy Briand on loan from Lyon. This later signing would be a particularly good deal for the club, who are currently chasing promotion to Ligue 1. Monaco have also made a 4 million euro bid for Toulouse striker Riviere and are awaiting a reply, which we expect some time this morning. Monaco have also loaned Ex-Arsenal man Nacer Bazarite to Austria Vienna for six months and Assana Aadil to Clemont for the same period of time.
00:45 Isimat Mirin to the prem? The Valenciennes defender is now said to be up for sale and he has been linked with a move to Liverpool, Fulham and Lille all market. He is said to be available for around 2.5 million euros and this is unlikely to deter those interested. It has been announced that a move to Lille is unlikely, however and so it is possible that Isimat Mirin will be playing in the Premier League, come the 1st of Febuary.
00:25 Alou Diarra to return to France? Want-away West Ham man Alou Diarra has been given the all clear to leave by manager Sam Allardyce and has been followed, for a while, by Rennes and Espagnol. Diarra is now said to have rejected a move to the Spanish club, and some are even claiming that he has agreed a loan deal with Rennes for 6 months with a future fee. Although we can not confirm this as yet, it does seem likely that Diarra will move to the French side. He is looking like a definate deadline day mover.
00:15 Aston Villa sign Sylla: Our information has told us that Clement foot midfielder Yacouba Sylla had the first part of his medical on Wednesday, ahead of his €2.5 million pound move to English club Aston Villa. The 22 year old is a French U21 international and has impressed in Ligue 2 this season. He tends to be first to the ball and has put in several strong midfield displays. He lacks experience, however, which Villa need in these troubling times. Expect official confirmation on this one soon.
00:09 Belhanda update After being wrapped in talks over the player, for almost the whole month now, Fenerbahce have withdrawn their interest for Belhanda. They announced this on their website, saying that they could not agree a fee for the player, even though personal terms were already agreed. Nicollin still wants to sell the player and so the door is open for other clubs (Such as Spurs, Inter and Newcastle) to make an offer. We are not ruling anybody out.
00:04 Capoue update Although the player has expressed an interest to leave Toulouse, due to the departure of Moussa Sissoko, Toulouse's manager Casanova claimed yesterday that the player would be staying put and therefore not leaving the club this market. QPR were heavily linked.
00:00 Transfer Deadline day has started. Follow this page for all the moves in French football, for the next 25 hours.