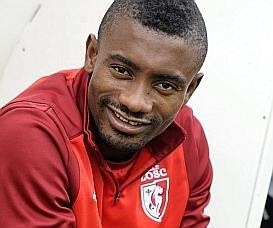 West Ham agree fee for Kalou
According to the ever-reliable @mohamedbouhafsi, West Ham and Lille have come to an agreement over a fee for the transfer of Salomon Kalou. The fee is said to be €3.5 million which some might seem a very good deal for West Ham, but Lille need to get rid of the player whose wages are just too high. We reported to you this morning that West Ham had made an enquiry for the player in the last few days and it appears that both clubs clearly had similar ideas in terms of a fee and have been able to come to an agreement fairly easily.
The Ivorian international now needs to decide if he wants a move to England and Lille are waiting on the player to enter negotiations. According to fans, West Ham's chairman's son has already said that the player does not want to join the London club as he can not be sure of the position he will play in. We are not saying that Kalou has agreed a contract just that a fee has been agreed, but it is suggested that talks with the player have actually continued and that Kalou would be open to a move to the Premier League, it is just a case of whether West Ham will be able to pay his wages and convince Kalou of the position he will play in. It will be interesting to see how this one progresses.