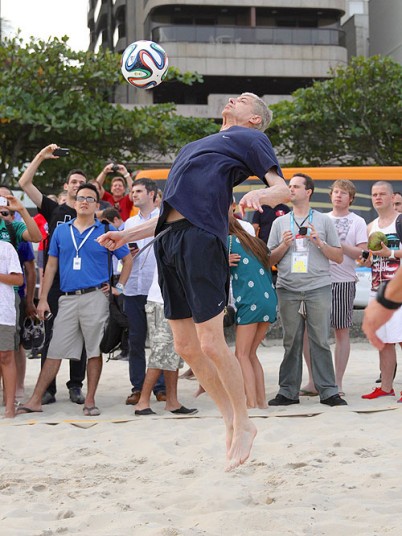 Arsene Wenger shows off skills on beach
Did Didier Deschamps make a serious mistake when choosing his squad for Brazil? Les Bleus are flying high at the moment, but imagine the heights they could hit if Deschamps had included this man in his squad. No, it's not Samir Nasri, but Arsenal manager Arsene Wenger!
The 64 year old Frenchman showed off some impressive moves on a beach in Brazil, where he is commentating on the World Cup for French TV. He played a game of beach volleyball with some locals, attracting a considerable audience in the process. His highlights included some nifty controls on his chest (see featured image), some impressive keep-uppies, and most of all a fantastic diving header, very similar to the one scored by Robin Van Persie in Holland's 5-1 win over Spain, which is shown in the linked viral youtube video. Sign him up Didier!
[youtube_sc url="https://www.youtube.com/watch?v=6L5YBdTZBf8″]
[PHOTO: Splash News]