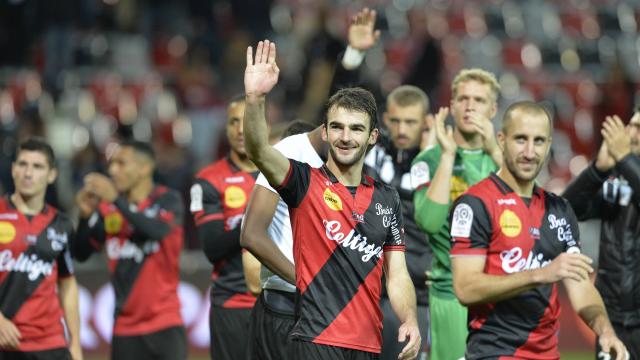 Europa League PREVIEW: PAOK Salonika vs Guingamp
It's all to play for in Greece as PAOK Salonika and En Avant de Guingamp battle it out for the final qualification spot in Group K, with a draw being enough for the Bretons to make it to the knockout stage.
And that is down to Guingamp's 2-0 win over the Greek league leaders at the Roudourou in the second round of group matches. Salonika's superior goal difference has no bearing on their position in the table unfortunately for them, which can only be good news for Guingamp, who have seen their fortunes turn for the better (again) in the last two rounds of Ligue 1 fixtures. Of course I could be describing them as another false dawn in any future European Guingamp previews, depending on how things go in the run up to 'Noël', as Christmas is apparently known in France. However, I think Guingamp's recent wins, over Caen last week and Stade de Reims on Sunday, have really demonstrated a will to defy the odds, avoid relegation and give something back to their supporters, who regularly fill out their 18,000 capacity stadium, despite being a town with a population of only 7,200; so defiant are Guingamp that even their fans seem able to defy the mathematically impossible. It is fair to say Guingamp smashed their way to victory in both games, putting 5 past Caen and 3 past Reims, conceding 3 in the two matches. Not a bad return for a team that was winning or losing games 1-0 and 2-1 for most of the opening third of the season, save for that dreadful 2-7 against Nice of course. Sitting pretty in 16th place, the Guingampais are breathing a little more easily; the pressure's off against the domineering Black and Whites from Northern Greece.
Indeed the boys from Thessalonica sit atop the Greek Super League table with a grand total of 28 points from 12 matches. I don't know about you, but PAOK are flying so high that I can hardly see them through those clouds overhead. Heavenly they may be, but the footballing deities were not smiling upon PAOK last time out. A 4-2 hiding at the hands of Xanthi sent the team and their fans scampering back to Thessalonica with their tail firmly between their hind legs. That unexpected defeat was not too damaging to the club's title credentials as rivals Olympiakos drew against Giannena. That loss was preceded by 3 straight wins, the latest of which was against Olympiakos. Goals from Athanasiadis and Pereyra made for a satisfying 1-2 triumph away from home for the Black and Whites, with only 27% of possession. Now that's what I call a smash and grab. Their European campaign since losing in Brittany has been lukewarm. Most recently they beat Dinamo Minsk in Belarus with two late lovelies from that guy Stefanos Athanasiadis. The PAOK captain has been in scintillating form of late, and Guingamp will do well to keep him under their collective thumb – Angoua, Baca, Jacobsen et al – take note.
Squad Selection and Tactics
Jocelyn Gourvennec has stuck to good old 4-4-2 since the Fiorentina defeat with either Mandanne or Marveaux playing up top alongside Beauvue. Has the manager finally found the winning formula? Beauvue has notched 4 times in that time, Mandanne thrice and they have won twice. Marveaux is a doubt for Thursday, so expect Mandanne to start. Fiorentina last time out in Europe were simply too good for Guingamp, holding them at arm's length throughout and admirably seeing out the 1-2, in spite of pressure from the home side. But the battling Guingampais performance seems to have galvanised the team, with a midfield foundation of captain Mathis and Diallo providing a bedrock for the likes of Yatabare and Pied, or Giresse in his absence, to pile forward and provide for the two front men. Considering the importance of this game and that Gourvennec has not necessarily been sidelining the Europa League in favour of concentrating on the league, I would expect all of the above to start on Thursday. Recent wins have taken the pressure of that beleaguered Red and Black defence, but they have conceded 3 goals in the last two matches. Sorbon and Angoua have both started in central defence, with Jacobsen as left back and Leveque on the right. Despite their recent success, it would not be unexpected to see Sankoh or Baca enter the fray on Thursday. Lossl should start in goal.
One man you can bet your house on seeing play is Athanasiadis. PAOK need a win to progress and he is their current man on fire; his inclusion is a must if the Greeks are to triumph. Argentine Pereyra is also a shoe–in for a starting berth up front and a midfield consisting of Salpingidis, Tzandaris, Kace or Tziolis would be my estimate for this most crucial of Europa League ties. That 4-2 trouncing at the hands of the 8th placed Xanthi has put the defensive personnel under intense scrutiny; Rat and Vitor will surely keep their places, but expect any of Kondras, Kitsiou or Golasa to fill the remaining two spots. Goalkeeper Glykos will most likely do the work between the sticks on Thursday. As far as tactics go, the Black and White formation has been changeable in league and European competitions of late. The 4-3-3 of the Xanthi match I would expect to be disregarded in favour of a more complex 4-2-3-1 against Guingamp. Manager Anastasiadis simply has to win this one.
Danger Men
Claudio Beauvue (En Avant de Guingamp): Judging by the adoring tweets from Guingamp's fanbase, Beauvue is fast becoming a legend at the Roudourou, this young man has bagged a sweet 4 goals in his last 3 games. There simply is not that much more to add. He'll be looking for his fifth in four on Thursday.
Stefanos Athanasiadis (PAOK Salonika): Another prolific goal scorer of late and a leader of men, this slightly older man holds the reigns of the ethereal chariot of success and ambition that is PAOK at the moment. He will score against Guingamp.
Prediction
It is going to be a great atmosphere at the match, with both teams needing to win to progress. I don't doubt there will be goals and a few of them. Despite my heart yearning for the plucky Breton adventurers to pull off a win, my head is telling my heart to get real and come to terms with the fact that my time writing previews for En Avant' is coming to an end. How sad! I hope readers have enjoyed my efforts and continue to support GFFN in its previewing endeavours in the future.
PAOK 3 Guingamp 1
B.M.