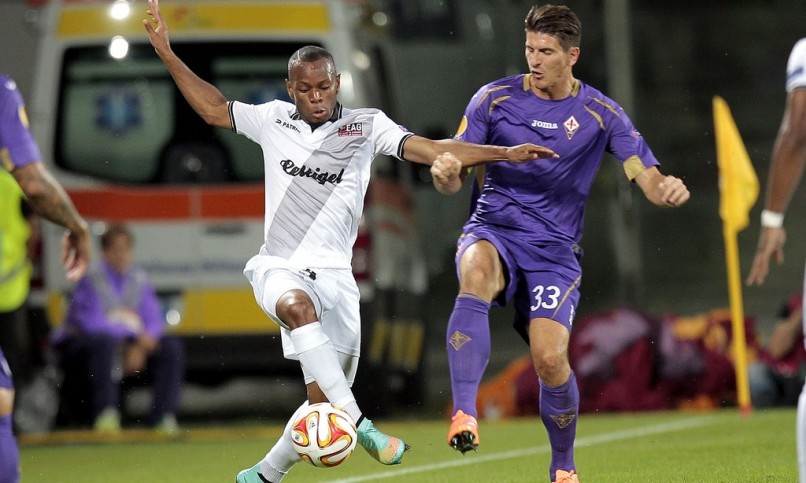 Europa League PREVIEW: Dinamo Minsk vs EA Guingamp (23/10/14)
Dinamo Minsk are up next for plucky En Avant de Guingamp as their European campaign gathers pace in Group K, where victory for the Bretons will see them keep their qualification hopes in their own hands. In their way stand the seven time Belorussian champions, who have not yet won in Europe this season. 
And what a month of contrasting emotions it has been for the Red and Blacks. Early on that unexpected victory over PAOK Salonika raised hopes of an improved performance against Nantes in the ninth round of league fixtures. Marveaux's quick-fire double after half time propelled the Bretons to victory, the first scored after a parry from 'keeper Glykos and the second a sweetly hit left foot free-kick. Then those hopes of a revival of fortunes were dashed as the team fell to a stomach churning 0-1 defeat to the Canaries the following weekend, who themselves had not won away in seven months. Nkoudou's 20 metre strike was his first in the league against a Guingamp side who dominated the match but failed to find an equaliser. Since, another of their league matches has been decided by the odd goal but this time Gourvennec and his merry band brought the three points home after defeating Lille 1-2 away from home. "A nice win, but an unexpected win…Lille are a much better side than us. We knew that then and we'll always know that", conceded 'Joc', as he is affectionately known among the Stade du Roudourou faithful, after the match. Captain Lionel Mathis was rather more enthusiastic, beaming in his post-match interview as he declared "one point would have been exceptional, but three is just fabulous." Goals from Beauvue and Schwartz sealed the win for Guingamp who now sit in 19th place in a tightly packed Ligue 1 table where six points separate Lens in 20th from Toulouse in 9th. Perhaps Guingamp can breathe a little more easily ahead of the trip to Belarus knowing that all is not lost on the domestic front.
What of the enigmatic Dinamo Minsk? Even the quickest glance at their history will tell you that the club is one of Belarus' most successful, on the whole sharing domestic honours with BATE Borisov and to a lesser extent Shakhtyor. Belarus (meaning "White Russia") was of course a part of the Soviet Union until 1991 and accordingly its football tradition and history is strongly intertwined with its larger easterly neighbour. Dinamo Minsk along with its fellow Belorussian clubs have played the majority of their history in the pan-USSR league with the likes of Russians Spartak Moscow and Ukranians Dinamo Kiev. Dinamo Minsk's greatest honour was becoming Soviet Champions in 1982. That's no mean feat for a club whose stadium holds little over 16,000 spectators. Since the break-up of the Soviet Union, Dinamo Minsk have won the Belorussian Premier League seven times in all its varying formats. In fact the format of the Belorussian league means that the Minsk club will play their 28th match of the 2014 season on Thursday. The Premier League's 12 teams play from April to November and are split into two halves halfway through the season, the top 6 playing for a spot in Europe the following year and the bottom six fighting to avoid relegation in November.  This time round Dinamo have had to qualify through two qualifying rounds, but so far have not registered any points on the board in Group K. Heavy defeats against Fiorentina (0-3) and PAOK (6-1) see them prop up the 4 team mini-table. Their league form is more encouraging with recent wins over Gomel and Naftan to the tune of 2-0 each mean they sit second in their league, 3 points behind BATE Borisov and 13 ahead of Shakhtyor. 
Team Selection and Tactics:
Last weekend's away triumph at Lille saw 'keeper Lössl make a string of match saving saves for Guingamp. Replacing Samassa after the latter's red card against Montpellier, the Red and Black no. 1 dominated his box and orchestrated his back four masterfully. Lille's goal came after intense pressure and the 25 year old had already stopped a dozen of Lille's fierce efforts on goal by that stage. Expect his inclusion on Thursday. Fellow Dane Ronnie Schwartz notched Guingamp's second on Saturday after a smart through ball from Marveaux. The young man was screaming for the ball to put to his feet as he, Marveaux and Beauvue bore down on the Lille goal. Marveaux obliged and Schwartz did not disappoint with a fine feint preceding an unstoppable loft into the bottom left corner of the goal. As far as the formation goes, Gourvennec seems to change almost weekly. The XI versus Lille played in a 4-3-3 with Schwartz in the centre up top and Beauvue on the right and Marveaux on the left, whereas against Nantes a week before featured a 4-3-2-1 with Schwartz alone up top, Marveaux playing behind him the hole and Pied on the left. Pied was dropped in favour of Yatabaré, who dropped back into midfield with Mathis and Sankharé against Lille. It is ironic that a supposedly more defensive minded set-up gave Guingamp the win that eluded them against Nantes with a formation that was arguably more attack minded with three up top. Against Minsk you would expect Gourvennec to press for the win with the 4-3-3, but the lone striker formation worked well against PAOK, a team who are realistically stronger than Dinamo. Hero against Bordeaux, Mandanne seems to have found himself out of the starting line-up since being substituted in the 64th minute against Metz a few weeks back. Alioui replaced him that day but himself has not featured on a regular basis either. Perhaps we'll see one of these two start against a Minsk defence which has leaked nine goals in two games already this season in Europe. Serial hot-head Angoua, who saw red at the weekend at Lille is technically permitted to play but we might see Gourvennec decide to drop him, although with Kerbrat "doubtful" with an illness, he might just keep his place. 
Dinamo Minsk will certainly not be too down hearted after being pummelled by PAOK and Fiorentina so far this campaign. There are of course 12 more points to play for and Guingamp have not won away in Europe in 6 attempts, the last coming in 1996 against FC Poti. In fact their terrible record so far in the group stage comes as a surprise to many of Dinamo's fans as the last three league matches and yielded 3 clean sheets and three victories since the 0-3 reverse against Fiorentina. Manager Vladimir Zhuravel will be pleased with his side's response to defeat in Europe and will hope to continue this good form against Guingamp. Their goals so far in the domestic league have for the most part been shared between midfielders Igor Stasevich and Shaloze Udodji with eight each. Interestingly their strikers have been relatively goal shy this season with Diomande of Norway, Nikitin and Rassadkin of Belarus and Ivorian Franck Djedje netting only five times between them. In fact Djedje is an old coequipier of Guingamp's Sankhare from his Paris Saint-Germain days back in 2003-2007. Expect a warmer than usual check between those two players before kick-off as well as starts for Djedje and Diomande as the former scored against Gomel on Saturday and the latter came on for Uruguayan midfielder Figueredo. Figueredo scored in the previous cup game against Dnepr Mogilev is a shoe-in to start against Guingamp. The 29 year old has been a stalwart in that midfield since arriving in 2012, scoring 16 goals in 46 appearances and if his side are to have any chance to turning over Guingamp, you would think his inclusion is a must. Captain Dimitrii Molosh, who once played for arch rivals BATE Borisov, has not featured so regularly for his new club since joining in 2012 but many would expect him to start against Guingamp as he did against Fiorentina in that 4-5-1 formation with Diomande up front.
Danger Men:
Ronnie Schwartz (EA Guingamp): His goal against Lille was superb and if he starts again against this Minsk side he has to odds on to grab a goal. Being from Denmark, he might just cope with the bitter October cold awaiting Guingamp a little better. Although that is merely speculation. 
Igor Stasevich (Dinamo Minsk): One of Dinamo's two midfield goal machines of late. If his side are to haul themselves back into this competition then he is the likely man to help them do it.
Prediction:
Tradition would have us think that these are the two weakest teams in Group K considering one's relative lack of domestic honours and the other's desperately poor European form in the Group stage so far and I would not disagree. It will be a nippy 0 degrees Celsius in Minsk and considering the home side could only muster five thousand supporters last time out to watch Fiorentina, I cannot imagine the atmosphere will do much to enthuse players of either side. The cold will affect the Bretons, but Ligue 1 has them playing top quality football which they will not find in Minsk. Guingamp will go for it and win by a two goal margin.  
Prediction: Dinamo Minsk 0-2 EA Guingamp
B.M.