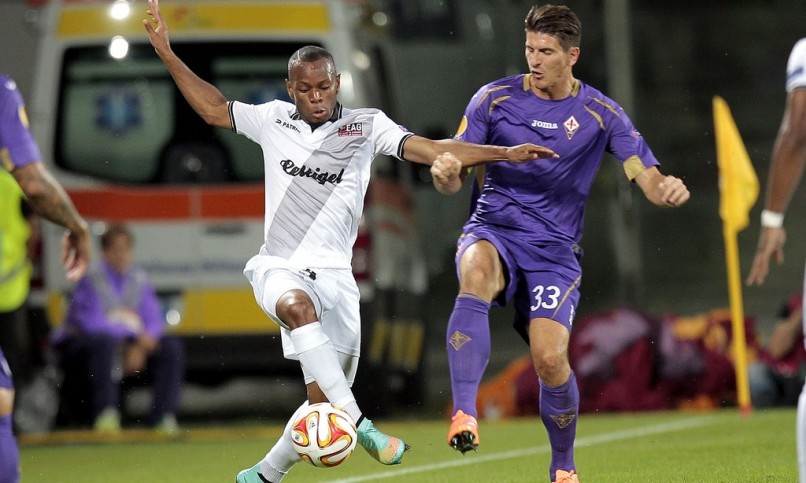 Europa League PREVIEW: EA Guingamp vs Fiorentina (27/11/14)
With two more matches to play in Group K, En Avant de Guingamp will line up against AC Fiorentina for the second time on Thursday evening, hoping to avenge the 2-0 loss in their first European outing of the season.  
Guingamp's season continues to be a mixture of false dawns and disappointments. In our last preview Jocelyn Gourvennec's men had just seen off an ailing Bastia to the tune of one goal to nil, and we were predicting a comfortable home win against Belorussians Dinamo Minsk at the Roudourou. Much to our collective satisfaction here at GFFN, we were vindicated; 2-0 to the boys in Red and Black. Another clean sheet, another win. Since, two consecutive defeats to serial impressers Olympique de Lyon, courtesy of another goal from that man Lacazette, then to fierce rivals and serial Breton bully-boys Stade Rennais have seen Guingamp drop to 19th in the table, with Lens propping the maturing Ligue 1 up. 
Fiorentina too are finding this season something of a toil compared to last. The 10th placed Serie A side won 1-2 at the weekend against Hellas Verona, but prior to that defeats to Sampdoria and Napoli sandwiched a 1-1 draw against PAOK in Europe. That result in Europe has helped Guingamp to clasp one hand around that 2nd and final qualification spot in the group. Colombian World Cup star Cuadrado scored the winner against Verona for their first win in 3 games, in a game where left back Marcos Alonso assisted both Viola goals. No prizes for winner of the "guess the danger man" competition this week I'm afraid. Currently Fiorentina occupy the top spot in feisty Group K with 10 points, and Guingamp on 7 will able to equal them with a win on Thursday. 
Squad Selection and Tactics:
Gourvennec's side seem to be in a state of constant rotation. No two consecutive matches see the same starting eleven. Whilst this might be normal for a side whose form is as poor as Guingamp's, you might be forgiven for thinking that considering their record so far this season, some consistency of squad selection might be of some benefit. That  0-1 defeat to Rennes on Saturday was an agonising repeat of last year's cup final and a continuation of the Red-Black Brittany rivalry. Paul Georges Ntep provided the only goal of the game in the 37th minute and Guingamp just could not find an equaliser with Pied, Marveaux and Beauvue supporting Mandanne up front. Interesting, a similar forward formation, but with Yatabare on the right flank instead of Pied, saw Guingamp beat Minsk 2-0 two weeks beforehand. Lionel Mathis is a certainty to start alongside either Sankharé or Diallo in midfield, but Guingamp's defensive set-up is a little more hard to predict. Kerbrat will probably keep his place; Angoua may see action either at right back or left sided centre back. Dos Santos could start at left back and Sankoh may regain his starting berth against Fiorentina. Gourvennec will see Fiorentina as superior opposition and will go for a draw or narrow win to keep his side in contention for 2nd place; expect a 4-5-1. 
Fiorentina's 3-5-2, on the other hand, seems to have paid dividends last time out. Quadrado and central defender Rodrigez bagged the goals that handed the Viola the 3 points. It was a gratifying victory for Vicento Montella's men, especially given the recent exit of Gianna Vio, the club's set piece specialist. Versus Hellas Verona, Fiorentina struggled to break down a packed midfield who were looking to catch their opponents on the break or to take advantage of any lapses of concentration rather than craft any openings of their own. This might have worked were it not for Alonso's intrepid gunning down the left flank to feed both Viola goals on the day. The former Sunderland and Bolton man is really proving his worth in Serie A. If only the same could be said for 2013's big name signing Mario Gomez. For the man who once graced the "Hottie of the week" section of UK based gossip magazine "Heat", times could hardly be tougher in Italy. After a knee injury which kept him out of Germany's World Cup winning Nationalmannschaft, the striker has yet to find form this season, scoring a total of zero times in all competitions this season.  Surely he's got to break his duck against lowly Guingamp on Thursday? Last time round in Europe it took an 88th minute equaliser after an 81st minute goal from PAOK's Martens to salvage a point for the home side, who played a 4-3-3. Captain Pasqual's timely effort essentially handed control of 2nd place back to Guingamp, although that could easily be challenged if they lose against Fiorentina and PAOK beat struggling Dinamo. 
Danger Men:
Marcos Alonso (AC Fiorentina): You guessed it, the Spanish left back impressed with his efforts at the weekend, and Montella surely will have him starting again at the Roudourou with the same objective as against Verona; get balls in the box for Quadrado to head home. 
Christophe Mandanne (EA Guingamp): You guessed it, the hero against Dinamo Minsk was actually fairly muted against Stade Rennais, but considering Guingamp's mercurial nature this season, expect him to find the net against Fiorentina on Thursday. 
Prediction:
If Guingamp want to progress comfortably they have to win this match, but that is easier said than done against a Fiorentina side who soundly beat them 3-0 in their last meeting in September. It will be attack versus defence and it will not be pretty, but a narrow Fiorentina win is probably on the cards, setting up a nail biting group stage finale for Guingamp and PAOK, who play each other next time round for the final spot qualification spot. 
Prediction: Guingamp 1-2 Fiorentina
B.M.