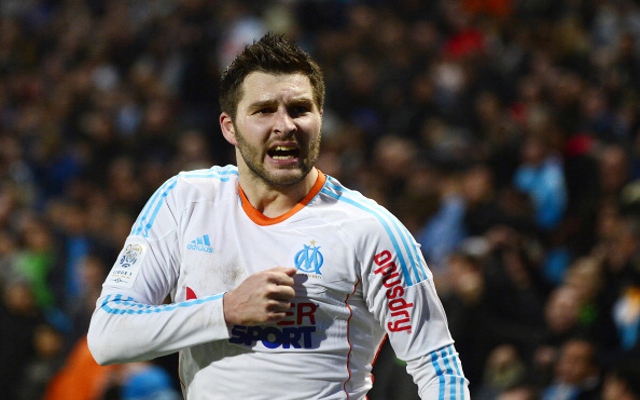 FRIDAY FEATURE: Andre Pierre Gignac: Most Criminally Underrated
He is "l'homme clé" for the current league leaders Marseille, standing alone in at the top of the Ligue 1 scorer charts ahead of superstars Zlatan Ibrahimovic and Edinson Cavani whilst likely only being left out of the national picture because of an arguably over-stubborn manager. With a resumé like that, is Andre Pierre Gignac currently the most criminally underrated Ligue 1 footballer?
Starting at Lorient where he scored 11 goals in 51 games, there was a real fight for his signature back in 2007 between Lille and Toulouse. Both clubs wanted him, offering the same amount until Toulouse learned of Lille's interest, doubling the wages that he'd supposedly agreed with LOSC. It was a little messy but TFC were to get their man and soon enough, their outlay would pay off.
Gignac really grew into prominence after a successful 2008-09 campaign with Toulouse, where the Frenchman scored 24 goals in an excellent season. It took a little while for someone to pluck him from TFC but in 2010 he was bought by Marseille for a fee believed to be in the region of €16 million and it was there that it took him considerable time to find his feet. He has had a lot of critics in previous seasons with Marseille and he was also rumoured to have been close to moving to Fulham in 2011 before L'OM pulled the plug in the final hours of the window, and was even demoted to the reserves under Didier Deschamps.
That feud would come back to bite Gignac, after a few spats with the World Cup winner whilst he was managing Marseille, he would be almost cast adrift from the national side and despite Deschamps saying there was no issue, he arguably undeservedly missed the World Cup. He might not find another way into the set-up with DD in charge and that will reflect on him badly in the people's eyes who do not know the inside track as not good enough to play at that level.
It's hard to ignore the influence APG has had on OM. After a disrupted season back in 2011-12 where he managed just one goal from 21 appearances, he came back to score 13 in 28 starts and three substitute appearances in the following season. This was the first time where he had the confidence and crucially the playing time to show his real importance to the team, scoring 31% of the team's goals whilst also getting 54 of his 134 shots to go on target.
And that's just the start of a trend that would continue in the 2013-14 season, with Gignac popping up with 16 goals in 35 league appearances and showing his improved shooting accuracy with 53 on target from 118 attempts. He added to his game with three assists in a campaign that was full of changes to the club but Gignac was keen to prove just how good he can be, regardless of who was at the helm.
He's carried on that form into this season and he's been in blistering form, scoring eight goals in seven games and playing like a man possessed. He's got over half his shots to go on target, 13 out of 25, and has helped propell L'OM to the top of the table despite a stumbling start to the season under new boss Marcelo Bielsa. So far, he's scored almost half of the team's goals and scored four goals in the past two games, a double in each, showing his growing confidence.
What's remarkable when looking at the stats is the high level of consistency he's showing and the more games he gets, the more he begins to improve as a player. Over those three seasons, Gignac has averaged over 70% pass accuracy and whilst that's not particularly show-stopping, it's a good return for a striker and the fact he's so close to that each season (71% in 12-13, 72% in 13-14 and 77% in 14-15) just highlights his steady improvement.
The 28-year-old's competitive style has led to success too, he won 37% of duels in 2012-13, 40% the next year and whilst only at 29% so far this season, he's scored at a much higher rate in a style of play where he is less expected to grapple with the opposing centre back pairing, but instead poach around for space to finish. He does frequently foul opponents, notching up 58 fouls last season, but the four yellow cards suggest more an eagerness to get the ball back high up the pitch rather than a nasty streak.
When you look at all of that and what Gignac can give you on the field, it's really hard to argue that he's not underrated by most critics. He's got a lot of power, strength and can score goals from almost anywhere, making him a real threat wherever he has the ball. Some think that he can be a bit of a brute but he's shown regular flashes of brilliance that highlight that he has real ability underneath his passionate exterior. He might not ever get the recognition he deserves, but there is no doubt that Gignac is one of the better, more consistent forwards not just in Ligue 1 but in Europe at the moment.
N.S.