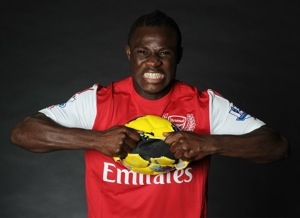 Frimpong to St-Etienne loan deal?
French newspaper Le Figaro yesterday reported that St-Etienne were interested in signing Arsenal fringe player Emmanuel Frimpong on loan. A deal looks highly unlikely at this point, but what is clear is that Frimpong is not getting the playing time he needs in London, especially with the World Cup in Brazil looming on the horizon. It was suggested that St-Etienne were interested in signing the Ghanaian on a loan deal, with the French club looking to strengthen their midfield and begin a push for the Champions League spots.
Frimpong's current Arsenal contract only runs until the end of this season, and it is understood that the Premier League side  are somewhat reluctant to negotiate an extension. Frimpong is yet to play a competitive game for Arsenal this season, and has played just 2 games all season for the U21 Arsenal team. However, although Frimpong's motives for a move can easily be understood, realistically a deal with St-Etienne, or anyone else at that, is very far away.
N.Ba.