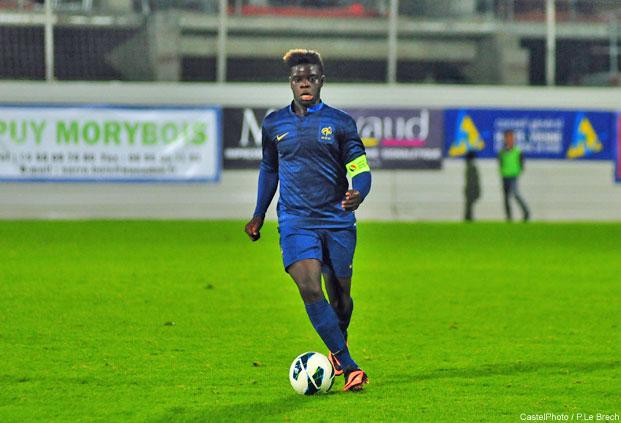 GFFN Exclusive Interview: with Olivier Kemen
GFFN sat down with promising French talent and Newcastle man Olivier Kemen to discuss his current situation and his aims for the future. In a revealing interview, Kemen shows himself to have the steely ambition necessary to make it at the top level.
Could you quickly sum up your youth development period in France?
It was good, because they prepared me well to come here, to Newcastle.
Why did you quit Metz? 
Once a certain point was reached, we did not have a plan as to what we might continue to do together, nor a date in which I might be able to sign a professional contract. So I thought that they did not want to advance with me. They took a little bit too long for me, so I left.
How did this opportunity to join Newcastle come about?
They followed me during my matches with the national team, and the games that I played for Metz. They came again, and again and again and finally, they came to see me directly to offer me the possibility of going to Newcastle.
Why Newcastle?
There were several interested clubs but I chose Newcastle because there are a lot of French players here. That made me lean towards Newcastle because I thought it was going to be easier to adapt and all that. Then, they had put forward good arguments: I am young and they told me that I would have more of a chance of playing here because they play their young players more often. 
Is it important for you that there are a lot of French footballers in the first team here when you look to your own future?
Not really, but it was a factor when I signed. I told myself that life would be easier. I knew that I could meet more people who spoke the same language as me from the beginning and that made my integration easier as I did not speak any English.
What are your thoughts on Moussa Sissoko's explosion this season, someone who plays in the same position as you?
It is really good. He is a machine, someone who doesn't speak a lot but works well, who gives me advice when it is needed. Honestly, I am happy for him because he is a good guy and a hard-worker at the same time. It is magnificent what he is doing.
Is he a source of inspiration for you?
Yes exactly that because, for me, with my game, I like to take responsibility, go off like he does with the ball and dribble. But sometimes, you need to learn to channel it because the way I used to play meant that I made some mistakes. Now, I am ready to do what he does but it now depends on what the coaches need. It is true that when I watch him play, it allows me to take certain things from his game and put them into mine.
What do you think you bring to a team?
I would say that I am a leader. I always want to win, that is obvious. Everyone who follows me in football knows that when I lose, you shouldn't talk to me much. I am therefore a leader, powerful, skilful with the ball. I try every day to work on each faction of the game to be as complete as possible and to reach perfection. It is solely with work that you can have everything.
You read a lot that you have a similar style to Paul Pogba. Do you think you can reach his level?       
It is true that a lot of people tell me that I remind them of Paul Pogba in terms of my playing style. Even I think that sometimes. But after that, Paul is Paul and I am me. Today, it is obvious that if I reach his level, I would be happy but I would not be satisfied because I think even he always wants to reach a higher level. We never want to stop rising. But it is true that it would be great work to reach that point where he is now.
Have you already had a chance to meet and speak with Alan Pardew?
Yes. Afterwards, it is quite difficult just to talk with him like that. All in all, all I can tell you is that he is frank. We had a good conversation and he was frank with me: he likes hard-working individuals a lot. I told him that I will continue to work hard and at the same time it is not an easy situation for the club because we have just lost (against Sunderland and Manchester United), so he has a lot of work and I would prefer not to speak him too much. 
You have already played 15 times for the Newcastle U21s this season. What is your self-apprasial at the halfway point of the season?
At the beginning, when training started again this season, I was with the first team. But afterwards I got a tear in my quadriceps. After my first injury, I came back too quickly because people were telling me that it was nothing and then I got a second tear, one week after, directly. That is why I have only played 15 games at this point. After the two tears, I came back, I was scared that I would have another tear. The thing is, it was after the first tear, I went straight to play with the French national team where I was captain of the U19s. I went to the Euros, we did the Euros, I scored and it went really well. I returned to Newcastle, I played two games with the reserve team and then I went back off with the French national team.
It has really been with the French national team where I have been able to play the most complete matches so far. It is only now, recently, that I have played a lot of games with Newcastle because there is no more national team action, it only starts again in January. If I would have to judge myself on the matches I play for the reserves at Newcastle, then I would say that it is going really well. I have come back well after my double injury. I am doing good things. I have three assists in four games. Maybe even four assists actually. I am satisfied.
Newcastle don't seem to hesitate starting their youngsters in the first team, like Armstrong (17) against Manchester United recently. What are you missing to make the step up to the first team? 
Today? I don't think I'm missing anything. Just time. The manager makes decisions, you have to accept them. I think that today I am ready, I have waited enough, I have worked hard, I have done what is necessary. I am waiting for my turn as you say. One should not talk and say that you are ready and then be scared when you are called upon. I am not saying anything, but in my head I know that I am ready. The day that I am called upon, I will respond with a lot of enthusiasm.
Are you disappointed not to have a place in the France U21s? 
No, not at all. It is Pierre Mankowski who is the manager, I had him as my coach in the U18s and I was his captain so I am not worried. After that, in the France U21s, it is different because you need to have playing time in your club, so the day that I start playing for my club, I should go. I am not disappointed because in this team, there are friends of mine like Kingsley Coman. I am happy for them and where they are going. I tell myself that there are players of our generation who are there. But I do not only think about me. They are playing in their first teams so they deserve to be there. I am not annoyed, I am in the U19s, I am the captain, we have Euros to prepare for. We are doing things well. I know that we have something to play for this year with this French national team. 
Is a loan deal to the first team of another club a possibility for you this winter?
Yes, it should soon happen. If everything goes according to plan, it will happen this winter.
Where will you be going on loan?
I am not allowed to talk about it, my agent has not allowed me to. 
For you, will it be important to seize this opportunity this winter?
Yes, that is clear. I want to play and repeatedly. It is the first time since I started playing football that I feel this good. I am in full control of my capabilities as I tell the people around me. I am not injured, I have recovered well, I have worked hard and well with Guy Puravet, the physiotherapist with the national team. It is he who looked after my thigh. He has prepared me well, I have also worked hard and well physically, alone. At home, I have a gym room, I work very hard every day, every day I kill myself. It has paid off this month because I have caught up on all that I missed and today I am ready to play. If it is not here at Newcastle, I will have to be intelligent and make sure I go on loan somewhere to play matches and aim for higher things with the national team.
How do you see your future panning out in England in the forthcoming years? 
For the moment- because you don't know what will happen at one moment or another as everything goes quickly in football- I am good here in England. It is a playing style that suits me. I like to push on, drilling and running lines and that happens a lot here. After that, we never know. As I grow, I will gain maturity and maybe I will like another style of football and I will want to move because there is not only this league in England that interests me.
What are your personal aims? 
In the short term, it is to play at a higher level, if that is in Ligue 1, in Ligue 2 or in the Premier League. I need to start playing. Even if I am young, I know that I can knock the  door down because today, I think that I am ready. In the long term, to try to dream bigger, to have aims that are even bigger than I have right now.
What is your ultimate dream as a footballer?
Do you really want to know? I have two: to win the World Cup and the Champions League.
C.N./A.K.