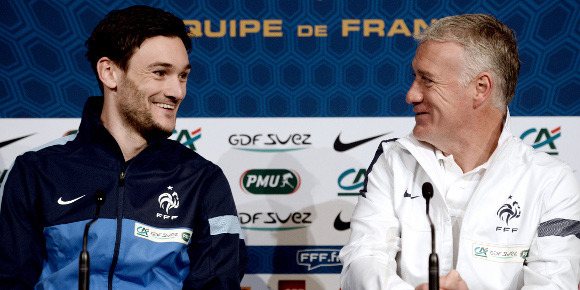 Gignac is back as Didier Deschamps' releases latest France squad
Didier Deschamps gave a press conference at 14:00 CET today, unveiling his squad for upcoming friendlies against Armenia and Portugal. The squad and extended coverage from his press conference below:
Goalkeepers: Hugo Lloris (Tottenham Hotspur), Steve Mandanda (Olympique de Marseille), Stephane Ruffier (St Étienne)
Defenders: Lucas Digne (PSG), Patrice Evra (Juventus), Christophe Jallet (Olympique Lyonnais), Laurent Koscielny (Arsenal), Eliaquim Mangala (Manchester City), Jeremy Mathieu (FC Barcelona), Raphael Varane (Real Madrid), Bacary Sagna (Manchester City)
Midfielders: Yohan Cabaye (PSG), Blaise Matuidi (PSG), Paul Pogba (Juventus), Morgan Schneiderlin (Southampton), Moussa Sissoko (Newcastle United)
Attackers: Karim Benzema (Real Madrid), Remy Cabella (Newcastle United), Andre Pierre Gignac (Olympique de Marseille), Antoine Griezmann (Atletico Madrid), Dimitri Payet (Olympique de Marseille), Loic Remy (Chelsea FC), Mathieu Valbuena (Dynamo Moscow)
Didier Deschamps then went on to speak for about half an hour following his selection of the abovementioned squad:
On Jeremy Menez: "I am watching Menez, but there is competition in his position."
On his midfield selection: "I took 5 midfielders. I preferred to take another offensive player to have another option."
On Christophe Jallet: "Jallet is playing regularly. He has experience. He is not 20 years old but I do not look at the age when making a decision. He knows the top level and there is a lot less competition in this position."
On Andre Pierre Gignac: "I have no problems with Gignac. I was not forced to pick him. I took him because he is currently performing. Gignac was not a default choice. The truth today will certainly not be that of May 2016. I consider Gignac a player with quality. He is an interesting player."
On his selection in general: "I am not here to bring in fresh faces. It is a question of competitiveness. The players here have pleased me."
On Layvin Kurzawa: "Kurzawa is part of the U21s who have some very important objectives. Digne or Kurzawa? It will depend on how they evolve. Nothing is definitive."
On Mamadou Sakho: "No worry for Sakho today. He is injured therefore not selectable."
On game time: "The situation of each player is different. But you have to have a minimum amount of game time (at club level) to be with Les Bleus. I have picked 23 players, but I am watching 50 odd."
On Patrice Evra: "Evra is an important player for the group. He is competitive. Will he be performing in two years time? I don't know and neither does he."
On Yohan Cabaye: "It is annoying when a player plays very little, coming on for 10 minutes each game. Cabaye started 3 games last month, he is playing. I am not worried."
On Blaise Matuidi: "Blaise is Blaise. There is no problem. He needs to play game after game. He must be good physically in order to lance himself forward. I was surprised that one could ask questions about the ability of Matuidi."
On goalkeepers: "Hugo Lloris will start one of the two matches. One of Ruffier or Mandanda will start the other."
C.S.