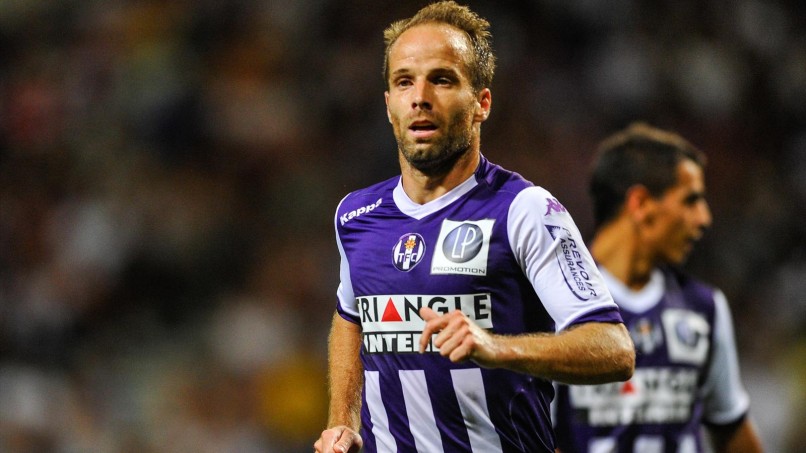 In Depth Interview: Étienne Didot
Get French Football News had the pleasure of speaking with Toulouse central midfielder Étienne Didot about a number of things including his career, his regrets, French refereeing and Serge Aurier.
Born: 24th July 1983
Nationality: French
Current Club: Toulouse FC
Former Clubs: Rennes
To start with, has the beginning of the season been frustrating for you, with all these injuries?
A little bit yes because when I have been able to play, it has gone quite well, I felt really good. It is therefore this knee injury that frustrates me. 
What do you expect from this season with Toulouse?
Finishing in the top third of the table with this team would be a great thing. After that, I want to have a good season, and to continue to progress. It is not just because I am 31 that I do not want to keep progressing or continue to score goals. In general, in the games, the seasons have gone quite well but I would like to be a little more decisive to help the team to be as high up the table as possible.
Are you frustrated with the lack of progress- in terms of Toulouse's position in the table- in these last years?
We have progressed enormously on the pitch, even if they does not exactly translate in the table. About three or four years ago, we were criticised for our lack of going forward and attacking but now, we create more chances, we score more goals, we are often in control of possession and so we have a grip on games. And this is real progress for us, made possible by the large amount of work we put in. In terms of the progress of the team I am therefore not frustrated, I am for the supporters and the people around the club because of our position in the table.
What do you need to change in this team to get the right results?
We must always want to improve, win games like last weekend (against Lens) which can give us an oxygen boost in terms of the table and climb towards the top places. We are currently on not a bad run, with some nice wins away from home. We must continue to progress but we do not have to change everything, just fix some small details in order to achieve that top third finish.
Will Rennes always have a special place in your heart? There was talk of a potential return last summer…
I learnt the job of a footballer there. I became a professional there, I played matches as captain there. It is a big club in the region I was born in, Brittany, of which I am very attached to. Of course the club will always have a special place in my heart. I have kept an enormous amount of contacts from there. 
A return? I don't think about these type of things. I am thinking more in the moment, about now. First of all about coming back from my injury and then undergoing the rehabilitation process. I will soon be back with my teammates in training and that is a positive. After that, honestly, people have asked me this question so many times. Obviously Rennes is engraved in me, it is the club of my region. That is strong for me. After that, I have been at Toulouse for seven years, I like it here too. I extended my contract a bit before last summer, the club has confidence in me and I want to repay that confidence before thinking about whatever it might be.
Is Guy Lacombe responsible for your departure from Rennes?
Yes and no. I think that I did not fit into the plans of this manager. It was complicated, I had already been playing there for quite a few seasons, I had had good ones as well. When you do not fit into the plans of the manager, it becomes difficult to stay. After that, it was up to Guy Lacombe. He preferred other players. One can understand that too. I left Rennes, because yes, I knew that I would not be playing anymore with this manager in the role he was in. I did not want to see my job as being on the bench the whole time. It was difficult to imagine that so I preferred to play away from Rennes. 
You played for the France U21s and were even provisionally selected for the senior team. How come you never managed to get into the senior side, despite some good performances?
It is true that I have had some good performances throughout my career. But I think that I was never quite at a high enough level to go (to play for France). It is true that in certain periods, during certain seasons, I might have been at, at times, the level to participate (in the France squad) one or two times. For me- I am happy to have played matches in the top division- I had some difficult moments from time to time. The great players do not experience those periods once they manage to be consistent and they rest constantly at the same level, playing European football, everything. Something I have not been able to do. I could not have been far from the French national team at certain moments in my career but I was missing something, quite simply. I think that I did not have the physical level and athleticism required to have great season after great season and produce great performances. I would have needed to be better in order to play a role in the French national team.
Do you have regrets about that or do you think that those who made it deserved their place…
Yes, that's it. I have no regrets about that. I think I was just a little under what was needed and I wasn't able to reach it, quite simply. There is no shame in being a good Ligue 1 player either, but I think I did not have this little thing to be able to make it.
Let's move forward again. You have been able to watch the progress of Serge Aurier closely at Toulouse. He is now at PSG. Do Toulouse miss him? 
We are doing things without him, he brought us a lot but there are other players who are here and who are doing really good things. It is always a shame when great players leave but the club has been able to replace him and I think they have done that well.
Does he have what it takes to become the best right-back in the world?
I do not know, I think it will probably be difficult. On the other hand, he proved last year that he could be one of the best full-backs in the league. I think that he will slowly make his way at PSG, for the moment he is simply gathering his bearings. I hope that it will get better and better for him over there.
Is there a problem with the standard of referees in Ligue 1?
I do not know. Very honestly, yes there have been problems in the past, but there is a lot of pressure on them and from time to time, they make big mistakes. Like everybody. On the other hand, it is true that it is a shame but I do not think that they themselves are proud of their mistakes. I hope that they can continue to work on their side to ameliorate the situation. After that, to be honest with you, I don't really care. I try first and foremost to perform well on the pitch, if referees get it wrong, it is a shame, but that is it. These types of things, they don't interest me. 
You have been a captain throughout your career. What can you tell us about the extent of communication between the players and the referees?
Personally, I have always had a good relationships with the referees, apart from some exceptional cases where some of them were a little "special". I am a bit of a loudmouth on the pitch, so I try to control myself. I think for them, it cannot be easy either. I have had a lot of seasons in Ligue 1 and I have never had any real problems with a referee. I cannot tell you that there is no communicating because for the most part there is. Little mistakes, they happen, they are sometimes quite difficult to get past, but it is like that. This is football. 
What are your thoughts on the recent goalkeeping battle at Toulouse between Ahamada and Boucher?
There is also Vidal the third choice goalkeeper who is doing some very good things. There are three fighting for that position. Since his arrival, Zacharie (Boucher) did everything to succeed Ali (Ahamada) who was going through a delicate period. Now, Ali is trying to come back. Here, things are very good between all three goalkeepers. On the other hand, it is certain that Ali aspires to play, it will be difficult for him to stay here if Zac plays. It is a problem between them. After that, although there are several fighting for that one position, it is good for the team and I hope it will push others to produce good performances.
With regards to good performers at Toulouse, Wissam Ben Yedder has proved, with 6 goals in 10 matches at the time of the interview, that he is an essential part of this team. Do you think Toulouse will be able to hold onto to him until the end of the season?
The more complicated it will be for the club to keep him, the better a season he will have and the more the team will count on him. He has already had two seasons where he has scored 15 goals or more; this time around he has already scored a few. Nowadays, everybody knows the talent of this player. If it is difficult for the club to hold on to him there will be some positives somehow, because if he leaves it will be a very interesting financial situation for Toulouse and it will help the team to grow a little more.
Ligue 1 has recently received a lot of media attention with the arrival of foreign investment at Monaco and PSG. How have you viewed this shift?
I am very happy to play games against big teams and against big players. The more great players, the better for us. We see anyway that there is no easy match for us. In other leagues, it is a bit the same thing. They are flying high in the league a bit but it is never like they're not being challenged. Overall, the better the players, the better for the league and for me, I am very satisfied by it.
To finish, what are Toulouse's aims this season?
To do better than last season. We finished ninth last season I think, so if we can finish in the top third of the table, it would be very good because we would not be far from a European place. Also, to win a cup, is one of our aims. We have had average results in the cup competitions recently. We have a good group, that gets on well, and we really have the heart to achieve something like what I have just described.
A.K. with C.N.