The press conference has now ended.
17:49 GMT: Yohan Cabaye: 'It is always complicated when there is an offer from an important club came in but right now I am not angry with anyone. It would be stupid of me. May I also say that the fans were fantastic. I want to let them know that I will be 100% the team for Saturday's derby.'
17.49 GMT: Yohan Cabaye: 'I did not talk to either (Didier Deschamps nor Blaise Matuidi) about moving here.'
17.48 GMT: Yohan Cabaye: 'I would love to play a part in Friday's match.'
17:47 GMT: Yohan Cabaye: 'Arsenal did make an offer but after that discussions sort of stopped. It was difficult to accept at first but in the end it seems to have turned out well for me.'
17:46 GMT: Nasser Al Khelaifi: 'Yohan was our priority.'
17:43 GMT: Yohan Cabaye: 'The manager has not given me any guarantees. I am looking forward to giving my all and discovering it all. I will fight for my place. I am at a major European club now. What else should I expect? I moved because I want to win titles. It is already great to play football, but everyone wants to win something.'
17:42 GMT: Yohan Cabaye: 'Yes I heard what Thiago Silva and Ibrahimovic had to say, that is up to them. I now have a chance to show them differently and honestly it doesn't bother me. Yes I took a risk to move now, but I took a risk when I left from Lille to Newcastle.'
17:40 GMT: Yohan Cabaye: 'Newcastle respected the agreement we had to allow me to leave this January. I had a wonderful time over there, I want to thank the manager, the staff. We were close in my first full season to making the Champions League but in the second one it was much more difficult.'
17:39 GMT: Yohan Cabaye: 'I spoke just a little bit with Blanc. It was difficult to turn down such a huge club.'
17:37 GMT: Nasser Al Khelaifi: 'Yohan is here first and foremost because he is a quality player and then second that he is French. I appreciate how difficult it was for Yohan to make this decision especially with the World Cup coming up. It shows how much confidence he has in himself.'
17:36 GMT: Yohan Cabaye: 'I am very,very happy to be here tonight. I am delighted to part of this immense project and I cannot wait to start with the club. I want to thank everyone and Newcastle for allowing me to make this move.'
17:34 GMT: Nasser Al Khelaifi: 'I am delighted to announce the arrival of Yohan Cabaye and I am very proud to be the one bringing him back to France. Such a talent like Yohan and PSG have always tried to bring in French talent, much like Yohan.'
17:34 GMT: Yohan Cabaye and PSG President Nasser Al Khelaifi have arrived in the room.
17:32 GMT: The press conference will be underway imminently. 
17:17 GMT: Laurent Blanc made some comments on RMC earlier today about Cabaye's transfer:
'He is a very good player and a good man also. He offers us guarantees in all sorts of ways, he is a good signing. He offers us the ability to play him on the Champions League. He was my choice, yes. I indicated my desire to sign someone in the January window, we made a list, like all clubs do. I spoke with him about the move and he understands that a big clubs there is competition for places. The Champions League aspect very much convinced him.'
17:15 GMT: Check out our Twitter page for more photos of Yohan Cabaye, including some of him passing his medical earlier today. The press conference should begin in about a quarter of an hour, but PSG are usually lousy in terms of timing.
17.12 GMT: Yohan Cabaye had the following to say in PSG's official press release at 1800 CET: 'I was seduced by this ambitious project at PSG. I can't wait to join this amazing team.'
17:11 GMT: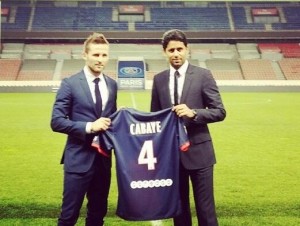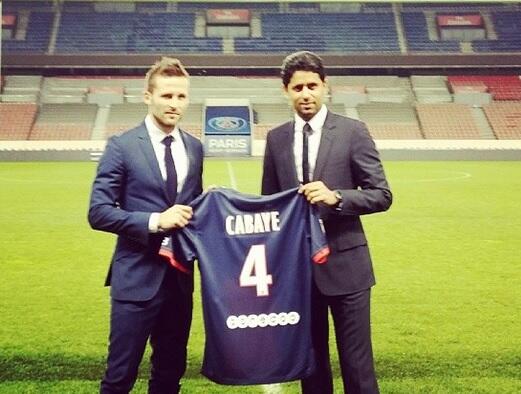 17:06 GMT: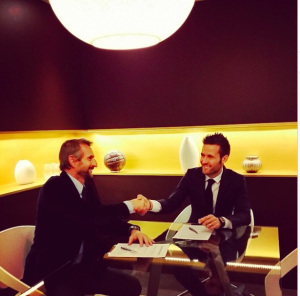 17.05 GMT: PSG have confirmed the signing of Yohan Cabaye on a 3.5 year deal from Newcastle. They do not specify in their press release the exact fee, but it is understood to be at £20m plus bonuses. Photos, tweets and more to come as we near the beginning of the press conference.
16:01 GMT: Follow Yohan Cabaye's PSG unveiling press conference live in English beginning at 17.30 GMT (18.30 CET).