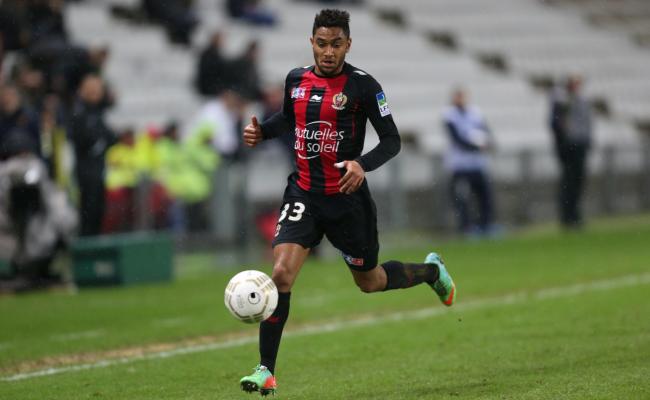 Sometimes when you wait for a bus, two come at once and at the moment it's almost as if French football simply cannot help throwing up us promising left-back after promising left-back. If we look at the situation from the perspective of the national team, then the two front-runners for France's future left-back are Lucas Digne and Layvin Kurzawa, but could 20-year-old Nice defender Jordan Amavi rapidly become a dark horse in that race?
Many of you might not have heard of Jordan Amavi at all, but despite claims he lacks experience, he has actually been involved in and around the OGC Nice setup for the best part of four years now. Born in 1994 in Toulon, Amavi joined Les Aiglons's youth set-up in 2010 and was promoted to the first team last season, making his debut in the opening game against Lyon. He went on to make 19 appearances in his first campaign with the club, and truth be told, the youngster struggled for consistency, making just nine starts and struggling a little physically.
He signed his first professional deal this summer and has been ever-present in the club's starting line-up this season, starting all seven of Nice's league fixtures thus far. While the departure of Timothee Kolodziejczak to Sevilla virtually ensures Amavi a starting place in his side's lineup, he has been anything but complacent in the manner in which he has carried himself at the start of this campaign. He scored his first professional goal against Nantes, the only goal the team has scored away from home so far this season, but his consistency and poise this season defensively are the most impressive characteristics to have shone in the early stages of an admittedly long campaign.
Amavi has been a regular feature in the international set-up too, having represented both the under-18s and the under-20s, where he was included in the side that finished runners-up to Brazil in the Toulon Tournament held this summer. His early-season form also earned him a call up to the under-21 squad for their recent international, making his first appearance off the bench in their game against Iceland.
The young Frenchman is very much in the mould of the modern full-back, adventurous in getting forward but capable to get up and down the field wherever he might be needed. His athleticism is positively more impressive than that of Lucas Digne for example. Unlike other young fullbacks, he's got all the right attributes to be a great defensive player, able to be in the right position to intercept the ball getting out wide whilst also being very strong in the air, similar to Kurzawa. He's got pace, he's confident with the ball at his feet and whilst not quite perfect in his tackling, if he can continue to refine, especially by working on his delivery into the box, than he can become one of France's best left-backs.
The stats really support that statement too, having made 3.3 tackles, 4.7 interceptions and 4.3 clearances per game so far this season, in terms of interceptions and clearances second to no other Nice defender. It proves his specific knack at anticipating danger, often ahead of his own teammates and that he can be trusted to bomb forward and still cover defensively. The new breed of full-back must be able to defend and attack with the same gravitas in order to have the opportunity to become truly world-class, Amavi has that potential.
Where he doesn't show as much is in his offensive ability,  his crossing can be inconsistent but Nice are looking to rectify that by playing him at wing back if they proceed with the back three that manager Claude Puel has recently flirted with. While this potential tactical change might be made to deal with their other defensive issues, it would certainly give Amavi more of an opportunity to improve himself going forward. He does show his adventurousness, through his ability to dribble with the ball and the fact he's typically fouled at least twice a game indicates that he likes to try to support attacks but he can still improve.
However, Amavi should have had a big wake-up call a few weeks ago where his good start was shown up a little against Marseille. He loses Florient Thauvin for L'OM's second goal, never looking back to hold him up and puts in a weak tackle against him in the second half that leads to the third. There were other individuals who made mistakes that led to OM's goals, but if Amavi wants to be considered as a future international, he needs to reduce these lapses in concentration.
There's certainly the potential for the 20-year-old to grow into a very talented left-back and this season he has the opportunity to "break-out" with injuries-permitting, guaranteed game time to catch up with the likes of Digne and Kurzawa.
It is maybe a little unfair to compare him to players who have been allowed more time to grow but that is the kind of company he will be aiming to rub shoulders with in the future. The defensive solidity that he harbours should stand him in good stead, especially should the other two begin to falter in that regard, but either way he is rapidly become a very important player for OGC Nice.
N.S. with C.N.