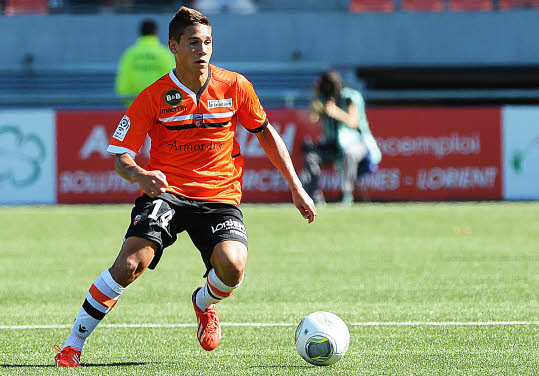 PROSPECT | Raphael Guerreiro
Lorient are developing a bit of a springboard for ambitious, talented youngsters to project themselves onto the larger European stage. Not only do they have a significantly apt scouting system that is able to identify these talents, but they do so before most others, ensuring that they acquire these unknowns for a competitive price. Their rapidly improving youth academy also enables the club to organically grow its own talent. The latest Les Merlus individual to have caught the eye is certainly Portuguese international left-back Raphael Guerreiro, who is unassumingly growing into one of President Loic Fery's most valuable assets.
The son of a French mother and a Portuguese father, Guerreiro began his development at the famous Clairefontaine football centre before ending up at SM Caen in 2008. He made his debut for the first team during the 2012-13 season, going on to be a permanent fixture within the side by making 38 appearances, scoring once, with his excellent form earning him a spot in Ligue 2's Team of the Season.
His excellent first season attracted the interest of Ligue 1 side Lorient, and he signed for the Brittany club in the summer of 2013. He made 34 appearances in his debut season, all of them starts, creating 22 chances in the 2013-14 campaign, a good return from the young full back. There were plenty of positives to take from a young player in his first season in French football's top flight.
As for this season, the 20-year-old has started all 14 games so far and is beginning to look like an integral part of the squad. He's scored twice already, added to his one assist, and he is certainly improving his decision making in the final third. He has created 11 chances with an overall pass accuracy of 80%, pretty high for someone who has to cross the ball so often, and he's yet to make a defensive error this season. Statistically, he is one of the top full backs in the league.
That form has not gone unnoticed and Guerreiro was called up to the Portugal squad for their November fixtures, having chosen to play for the nation of his father despite not knowing the language. He played the full 90 minutes of their 1-0 win against Armenia in their qualifying group, but it soon to get even better. He came on in the friendly against Argentina to score a late winner at one of the World's most famed grounds, Old Trafford. It was a special moment, to score the winning goal against such quality opposition, alongside one of his childhood heroes in Cristiano Ronaldo.
Even for a full-back, Guerreiro is exceptionally quick and this asset hugely benefits both the offensive and defensive sides of his game. He can give the opposition a torrid time with his pace, getting in behind or even to join in with attacks, he can breeze past even relatively fast players. It also helps him get back into position which, combined with good stamina, means he is capable to get up and down the field with ease.
Whilst not being the best of tacklers, and he will be the first to admit that, he reads the game very well to be in a position to intercept the ball and he excels in that area. That also helps him sprint away with the ball, alleviating the pressure off the defence and start a counter attack, which is a crucial weapon to have.
Although he is playing in a side that's near the bottom of the table, he's actually contributing to a pretty decent defence. Their 17 goals conceded puts them 10th on goals conceded, better than fifth-placed Bordeaux, and Guerreiro has shown in the past that he does have quality at that end of the pitch just as much as he does going forward. He's also decent in the air, especially for someone of his size, which is almost a trend for young left-backs these days.
But going forward remains an area for improvement. His assist record is not the best, but it looks like he is beginning to rectify that. As he showed in the recent win against Lens, his decision making is getting better, whether it's picking the right pass or choosing the right time to shoot. Whilst his speed and stamina may come naturally to him, attacking talent for a full-back is something that comes with playing at the top level consistently, and getting to know when to make certain decisions. Guerreiro remains very young, but he most certainly has the capabilities to learn and adapt.
At the moment, Guerreiro's confidence is at an all-time high and it's showing in his games; he's playing with a freedom that'll only allow him to get better. He'll turn 21 in late December and there will be plenty of teams around Europe keeping a close eye on him after his exploits with the national team. If he stays for the rest of the season to hone his craft with Lorient, he could become a very good player both for a potential Champions League side, and even the Portuguese national team, in the near future.
N.S./N.Ba 
[PHOTO: Le Telegramme]