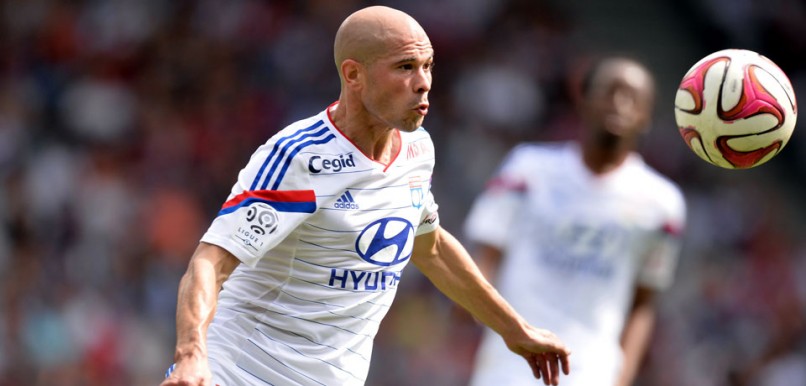 SUNDAY SPECIAL: Christophe Jallet to Les Bleus: A surprise inclusion?
Another month, another French international squad announcement and as always there were a few surprise inclusions and omissions. With injuries to Arsenal stars Olivier Giroud and Mathieu Debuchy, replacements were needed in the squad and whilst Andre-Pierre Gignac's recall was fully deserved, Christophe Jallet's inclusion has provoked mixed reactions.
Having made just five appearances for the national team and with the right-back turning 31 at the end of the month, many have questioned the inclusion of a man who will, barring an exceptional turnaround, be nowhere near the Euro 2016 squad and that Deschamps should have picked someone with a better chance of keeping his place in the side in the future. Sebastien Corchia for example. However, Jallet's began to slightly return to form at his new club Lyon and despite his age, Deschamps has considered him to be sufficient backup for the injured Mathieu Debuchy. 
Jallet has been through a lot of tough times in his career in order to reach moments of prosperity, from breaking through at Niort before his transfer to Lorient in 2006 where he was originally seen as the third-choice right-back. He slowly grew in confidence over the three seasons he spent with the club, eventually becoming a permanent fixture in the side before his move to Paris Saint Germain back in 2009.
Again he was brought in a cover for a more experienced player but would eventually outshine his mentor, earning a starting spot and even keeping that position when the riches of the Qatari Sports Investments holdings took control of the club. He was moved around a lot under Carlo Ancelotti, playing in midfield before moving back to his original position within the back four and even being given the captain's armband at one point over Mamadou Sakho.
Despite his regular spot in the side, many people still felt that he was the weak link within an increasingly strong PSG side. The club would go on to add Gregory van der Wiel and despite the young Dutchman starting poorly, allowing Jallet to keep his spot in the side, the former Ajax man would eventually hit top form and force the Frenchman to sit on the bench.
Too often Jallet would be caught too high up the field for someone not blessed with great pace, he'd carelessly give the ball away both in defence and up the field and many felt that he was out of his depth in a side looking not only at domestic championships but European glory as well. His career in Paris ended in the summer as he left for Lyon just as PSG pursued Serge Aurier as competition for Van der Wiel and nobody really battered an eyelid when he was allowed to make a swift exit.
He didn't get off to the best of starts with Lyon but has slowly grown with the young side and has put in some outstanding performances in of late that would have turned anybody's head. A great game and an assist against Lorient in midweek was followed up by a man of the match performance against Nantes and despite his side's poor display, he showed his real quality.
That must have convinced Didier Deschamps to call Jallet to the squad and whilst he's made just five appearances for his national team, he has been in and around the squad a few times whilst at PSG as an unused substitute. He is widely expected to warm the bench again against Portugal, with Bacary Sagna expected to take his starting right-back spot back. An argument could however be made that he has not been used as much since his move to Manchester City and that there could be an opportunity for the Lyon player to impress Deschamps in the absence of the number one choice, Mathieu Debuchy. Perhaps Jallet will get a chance against the less imposing Armenians. 
However, a player in his 30's with just five caps probably shouldn't be chosen ahead of younger options that have a chance of usurping Debuchy in the future. Sebastian Corchia would be one of those options, even though he's not been at his very best so far this season, he certainly has a promising future. That's also true of U21 stalwart Dimitri Foulquier, who's been impressing in La Liga for over a year now and would look a more sensible option of promoting into the team than adding Jallet.
In the end it looks like Deschamps has turned to experience over youth, which is a decision that should rightly be criticised when you take into account the fact that as the host nation, they haven't got any qualifiers to play. It's an excellent chance at this early stage to test out some youngsters and see if they could squeeze themselves into his plans for Euro 2016 but that will have to wait for the next international call-up. It's not an unusual choice bringing in Jallet, but he knows the squad and his inclusion this season is certainly less shocking than a call up during the 2013-2014 campaign would have been. Overall, it still disappoints those that are looking to a new generation of promising young French talent who are regularly given a chance by some of France's top sides in the domestic league yet are pushed to the side by the national team.
N.S.