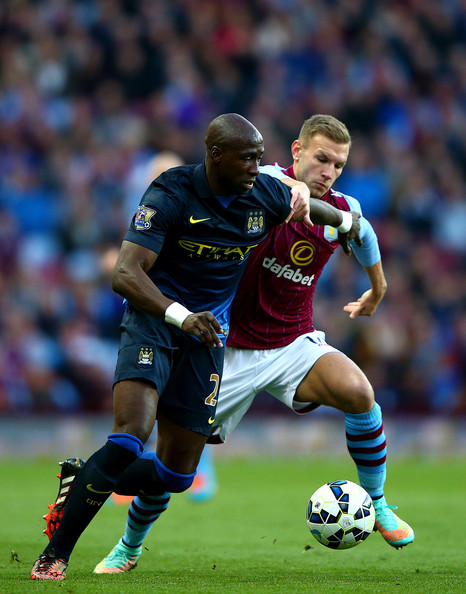 SUNDAY SPECIAL: Why critics should not be too harsh on Eliaquim Mangala
It seems success for many Premier League debutants is notoriously tough to predict. Currently 2nd in UEFA's league co-efficient, the Barclays Premier League is well known for its physicality and unforgiving character which affords next to no acclimatisation period for its new boys. Arrivals from France, be they Frenchmen or with experience in Ligue 1 or 2, are relatively common and often bring that 'je ne sais quoi' quality so yearned among managers seeking to outwit their opponents with surprise packages. Just ask Sam Allardyce at West Ham United, where £3.5 million former Metz man Diafra Sakho, with no experience playing in any top division, has scored 7 in his first seven starts.
But life so far for French international defender Eliaquim Mangala has been less breezy. Arriving for a cool £32 million in early August, Eliaquim Mangala came with rave reviews from his time at Porto and previously with Standard Liege of Belgium. His arrival in Manchester constituted the end of months-long transfer speculation about the 23 year old's future. Subject of a failed bid in January from the Blues, Mangala saw out the rest of the 2012/13 season at Porto before switching Portugal's North West for England's and ending a three year stint at the Blue and Whites. "It is with great joy that I go to seek new challenges with Manchester City," tweeted Mangala as he received praise for his "tenacious tackling, positional sense and ability to play out from deep."
Manuel Pellegrini, himself a newcomer to the Premier League the season before, had just established himself and his team as Champions of England. The intelligent and experienced manager foresaw Mangala making "an immediate impact in the Premier League, thanks to his physicality, his reading of the game and quality on the ball." And, true to form, an impact he made. Mangala had Diego Costa in his back pocket as Manchester City came from behind to secure a point against Mourinho and his expensively assembled Chelsea side. That was his first start for the champions in a game whose reports were dominated by Frank Lampard's equaliser against the club he had previously played over a decade for. Nevertheless Mangala was described as "colossal" by one influential writer in the press, despite letting Schurrle dart in front of him to score Chelsea's opener.
Fast-forward 4 weeks and his share price seems to have dropped somewhat. What happened to all that apparent optimism? It was Mangala's second start in the next round of Premier League fixtures, against last year's FA cup finalists Hull City, where criticism of the Frenchman truly came to the fore. With City two to the good and cruising thanks to two strikes from perennial scorers Aguero and Dzeko, Mangala unknowingly and inexplicably powered an otherwise aimless cross past fellow ex-Porto man Willy Caballero into his own goal. With 21 minutes gone, surely he would dust himself down and shut up shop for the remainder of the half? To say things went from bad to worse would be an understatement, as after the 30 minute mark Mangala put in a studs up challenge on Adel Hernandez of Hull inside the area to concede a penalty, duly converted to Mangala's chagrin by the man he had fouled. Luckily for him Lampard and Dzeko struck twice more after the break to secure the win, but the critics pounced on a vulnerable Mangala after the match. The young man was completely in the wrong position for the first goal and "too tight, committing a clumsy tackle" in conceding the penalty according to former Manchester United midfielder Phil Neville.
Mangala's third start against Aston Villa proved to be a testing one, but with a 0-2 away victory for Manchester City, including a towering header from Mangala cleared off the line just before Aguero opened the scoring. It was a solid performance from the young defender, but he was injured for the 4-1 over Tottenham Hotspur and since returning against CSKA Moscow has not disproved his detractors.
After losing a 2-0 lead the attention inevitably shifts to the defensive set-up. Attention of the critics is one thing, but detailed analysis of the weaknesses of your performances by an opposing team is certainly another. The aforementioned Sakho's West Ham United defeated the champions 2-1 at Upton Park, with manager Sam Allardyce reported in the press as having set out to exploit City's defensive frailties, namely Eliaquim Mangala, with a view to getting something out of the game. Indeed, the young Frenchman was caught out by Alex Song's scything pass to Valencia, who assisted Amalfitano's tap in. The no. 20's faint appeal that the ball had not crossed the line for Sakho's header was perhaps an indication of a growing discontentment with both his and his side's form in recent weeks.
Subsequently in the last round of League Cup fixtures, his Manchester City side were seen off 0-2 to a second string Newcastle United XI. Manchester City enjoyed 70% of the possession and Mangala completed 87% of his 71 passes. But when striker Rolando Aarons put the visitors ahead with an angled drive past a chasing Mangala into the far corner, it was almost as if the teenager, himself a debutant, was rubbing Mangala's lack of instant success in his face. And that was only the 6th minute. His confidence already knocked from Sam Allardyce's condescending comments during the week, that goal will certainly have rocked the £32 million man. 
Despite this, there must be hope for young Mangala. It will always be hard for a defender to make as much as an impression as a midfield or attacking player; strikers sell tickets, defenders win matches as the old adage goes. Add to that that fact that when you are lining up with one of the Premier League's best defenders in Vincent Kompany, it is hard to steal the show. Yaya Sanogo, another Frenchman yet to find his feet in England, quoted the likes of Kompany as the reason his own goal tally has yet to accumulate. The spotlight will rightly or wrongly always turn to a new signing in a defence which has leaked 17 goals in 14 matches so far this season.
Manuel Pelligrini agrees as far as Mangala is concerned. Speaking this week he highlighted a need for cohesion, for acceptance of responsibility as a group and not on an individual basis. When journalists turned their sights on Mangala, he went so far as assert "I am sure we bought the centre back we need in him." Encouraging words from his manager, but Eliaquim will need more than that if he is to prove his doubters wrong, especially with fans and boards alike demanding success in the short term rather than consistency in the long term. 
Indeed, with only 7 games under his belt at Manchester City, how can anyone be so quick to judge young Mangala? Team mate Martin Demichelis was famously ridiculed for his feeble performances at the start of the 2012/13 season, yet eventually contributed to a defence which won the league last season. This time last year the Blue side of Manchester sat seventh in the Premier League with one less point than their current haul. Surely then fans and journalists alike learned that to attribute success or failure at such an early stage in either a team's season, or a player's career at any one club, let alone at such an early stage in a player's career as a whole, is a fruitless exercise.
Perhaps the problem lies in Mangala's transfer fee. The vast sums required to prize players from one rich and powerful club to another richer and more powerful club attract everyone's attention, not least journalists who band the numbers about in their efforts to fashion the most impressive headline. That is not to say that is not their prerogative or duty, but it does not serve to make young men's jobs, like Mangala's, any easier, especially when supporters pay so much to watch their beloved clubs play. Imagine misplacing a pass and immediately hearing the outraged groans drift down from the stands and imagining the disapproving headlines of the morning after. The expectation level today is staggering, as if the higher the fee the more immediate the player's positive impact. In reality, the £32 million represents an investment, an ambition on the part of Manchester City to provide quality defenders for their future; Eliaquim Mangala's career has another decade to run.
Mangala's mistakes made at Hull and West Ham cannot now be rectified, but they can be learned from. The criticism has been deserved as Mangala's performances have not been up to scratch but at the same time he needs protection both on the pitch and off it in these early stages if he is to regain his confidence and help Manchester City make up the ground they feel already is lost against Chelsea in the title race. It is safe to say Mangala will not score his way into City fans' hearts, but a handful of clean sheets coupled with a few victories against city rivals United, CSKA Moscow and QPR will see the spotlight will well and truly lose interest in him, and let him get on with the job he was brought to Manchester to do in peace.
[PHOTO: Zimbio.com]
B.M.