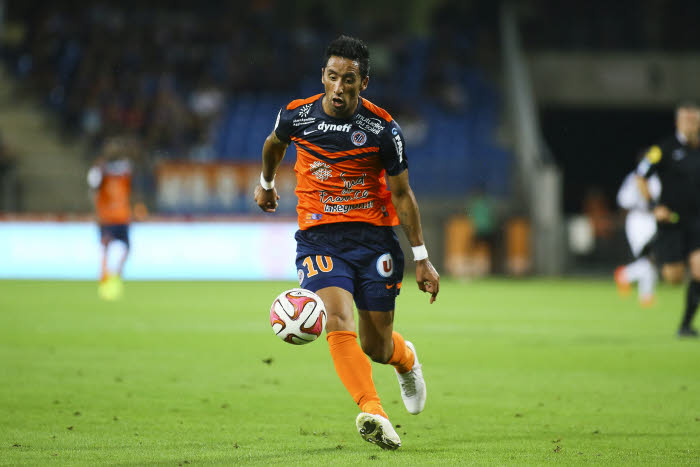 SUNDAY SPECIAL: Lucas Barrios: A False Start
From the darling of Dortmund to turning into a ghost just in time for Halloween at Montpellier, it has been quite the fall from grace for Paraguayan international Lucas Barrios. Since helping the German side win their first title in nine years in 2010, he has seemingly never rediscovered his scoring touch and has only managed one shot on target in seven games for MHSC before this weekend: a cataclysmic start but has he got the capacity to recover or is it just a downward slope from here?
Looking back at that fantastic season with Dortmund, it was difficult for anyone to see this kind of fall coming. He took a year to settle but notched 16 goals in 32 games in their first title-winning season and that led to press speculation that Chelsea were interested in bringing him to Stamford Bridge. He chose to stay, lost form and was replaced by a young Polish forward named Robert Lewandowski, who he could not dislodge so he left the club to join Chinese side Guangzhou Evergrande.
Despite his signing for a record fee, earning him an estimated €6.7m per year, Barrios was regularly used as a substitute over his two seasons in China and scored on just five occasions. He then refused to return to the club over a dispute regarding pay, with Guangzhou denying any wrong-doing and he was soon sold to Russian side Spartak Moskow.
He joined for a fee of €7million but never really got going for Spartak, scoring just twice in 16 appearances since joining in the summer of 2013. That led to him signing on loan with Montpellier, with an option to buy, in an effort to help improve their depleted front-line.
Saying he's not started too well is putting it lightly, Barrios is beginning to look like a passenger in a team that can't seem to find goals from anywhere so far this season. His first and only shot on target in nine attempts occurred last weekend against Lyon and it was easily stopped, a damning statement on its own of how anonymous he has been in the seven games that he was participated in before this current game-week.
He has been caught offside seven times, committed 12 fouls and has a pass accuracy of 61 percent. He cannot seem to get in behind defences, he is weak and fails to hold the ball up on most occasions and his frustration is leading to him giving away cheap free-kicks and ultimately the possession back to the opposition.
Despite a common myth that Barrios is quite diminutive, the 29-year-old is 6 ft 2 and has, at previous clubs, shown a threatening aerial ability. However, to see that he has only won 35% of his duels just highlights that he is not getting the better of defenders on a regular basis and even when he is, looking at the rest of his awful stats, he does not do anything of note with the ball when he does receive it in advanced positions.
Scoreless, he is averaging over three bad touches a game and has not created a single opportunity for a teammate whereby they have gone on to take an effort at goal, it is an utter nightmare for Rolland Courbis. It is not as if MHSC can say that this is particularly surprising, he has failed to perform since 2011, but the manager's decision to make this transfer anyway on personal sentiment rather than concrete evidence is proving costly. 
What should worry the Paraguayan international the most is that his team are starting to lose patience with his poor displays, hauling him off at half-time last weekend. His confidence has evaporated, he is snatching at any chance he gets and, unless he can put a chance away, the downward spiral will naturally continue.
This was always going to be a relatively low-risk, high-reward move for Montpellier to make, they only have him on loan so if he was to fail he could leave as normal at the end of the campaign but if he were to regain form it would have been highly beneficial. The latter is not proving to be the case, and it is starting to look more and more like another player who's peak has long since passed him. The weight of expectation looks to be too much of a burden for someone who seems to lack the drive and determination that the best strikers possess.
It is a shame to see any footballer crumble right before your eyes but when it has been such a long time since we have seen any real spark in Barrios' play and now that he cannot produce for a team that he walks into on his previous reputation alone, it is time to start thinking of allowing him to go back to Moscow. At the moment, he is a distraction and a hindrance to a team that wants to be certain of it's Ligue 1 safety as soon as possible. Unfortunately for Barrios, his false start looks to have had him removed from the race entirely.
N.S.
[PHOTO: Icon Sport]