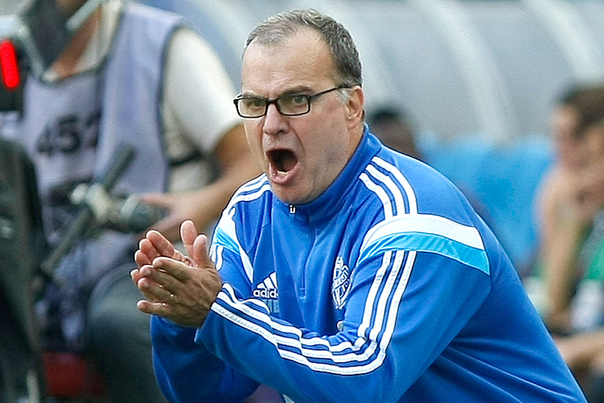 The final article of 2014: PSG are boring, but Ligue 1 really isn't
The French media have an honorary title for the team that finishes top of the league just before Christmas: it's called "champion d'automne". For the first time since Lille in late 2010, this title was not won by PSG.
Now historically being champion d'automne by no means guarantees that you will lift the crown in May. Between the Lyon dominance of 2001-2007 and the start of the PSG "era" (winning two titles back-to-back isn't mouth-dropping, sorry Nasser), the title was won by Bordeaux, Marseille, Lille & Montpellier and none of those won the honorary title.
Point being, PSG are not champion d'automne. Actually, they're not even runners-up. Their snoozefest at home to Montpellier (0-0, the 3rd time Paris failed to score a goal in a league game this season which is more than the entire amount of last season (2)) added to Lyon's annihilation of Bordeaux (5-0) makes the Gones deservedly second.
Not only can we only applaud Marseille for finishing top halfway through the season using players of less quality (no offence but Mendy is no Maxwell, Gignac is no Ibrahimovic and so on) having changed managers in the off-season and pretty much weakening its squad from last season (in which they finished 6th) due to the sale of Mathieu Valbuena – arguably the league's best player of 2013/14, PSG aside – but let's also commend what a good job Lyon have done with a limited budget. The young guns of Tolisso, Fekir, Benzia, N'Jie and Lacazette have made a superb first half of the season and will most likely be pushing for the Champions' League spots come May.
Yes, PSG have not finished the first half of the season at the top and yes they have regressed but in another season, competition wouldn't have been as stiff. Monaco's collapse in August could have made for a much more plain first 5 months of the season without the Olympiques. Kudos.
Speaking of Monaco, they're (finally) on the up! They won at Metz that was their 4th on the bounce and their 11th without losing. They have suddenly gone from 10th in late November to 5th halfway through the season. It is their best ranking of the season and even though most of the football has been drab (23 goals scored is not an attack of a side that wins every weekend) Jardim may just be getting there and Monaco might just be the side to compete with the current top 3.
Because who else could? Saint-Etienne finally got rid of the chore of the Europa League (Christophe Galtier may tell you otherwise but make no mistake, Les Verts are over the moon at not having to play on Thursday evenings) and have all the time left in the season to focus on getting 3rd (will they make a push for the EL group stages next August if they finish 4th once again? I doubt it). Bordeaux are another side who have been up there even though the 0-5 loss to Lyon will hurt Willy Sagnol's side. Then you have unfancied sides like Nantes, Rennes, Reims and Montpellier who could well settle for mid-table obscurity such is the diminished size of their squads.
This leaves us with the fight for the drop. Just like last season, it's been great fun up until now and very few sides of the bottom half will know in which division they'll be playing in 2015/16 before the last kick of the last game.
Of the 11 bottom half sides we can draw up 3 sub-categories:
The hopeless: sides that haven't won a game in ages and are desperate for points. Currently Caen (8 games without a win) and Metz (7) are in that category. They leave this category as soon as they win a game while others can very quickly enter this category (against their will of course).
The usual suspects: sides who you aren't very much surprised are that far down the table. You have Bastia, who had to sack good old Claude Makélélé to get moving; Evian who everyone in France wanted to go down last season but they're still there (fun stat about Evian: since drawing against PSG in late August their form reads 3 defeats, 3 wins, 3 defeats, 3 wins, 3 defeats); Lens who are playing games in Amiens and Paris as their stadium is undergoing works for Euro 2016; Lorient (actually I wasn't sure whether to put Lorient in this category or the following as it is their first season without ex-manager Christian Gourcuff) and Guingamp who are proudly flying the French flag in the Europa League and have the whole country's full support of course.
Finally, you have the "Are you sure you belong here?" category: sides who look far too good on paper to be in the bottom half but they've so massively underachieved that they are. Toulouse, Lille and Nice belong to that category. Lille finished 3rd last season and should be doing just as well this season while the other two are solid sides with good players and managers. No reason for them to be so close to 18th halfway through the season.
Then we have Europe. You can't help to feel a bit frustrated at the French results in Europe so far. First we had Lille getting humiliated by Porto in the Champions' League play-offs then PSG not playing well at all in most of its group games culminating in the 1-3 surrender to Barcelona which was a typical example of a complacent side just happy to make it to the knock-out stages, win the league and go home (and earn loads of cash). In the Europa League, Lille and Saint-Etienne couldn't have cared less: they were sufficient and frankly not interested in most of their games always being careful to not putting too much effort in order to prepare nice and easy for the Sunday league games. Lille really should have given it more of a go: their domestic season is effectively over unless they go completely out of form and go down or they win a cup or two.
On the bright side, Monaco have been horrible to watch but did finish top of a group containing Bayer Leverkusen & Benfica (who finished bottom despite having a decent domestic season) while Guingamp have been simply a breath of fresh air. To do so well and get out of the KO stage while being the most likely French side to battle for the drop is brilliant.
The forthcoming Ligue 1 title race could be one of the closest and most competitive that we have seen in the 21st century as France's premier league looks to appeal to the masses once more in the New Year. There will undoubtedly be a non-stop flow of twists, turns, refereeing controversy, transfer antics, match fixing scandals (it is difficult to believe that we have heard the last of it in 2014) and most importantly, players, managers and fans dripping with passion for the game and the league that they adore.
Bring on 2015 and a Happy New Year to you all!
Philip Bargiel and The Get French Football News Team.