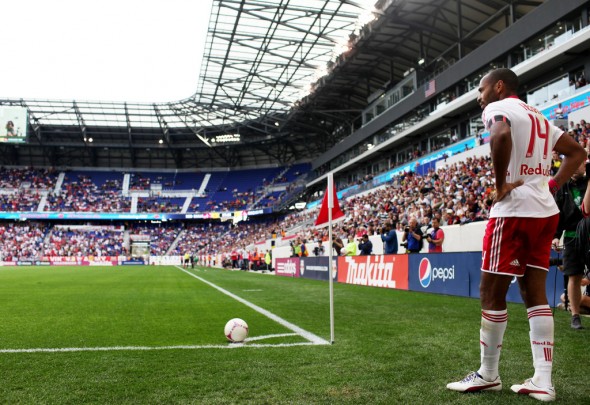 Thierry Henry-mania in this week's L'Equipe Magazine
Get French Football News takes you through the highlights from L'Equipe Magazine's 100 page special on French striker Thierry Henry, with interviews from all the influential individuals on the New York Red Bull man's career as well as an extended conversation with Henry himself. 
Highlights from The interview: Thierry Henry
"I would not like that people love me for someone who I am not."
On whether or not he has reached "a perfect form"…
"Collective perfection, I reached at Barca. It is not me who is saying that, it is the results. We won in 2009 all the competitions that we participated in. In modern football no team has ever achieved that. With Barca, we did it, what's more by deploying possession football, constructive and not destructive, spectacular play… Maybe one day a club will do better in terms of titles per year, by winning 7 trophies in 7 competitions played. It could happen because there is no League Cup in Spain and we were therefore not able to compete in a seventh competition."
"But even during this extraordinary season, during which I played a lot, I feel that I could have individually done more. Each game, I messed up one situation, one action. So I was against the game. And individual perfection would be to stay placed, throughout the whole match, in the direction of the game. In this movement. And to repeat this without mistake, game after game. Individual perfection does not exist."
On Barcelona's style of play in 2009…
"I remember what Pep (Guardiola) used to tell us. He would never discuss the result, event before crucial dates. He would repeat: "We have an identity, we are the possessors of and we are responsible for this identity. I want us to say, whatever the score is it at the end of the match, that our Barca team plays football." And "playing football" for Pep, for myself and for the other players in this team, means something great. And so playing [it], of course, is a joy."
Is it fluidity you are referring to, what you call "being in the direction of the game", that is the source of joy?
"The source, is work! But I have to admit that it has happened to me a few times, that when the referee blew for the final whistle, I would ask myself: "already?", yet we had run for ninety minutes… But it was like that when I played with my mates in the street and my mother called me for dinner. "Already? Has it really been for three hours that we have been playing?""
"With my guys at Barca, we spoke the same language, that of the game, of passing… It was so perfect in our joint expression because Pep had brought discipline into this team and this club. Before him, Barca scored a lot but also left a lot of opportunities for the opponent. Our opponents regularly didn't have a single chance, a single opportunity."
How did you manage it?
"Entirely systematic high pressing, positioning down to the millimetre, a tempo down to a 100th of a second. Leaving no spaces for the opponent, never allowing them to position themselves between our lines. At home and away, we kept this identity. Always high. And that, that was repetition, day after day, a certain hygiene of life, total discipline to be performing at each training session with maximum intensity, concentration and necessity. After that, there was individual quality in every position…"
"With Pep, if you were 50 centimetres too much to the right, he would stop the session and replace you."
On adapting to Barca…
"At Barca, it is always more. You need to work more, give more, score more… If you are 5-0 up in a match, you need to go and score the sixth goal. The fans demand that… Is it difficult to to adapt to Barca when you weren't made at Barca… you have to unlearn, go against your reflexes and relearn how to play football almost like it is a new sport. But once you understand how it works… it is extraordinary to live it."
"For me listening and being ready to do a service is not humility, it is professionalism. I am neither humble nor am I not humble."
On his supposed blazé style of play…
"I am not in the heads of those who think they know me. Contrary to them, I don't feel this way. From my side, I have never changed and I will never change: on a pitch you will always see me get annoyed, moaning. I know that I am a pain, but it is always about the game, the team, that we go in the direction of football. It drives me crazy when I have failed to respect the movement of the game, when I have hampered it, badly or well perceived it, but not being able to do the right thing… I can list games where I am still annoyed with myself for not opening up my feet, for not laying off to a teammate… And during those moments, even if we score anyway, even if we win the game, I am frustrated, annoyed."

Aren't you a bit crazy then?
"My father gave me this education, and my apprenticeship at Clairefontaine reinforced it. It is all of my grounding that has made me into what I am. At Clairefontaine, I was raised, educated. Claude Dusseau, André Merelle, Christian Damiano opened my eyes and marked my life. My intransigence in terms of the game, the respect that we must offer it. I will die with that, with the love of the game. It will be a beautiful death!"
Before that, if you become a manager, you will be a pain in the neck for your players!
"I don't know. Would I be a good communicator of the game? A good educator? I know only that I know a bit about the game and that I feel profoundly about it. I have ideas, a personal version of football, a want to confront it and relay it. I have spoken with Arsène and Pep, they told me the same thing: it is not easy to educate, to stay calm, to let things go. You have be in total control of yourself, every day. That cannot be easy. We will see…"
On the problem with youngsters in football these days…
"[They think] "The coach doesn't like me, he isn't playing me…" But no! The problem is not the coach. It is you! The solution? You are the one who has it. I do not know a manager in the world who will not play you if you can help him win. Not a single one! It is like with Thuram. He gave me blows at training, he would ridicule me if I lost the ball. He was harsh! I can not thank him enough for having been so harsh. He wanted me to be my best."
On working up the ranks in the national team…
"In the French national team, when you are starting out, do you think that the old ones are waiting for you there with a box of croissants? You are there because you took somebody else's place! And if you want to play then you have to take the place of somebody else! So you need to show the players that you have what it takes. If you do that, maybe they will start to talk to you and eventually give you advice. But if you haven't shown anything, these guys won't even look at you, and that is normal. We are competitors. If you make the team win, you exist. If you don't make the team win, you don't exist."
On records…
"The only record that I will keep with me, is the number of goals I scored at Highbury because the stadium doesn't exist anymore. My other records, we will forget them when they are beaten…"
On not having a Ballon D'Or…
"But it is pointless to ask this question! Of course it would have been nice to have had a Ballon D'Or, I finished one time second, one time third, that's already good, who can say more? I won the World Cup, I won't be complaining!"
You deserved the Ballon D'Or in 2003 and 2006… and the reason that you didn't get it at least once, is maybe because you did not win over the press, because you came across as someone a bit arrogant…
"You're the one saying it. I think if I had not missed those two chances in the Champions League final against Barcelona in 2006, we wouldn't maybe be having this discussion. And, honestly, it hurts me a lot more not to have won the Champions League on that occasion… After that, this isn't the first time I've heard this [theory]. "And if you were more like this or more like that…""
"The "if's" are not really my thing. I sleep well at night. I do what I have to do, what I can do, with successes and failures. My longevity, more than 20 years, playing as an attacker, that has meaning for me. My work is recognised by that. For the rest, I have my own way of celebrating my goals, my own way of answering questions that seem twisted or outside of the scope."
"I came into football to perform. The way in which I carry myself or who I am, maybe cost a certain number of things, certain things more important than the Ballon D'Or, but I don't gain anything by focusing on that… People think what they want. Thinking, is not knowing. I would not like me to to like me for someone that I am not. If you tell me a joke, and I don't find it funny, I will not laugh. Does that mean I am a horrible guy?"
"If I do not celebrate a goal like you want me to, because I still have in my head the pass that I missed ten minutes ago, because it is not in my nature to make a fuss, I am arrogant. But strangely when I say that I am not in the right head space or that I defended badly because I do not give enough of a fuss to do it, there people don't say "he is honest"…"
"For my part, I have always contented myself with the way that my coaches and my teammates look at me. It is the only thing that I care about. I have always wanted to be able to look them in the eyes. So that I can be able to do my work for 20 years, day after day. It's why I have refused dinners at a restaurant because there was a game four days later, why I spend time at home, as I still do today, so that I can recuperate and do well in training the next day."
On his daily life…
"I don't have many friends. I stay at home with my girlfriend and my kids. I see a bit of friends that I have in New York, sometimes Peguy (Luyindula). On Tuesday's and Wednesday's there is the Champions League which I never miss out on, on the weekend there are the leagues… I am not much of a people person. I know that people will say that they cannot imagine that."
"But yes, it is that my life. And I like it. Since we have started talking, I have missed four or five European Championship games! Since the age of 20, my life is home-training, home-match. People think its crazy, but it doesn't bother me to be crazy like this. The "people" life doesn't interest me. My life is "Saturday we have to win." And in London or in Barcelona it was "Saturday we have to win and in the Champions League as well, and with France too!" and I knew very well that, on one of the games if we did not perform, it would fall on me."

On England…
"They adopted me and I am at home over there. My "home sweet home" is London. My club, is Arsenal. When I put on that red and white shirt it gave me the same effect as the French shirt. Like when Clark Kent puts on Superman's cape. I become somebody else, somebody stronger. Since my first season, I wanted to do that for my whole career… When I left the club, a part of me died. I cried…"
Why did you leave then?
"Because I am a competitor."
And because Arsène Wenger wasn't ambitious enough?
"I have nothing else to add. I am a competitor… but I returned, you have to leave to return no? The fans maybe understood that I was transparent, that I was never a "character". Maybe they respect that… In England, certainly in London, I think that the people loved me for the player that I was."
On the statue at the Emirates Stadium…
"Statues are for heroes and I am not one. I haven't saved anybody's life. I only kicked a ball."
On the handball against Ireland…
"It was a reflex, a bad reflex that any player could have had. It was me who had it, I shouldn't have had this reflex, but I had it. And I take responsibility for it. Maradona scored with his hand, Messi too, in France we find it very "romantic" it "adds personality". But when it is me, it is something different." 
On Raymond Domenech…
"The coach had an important influence on my career. He helped me a lot."
On finishing his career for France at the 2010 World Cup…
"There is no good or bad ending. The end is always unjust, except in Hollywood films and maybe for Didier Deschamps and Laurent Blanc who had the option to quit after a great victory. I wanted to stop in 2008, after the Euros, I was asked instantly to continue, to bed in the new generation, to help. I accepted it at the time and if I was given the choice again I would still do it, I do what I have to, to help the French national team and I will always do… I have finished talking about it (2010 World Cup) and I think that everyone should talk about something else. At least out of the respect for the current players who are building something."
On his future…
"Nothing is clear. I have not taken a decision yet and speculating isn't my thing. One thing is certain: I will stay in football, to manage, as a pundit, as a director, we will soon see. The second thing that is certain: I would like to see Arsenal win the Champions League. After that, whether I am witnessing it from afar or from close by, it doesn't depend solely on me, but it is certain that I would like to help. Because it is my club and as a player I never succeeded in giving it the Champions League."
Basketball Player Tony Parker on Thierry Henry:
"I view him a bit like the older brother than I never had. We have known each other since 2003 and we clicked straight away. We have the same views on sport, life, and we have always got on, always have things to say. I have met a lot of sports people, but I have never clicked like that."
What qualities of Henry would you like to take?
"I would say his kindness and straightforwardness. Titi is someone who is very sincere. Everything that he says, he thinks, he is very positive with his attitude."
"When we are in private, it is clear that Titi is one of those guys who jokes the most! We like to go to dinner and often after we stay at home, speak a lot, watch a film, a TV series…"
"When I need advice, Titi is, since the last ten years, one of the first people that I call. He has a good way of looking at life, lots of experience. We have come across similar things in our lives. He dealt with them before me and therefore his advice is important. He has always been there, even in the worst moments."
Is he retiring or not?
"Honestly, I don't know! One time he told me he is going to continue, the next he tells me he is going to stop… It is not an easy choice to make and I think that he himself has yet to make it."
Arsène Wenger on Thierry Henry:
Would Thierry Henry be a good manager, in your opinion?
"Yes, of course, because he is intelligent, impassioned by football. It is a good basis to have to be a great player, but there are lots of other ingredients. But, yes, he can become a very good manager."
What qualities does he have?
"He understands quickly, he understands the game. He has good sensitivity, good contact with people. He has all the qualities. But it is a decision that must come profoundly from inside him, because it is a life decision. It is not a decision about potential, in my opinion. You have to sacrifice your life to be a manager. There is nothing else in life apart from it. The real question that he must ask himself is: "Do I want to sacrifice my whole like for that, spend the rest of my days for this?" After that, his potential, exists. That is so obvious."
Is it better to learn the job as an assistant like Ryan Giggs at Manchester United for example?
"It is better to take responsibility of a team, like Zidane is currently doing at Real Madrid. Because you learn how to deal with a dressing room, deal with people. This job, it is about above all having ideas and putting them into practice. And you can only do that if you have responsibility of a team. You have another example in France with Claude Makélélé. He was a coach, but didn't have the responsibility of a team before and I think that it is important. To expose yourself directly to enormous pressure is maybe not the best way of becoming used to dealing with the players."
Should he coach youth teams like Patrick Vieira at Manchester City or Dennis Bergkamp at Ajax?
"Yes, he needs to learn the job. As a player, we have a simplistic view of the role of a manager. And as soon as you become a manager, it becomes quickly very complicated. I have seen so many people who had enormous potential to be a manager and did not survive their first job because they were not ready, because they had not learnt how to do their job. If you are not prepared, you will not survive."
Will he be able to deal with the criticism?
"I don't know. But one of the qualities that you need as a manager is to be resistant towards critics, and resist them when you think that they are not justified."
Would you be ready to welcome him at Arsenal? Could he learn by your side?
"It is not a topic at the moment. And then, there have to be positions available. At the moment, there aren't any. But it is not impossible. I encourage every player with a positive philosophy to be a manager. And I welcome with pleasure all the players that I have played here to come back if they need to do something. But not an honorary position. There is nothing worse than honorary positions. It has to be a position at the heart of the club, a position that forces you to get up in the morning to do something. We live in a society where people talk a lot and do very little. I am for a system where everyone has to accomplish something." 

Tributes to Thierry Henry:
Pep Guardiola, Bayern Munich manager: "It was an honour to work with such a player. At New York, I was surprised that his playing level was still so high."
Michel Platini, UEFA President: "You want me to speak about Titi? That f***** that nicked my record for goals in the French national team? Um… I am very happy that it was him who beat me, because I like the man as well as the player. I like his personality. He is an exceptional athlete." 
Zinedine Zidane, Castilla manager: "Thierry enters the line of the very great players that France has given us. Since 1998 I knew that he was someone special. Thierry Henry has had a magnificent career and I think that, in one way or another, he has given a lot to football."
Johan Cruyff: "I liked the way in which Thierry Henry carried himself at Barca a lot. He showed a particular elegance and remarkable quality. I can say that he honoured the number 14 shirt even if it has more significance for commentators than for me." 
Raymond Domenech: "To train Titi, it was to find yourself in front of a boy who wanted to make things happen, who asked questions, who has energy and vision. If he scores 2 goals but the team loses 3-2, he will be enraged. This need to always reach perfection is a form of humility. He should be an idol for us, like he is in England."
Bixente Lizarazu: "The prints that he has left on French football will be permanent. He deserves that that is the case on an international level also."
Emmanuel Petit: "I love Titi!"
C.N.