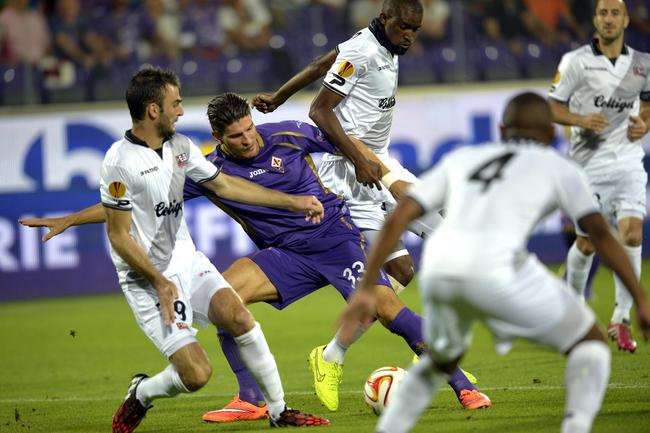 Thursday's Europa League Round-Up
There were three French teams in action this evening in the Europa League.
In a 17:00 BST kick-off, AS Saint Étienne were held by Azerbaijani outfit Qarabag in what can only be described as a boring 0-0 draw. 
A depressing state of affairs for Les Verts, with Qarabag having had fantastic opportunities in the second half to score and had it not been for an inspired performance from goalkeeper Stephane Ruffier, then they probably would have. 
Reynaldo, for example, found himself alone by the penalty spot just past the hour mark, but failed to convert. Apart from a fantastic double opportunity for Max Gradel inside the first ten minutes, Sainté were without attacking inspiration. A draw ended up being a good result for Les Verts.
Guingamp began their European adventure with good spirits, even if they were rather easily beaten by Serie A side Fiorentina, 3-0 in Italy on the night. EAG started quietly but confidently, with Pied and Mandanne having half-chances in the first half an hour. The Brittany side's main weaknesses lie at the heart of the defence this season and these were exposed for Fio's opener as an unmarked Vargas was able to tuck home.
Things went from and to worse for Gouvernnec's men as the sending off of Moustapha Diallo quickly followed after he was rightly dismissed for a second bookable offence. From that point onwards, Guingamp were facing an uphill battle to stay in the game and were often willing to concede the middle of the park in order to mark defensive areas of the pitch. This allowed the Serie A side to push on and Cuadrado and Bernardeshi were able to exploit this. At times, the second half looked very much like a training exercise. 
As for Lille, they were more surprisingly prevented from winning at home against a plucky FC Krasnodar side. The Russians started poorly and Lille had several chances through Origi and Balmont (who hit the post) to take the lead. Ricardo Laborde was allowed to exploit a Marko Basa mistake with ten minutes of the first half remaining for Krasnodar, and it was almost with their first effort to score, such was their lack of dominance up until that point.
Lille regrouped in the second half and found an equaliser with a brilliant free-kick from central defender Simon Kjaer just past the hour mark. Rene Girard made audacious changes to try and win the match but following Les Dogues' equaliser, the Russians were happy to play for the point. 
C.S.
[PHOTO: Icon Sport]