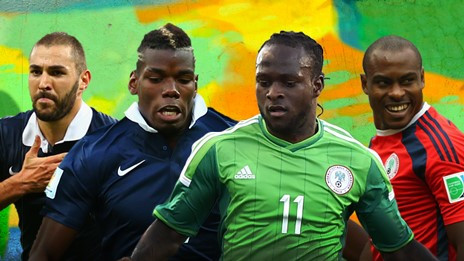 World Cup LIVE: France vs Nigeria
19:00: Round-up: It took a while, but Les Bleus eventually got the better of the Super Eagles in a strong second half performance. Paul Pogba scored the first, and Joseph Yobo netted into his own goal late on. The key moment was the substitution of Antoine Griezmann for Olivier Giroud, which changed the game completely. A quarter final against Algeria or Germany awaits!
18:54: FULL TIME: France 2-0 Nigeria.
18:52: It's actually Joseph Yobo who has scored an own goal there, instead of Antoine Griezmann, who looked understandably muted when it went in, realising it was not his goal. Deschamps will not care.
18:50: GOAL: France 2-0 Nigeria (Griezmann). Game over, Les Bleus have done it! They catch Nigeria out by actually taking a corner instead of wasting time, and Griezmann's near post run is not tracked well enough, allowing him to steer in at the front post!
18:48: We will have 5 minutes of added time. France have the ball in the corner.
18:47: France do not look to be in too much trouble at the moment as we head into the 90th minute of normal time. Can they hang on?
18:45: Matuidi is still going strong here, and making runs into the Nigeria half as if it is the first minute. Probably best if he stays in his own half from now on to be honest…!
18:42: Close: As Nigeria press forwards, Les Bleus catch them on the counter an release Griezmann, who shoots powerfully at goal, but Enyeama saves acrobatically.
18:39: GOAL: France 1-0 Nigeria (Pogba). A corner comes in and Enyeama flaps at the ball, just touching it on towards the back post, where Pogba is waiting to head into an open net! Les Bleus need to hang on for 10 minutes + extra time.
18:36: Hits the Woodwork: From a French corner, the ball falls to Cabaye 30 yards out. He takes a perfect touch on his chest, and sends a dipping shot towards goal that has Enyeama beaten, but it cannons off the crossbar!
18:34: France have really upped the tempo here and win a succession of corners after some promising play in the final third. Les Bleus look the more likely to win it here.
18:31: France look so much better now that Griezmann is on for Giroud and Benzema is in his natural position down the middle. Should Les Bleus have started like that?
18:29: Close: Best chance of the game! After some stunning build up play between Benzema and Griezmann, Benzema finds himself through on goal, but his shot is saved by Enyeama and Nigeria can clear.
18:26: Now it is France's turn to put on the pressure from a couple of crosses, which are cleared rather unconvincingly by Nigeria to avert the danger. Still could go either way.
18:23: Close: Odemwingie gets his shot through a crowd of players and in low on target, but Lloris gets down very well to save and get the ball to safety. France tiring a little here…
18:21: Substitution: France, as suggested, bring on Antoine Griezmann for Olivier Giroud, who has had better days in a Les Bleus shirt. 
18:16: France look a little out of sorts at the moment, and Deschamps may be thinking about making a change very soon. Nigeria bring on Ruben Gabriel in place of the injured Onazi.
18:14: Yellow card: Matuidi is in the book for a very nasty tackle on Onazi. Lucky to avoid a red there in all honesty, and I don't think Onazi will be able to continue.
18:10: Nigeria go close on a couple of occasions, most recent with Emenike heading towards goal, only to be given offside by the linesman. Varane needs treatment for a clash of heads.
18:08: Oshaniwa is down for Nigeria after a heavy challenge from Debuchy, but he will be able to continue after a short break in play to receive treatment.
18:05: The second half starts just as the first half did, with chances for both sides to counter. Looks like it will remain a very open game.
18:03: KICK OFF: We are back underway with France vs Nigeria. What does the second half have in stall for us?
17:55: Olivier Giroud in particular has been a little disappointing so far in this match. You would think that Deschamps will soon bring on Antoine Griezmann and stick Karim Benzema in down the middle. That could open up some holes and inject some much needed energy into this Les Bleus side.
17:48: HALF TIME: France 0-0 Nigeria
17:45: Close: Nigeria almost score just before half time, as Emenike powers in a shot towards goal, but Lloris gets a strong pair of hands behind it, and Les Bleus survive.
17:43: The game is slightly slowing now as the players get tired and half time approaches. France can be relatively happy with their performance, but Nigeria definitely look dangerous.
17:40: Close: Les Bleus almost 1-0 up! After a flowing move involving Matuidi and Valbuena, the ball is passed to Debuchy on the edge of the box. The right back hits  powerful shot, but it flies wide of Enyeama's left hand post.
17:37: Benzema and Giroud have begun to interchange positions a little bit as the game has gone on, but to not great effect. Pogba's chance remains the best one of the match.
17:33: Nigeria go close through Odemwingie on one end, but then Les Bleus almost hit them on the counter with Debuchy, but his shot flies comfortably over the bar. Very open game.
17:29: France are just starting to take control of this game a little more after a cagey opening. Nigeria, by the looks of it, will not go down without a considerable fight.
17:27: Victor Moses is looking very dangerous here, and has beaten Patrice Evra on numerous occasions on the Nigerian right hand side. Worrying there for Deschamps.
17:24: Close: What a save from Enyeama! Pogba starts and finishes a counter attack, crashing a powerful shot towards goal, but Victor Enyeama is there to save brilliantly. Inspired stuff from Lille's goalkeeper.
17:22: I tell you what, this is one hectic game and a half. It is real end to end stuff, and neither defence looks to be in complete control. Goals likely in this one, and Les Bleus have a game on their hands.
17:20: Disallowed goal: Emenike has the ball in the back of the net, but the linesman correctly raises his flag for offside. I say correctly, but it was very close indeed…
17:17: Close: France hit Nigeria on the counter, but when Olivier Giroud finally collects the ball and shoots, his effort is erratic and wide of the goal.
17:13: Nigeria win a free kick in a very dangerous position… but it eventually comes to nothing as Hugo Lloris is able to collect.
17:10: Benzema gets caught in possession on the half way line and Nigeria break 3 on 3, but Yohan Cabaye gets back to make a crucial block from a goal bound effort.
17:08: Nigeria are certainly not holding back. They go up the other end and find Odemwingie with an accurate cross, but his touch is heavy and France steal it away.
17:05: Close: Les Bleus almost have an opener! Matuidi makes a fantastic run and pulls it back for Giroud, but Ambrose gets back brilliantly to make a crucial interception.
17:03: It has been a lively start so far, with both teams pressing with high intensity. Mathieu Debuchy has already made an attacking run down the right wing, and it looks like it will be a very open game.
17:00: KICK OFF: We are underway with France vs Nigeria! Allez Les Bleus!
16:57: We have heard the national anthems, and we are almost ready to get underway here. The excitement is real, and if Les Bleus can win today, a quarter final awaits. Who knows how far they can go? Kick off in France vs Nigeria next…
16:54: We are closing in on kick-off here in Brazil, and of course Les Bleus are hot favourites to beat Nigeria today, but they cannot underestimate their opposition. The likes of Moses, Emenike, Odemwingie and Musa are very dangerous on the counter, and the defence will have to be vigilant.
16:50: Enyeama: There has been a lot of talk pre-match about Nigerian goalkeeper Vincent Enyeama, who plays for Lille in Ligue 1. He was in inspired form last season with Les Dogues, and France may have to persevere in front of his athletic goalkeeping.
16:45: Team Reaction: Les Bleus line up slightly different to expected, as Deschamps has started Olivier Giroud ahead of Antoine Griezmann. That means Karim Benzema will start out wide, with Giroud taking the main striker role. Further back, Koscielny is in for the injured Sakho, while Pogba starts in front of Sissoko.
16:38: Nigeria team vs France: Enyeama, Yobo, Ambrose, Musa, Odemwingie, Emenike, Mikel, Moses, Oshaniwa, Onazi, Omeruo.
16:34: France team vs Nigeria: Lloris, Debuchy, Varane, Koscielny, Evra, Pogba, Matuidi, Cabaye, Valbuena, Giroud, Benzema.
16:30: Welcome one and all to another Live Commentary of Les Bleus in action at the 2014 World Cup in Brazil! This time though, things are serious as we are in the knockout stages. Nigeria, the 'Super Eagles,' stand between France and a place in the quarter finals, and the whole country will be in eager anticipation of this clash. Let's get right into some team news…