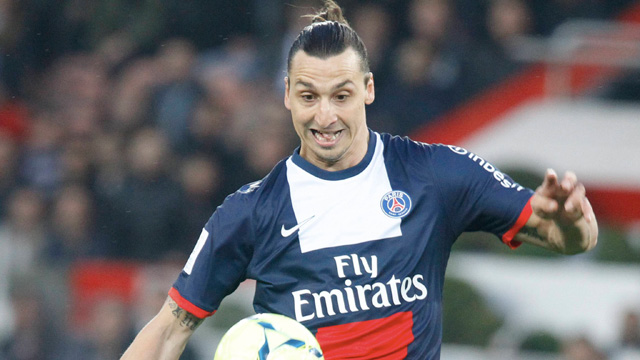 Zlatan Ibrahimovic's interview with The Guardian: The Highlights
PSG's superstar and Ligue 1 posterboy Zlatan Ibrahimovic gave an in depth interview to The Guardian newspaper today. Here are some of the highlights:
On his footballing journey: "Nobody believed I could do it. Everybody was trash-talking. They thought I will go away because I have a big mouth. They thought this guy's vision is crazy. It will not happen. But I had these dreams of where I would end up. And now here I am."
On his drive: "I need that hunger. I still feel I need to do things 10 times better than other players. Just to be accepted and to improve myself."
On his relationship with his father: "I had time with my mother but I really lived with my father. One time he gave all his salary so I could travel to a training camp. He couldn't pay the rent but he did that."
On how one can be successful: "If you are different, or you have minimum possibilities, you can still succeed. I am living proof of that. I didn't have that 'wow' life. I was not a 'wow' person. Those around me were not 'wow' people. I didn't live in a 'wow' area. So my message to those who feel different, or unlucky, is that if you believe in yourself you will also make it. There is always a possibility. Everything depends on you."
On English media criticism and how he got his own back: "It's always been like that. Whenever I played against the English I didn't score. So they said I am not good enough. Next game, same thing. Oh, see, he's not good enough. But this triggers me. This gives me adrenalin. People think they might break me but I am the opposite. I get more anger to demonstrate who I am. I take risks in the way I play so sometimes it doesn't look 'wow'. But then came England. They were saying the same thing about me but I just said it will be fantastic – the first match in our new stadium. The first goal came and I was happy. When the second came I was crazy. And when the third went in I looked around. 'OK, what will you say now?' With the fourth, the bicycle-kick, I thought, 'That's it. I don't know what more I can do.' Even if you live in England I have to say it gave me an extra-special feeling."
Read the full interview by clicking on the link above.