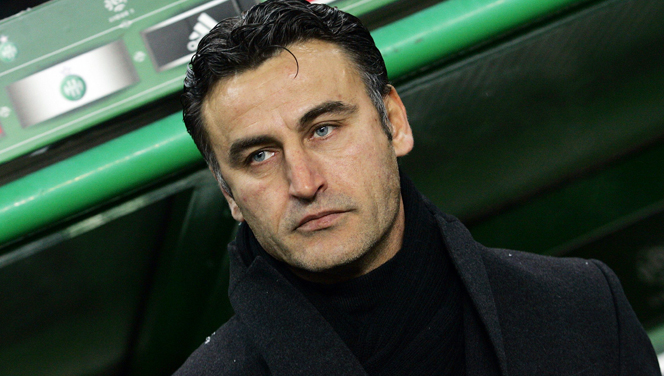 TALKING POINTS: Week 33: Where Christophe Galtier & Hubert Fournier got it wrong in the Rhone derby
You are reading the Get French Football News Talking Points column, written by Eric Devin.
While Sunday's Rhone Derby was one of the more scintillating matches of the Ligue 1 season, and a draw is probably the right result on the balance, both Hubert Fournier and Christophe Galtier likely have their regrets as they look at the table. Still top on goal difference, Lyon will rue a hosts of missed chances in the first half, as Paris Saint-Germain's game in hand, at home against Metz next mid-week, smacks of an inevitable result. Saint-Etienne, meanwhile, must be kicking themselves for dropping points against ten-man Lyon, as while they have moved level with Marseille, a win would have taken them level on points with third-placed Monaco, with a very favourable run-in. 
With so many quality sides in Ligue 1 this year, the prospect of Les Verts in next year's Champions' League may seem ludicrous at first glance, the team's fixtures do leave them an outside chance of qualifying, provided other results go their way. While a visit from Montpellier in Sunday's matinee has the potential to be troublesome, their remaining fixtures are against Bastia, Evian, Guingamp and Nice, a quartet of strugglers who ASSE should beat handily. With Marseille and Monaco set to play each other on Matchday 36, third place really isn't out of the question. Knowing this, Galtier opted to trot out the same attack minded 5-3-2 that had decimated Lyon in the reverse fixture. 
While a 5-3-2 is often associated with negative tactics, the personnel employed in such a formation can make it quite positive. With the success of the formation in the reverse fixture, as well as the injection of creativity that Benjamin Corgnet's introduction gave Les Verts last week against Nantes, this was a welcome change from a dour 4-3-3 which has been favored since the arrival of Landry N'Guemo, the new man lining up in midfield alongside Fabien Lemoine and Jeremy Clement, leaving the front three to their own devices. However, in this iteration, Frank Tabanou and Francois Clerc were encouraged to get forward and attack, a successful ploy on paper, particularly given Tabanou's history of playing further forward.
But, as I mentioned earlier, the personnel are also key to this formation, and when used at the Guichard in November, Kevin Theophile-Catherine was used as the right wing-back, his crossing ability and pace making him a constant threat and keeping Henri Bedimo at bay. In Sunday's derby, however, with Moustapha Sall and Florentin Pogba still absent due to injury, Theophile-Catherine joined Paul Baysse and Loic Perrin in the back line, and Les Verts were not only robbed of his attacking influence, but were continually tormented by Bedimo on the flank, the Cameroonian's pace and inventiveness totally negating any attacking impetus from Clerc.
While Galtier soon realised his mistake and swopped Baysse for Romain Hamouma, reverting to his favored 4-3-3, Lyon by that point were already a goal up, a score that flattered the visitors. And when Lindsay Rose was sent off just after Hamouma's introduction, Galtier's 4-3-3 suffered from its usual issues surrounding a lack of incisiveness, their second goal coming from Bedimo failing to track Hamouma's run, not from any guile on the part of ASSE's attack. Given the onslaught that Saint-Etienne faced at the hands of their hosts, a draw is a more than creditable result, but perhaps Galtier will wonder what might have been had he employed personnel more similar to the reverse fixture. 
Meanwhile, on the opposing bench, Hubert Fournier's decision to stick with his attacking trident even after going a man down was brave indeed, but wide midfielders Corentin Tolisso and Jordan Ferri were more than up to the task, shuttling up and down as Bedimo and Christophe Jallet pushed on to balance the attack. Knowing that a draw or a loss would be catastrophic for his side's title chances, and adding in the situation of a home derby, Fournier's gutty tactical decision made sense, but perhaps his substitution patterns deserve a closer bit of scrutiny.
As impressive as Clement Grenier had been mid-week, and as much of a response from the crowd as his introduction generated, the reason that Lyon had still been able to attack in their usual fashion, even going a man down is the work that Ferri and Tolisso were doing. While removing Ferri for Grenier may have been seen as a positive substitution, it in fact had the opposite effect, as the full backs, so influential to that point, were forced to drop deeper as Tolisso needed additional defensive support. 
While one can follow his logic to some point in terms of Grenier's introduction, his last two substitutions defied logic. Easily the game's most dangerous player to that point, when Nabil Fekir was withdrawn for Mohamed Yattara with some dozen minutes to play,  all of Lyon's impetus went with him. While Yattara has looked bright in recent cameos, and his introduction made sense in a vacuum, he is purely a striker. As Fekir had been playing as an attacking midfielder on the night, the change necessitated some tactical shuffling that failed to come off, likely down to most of the team not having played extensively with Grenier on the season.
Despite his reputation and goal-scoring record on the season, Alexandre Lacazette would've been the better candidate for removal, especially when Clinton N'Jie came off for Rachid Ghezzal five minutes from time. While Fournier's intent as regards these substitutions is clear, his failure to consider their knock-on effect was much of the reason for Lyon's failure to find a winner on Sunday, and, like Galtier, these dropped points may prove quite fateful should his club fall just short of a given achievement in five weeks' time.