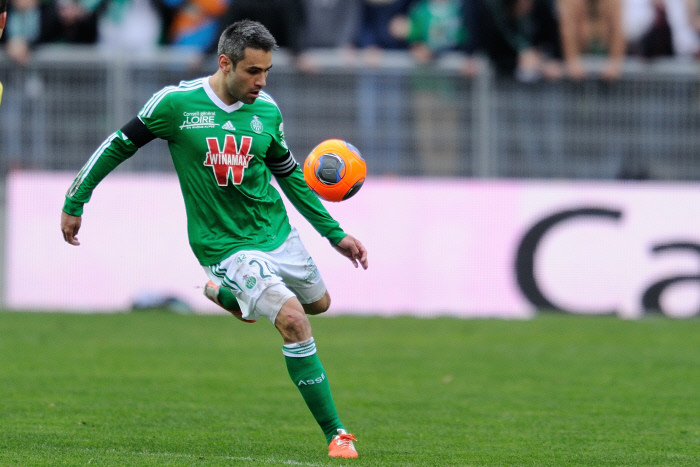 TALKING POINTS: Week 36: St Étienne bite back at critics with romping win
You are reading the Get French Football News Talking Points column, written by Eric Devin.
I disdained the managerial aptitude of Christophe Galtier in this space last week, crediting Saint-Etienne's uneven form to his insistence on a dour 4-3-3 since the arrival of Landry N'Guemo, the former Bordeaux. This weekend, however, he showed great vision, reverting to the 4-2-3-1 that had been so successful earlier in the season to smash Nice 5-0, giving a much needed boost to the side's goal difference. Having not previously scored so many as four goals in a match in the league, to say the result came as a surprise would be an understatement. Nice are not yet safe, and Claude Puel's side have claimed more than a few scalps from those that occupy the European places, most notably in a 2-1 victory over Lyon some six weeks ago. 
Even against such dangerous opposition, Galtier brought Benjamin Corgnet back into the side, dropping N'Guemo in favour of the former Lorient player. Making his third start in four matches, Corgnet responded with his third assist over the same span. While Corgnet played well, the real key to Sunday's match was the space afforded to the full-backs. With Jeremy Clement and Fabien Lemoine tucked in to act as a shield for the back four, Francois Clerc and the superb Franck Tabanou pressed Nice's dangerous Jordan Amavi into oblivion, the left back constantly conceding throw-ins against the more experienced Clerc. 
Tabanou, operating on the opposite flank, almost became an auxiliary winger, recording an assist with a superb teasing ball for Kevin Monnet-Paquet as the left wing, on for Romain Hamouma, cut inside. Often deployed in midfield during his time at Toulouse, Tabanou's spell at left back has often been borne of necessity, and to see him afforded such space on the counterattack is a window to the attacking potential that Les Verts have. With Tabanou pressing forward to aid the attack, more freedom is also given to Max-Alain Gradel, allowing the Ivorian to both drift inside as a de facto second striker, or to overload the opposite flank should Galtier feel the need.  
Beyond tactical ramifications, however, is the mental lift that the result should give the team. Still needing slip-ups from Marseille and Monaco to claim the brass ring of third place, anything less than three points would've been disastrous, especially with Bordeaux and Montpellier so close behind in the reckoning for the final Europa League place. With their final two matches against relegation-threatened Evian and mid-table Guingamp, they of the 6-0 loss to PSG, Saint-Etienne may fall short of third, but they certainly have every opportunity to add interest to what is really the only competitive bit to Ligue 1's run-in. Should they continue to do so with such aplomb, Galtier would redeem himself and, with further development of the squad's chemistry, perhaps even make a team so noted for their austerity once again compelling viewing.