This week, a new scandal regarding professional footballers' actions on Twitter is surrounding French football.
Twitter trolls went on a spell earlier this week of digging up old tweets of primarily young professional footballers, principally PSG players, and retweeting them in order to cause a controversy. 
As shown in the cover image of this article, PSG goalkeeper Mory Diaw was shown to have "#SadTweet" – ed about Marseille losing a game of football. As shown below, he then also claims that while he is "a PSG player, I am for Marseille"
There was more controversy in some of one of PSG's most promising youth products, Presenl Kimpembe's tweets who, as shown below, tweeted "woah, Laurent Blanc is an old manager" before going on to explain that he has qualms with Blanc's "type". 
To make matters worse, PSG released an official statement yesterday claiming that these players' Twitter accounts had been hacked and that it was not them who tweeted the things highlighted above. What they failed to appreciate is that these Tweets dated back to 2012 and it would be virtually impossible for a Twitter hacker to plant tweets that far back.
Not only have PSG's players shown their lack of responsibility on social media, but the club, in an attempt to absolve their youngsters from blame, has straight out lied about the situation.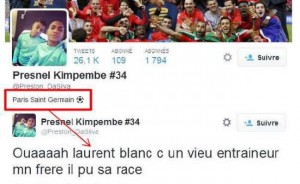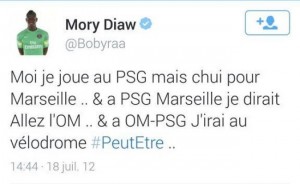 [PHOTOS: L'Équipe]