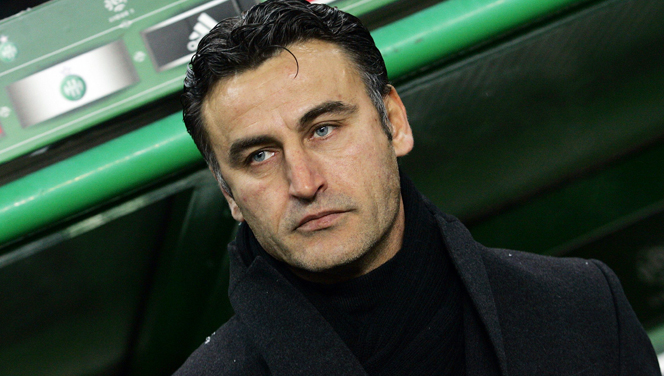 Week 27: Ligue 1 Talking Points: Are St Étienne doomed to repeat history?
In a brand new column, French football expert Eric Devin writes about five major talking points following each Ligue 1 weekend. In the fourth piece on Week 27 of French football top flight play, he asks if Christophe Galtier's St Étienne might be doomed.
4) Are Saint-Etienne doomed to repeat history? 
During Saint-Etienne's stunning 2012-13 season, the club rode two separate unbeaten stretches, ten and seventeen matches, to fifth place in Ligue 1, as well as a Coupe de la Ligue title, contending for the final Champions' League place until the last matchday. The unquestioned star of that team, which is otherwise largely the same as this year's, save Kurt Zouma and Joshua Guilavogui, was the incandescent Gabonese striker, Pierre-Emerick Aubameyang, whose 19 league goals were bettered only by Zlatan Ibrahimovic. 
Buoyed by the confident play of an in-form striker, ASSE were the consummate team, combining the league's second-best defence with one of its most dangerous attackers. They went toe-to-toe with each and every opponent that they faced, nobly eschewing the overly defensive tactics that some Ligue 1 sides are known to trot out when faced with nominally superior opposition. While his side were a joy to watch, the disappointment of falling just short of the Champions' League places proved too much for Aubameyang, who has since moved off to Borussia Dortmund. 
Last year proved somewhat of a comedown for Les Verts, as the club were unceremoniously dumped out of the Europa League and struggled to find their best form, dipping to as low as tenth after a heart-breaking home loss in the Rhone derby. While Mevlut Erding did an admirable job filling the net after his arrival from Rennes in the summer, the goals did not come quite as easily, and with Monaco firmly installed in second, the fight for European places was only that much more intense. In the end, ASSE did well to capture fourth place, pressuring Lille for third until the end, and finishing a creditable eight points ahead of Lyon in fifth. 
Recognising how close the club continued to be to the Champions' League, an arguably aggressive summer window saw the arrivals of Ricky van Wolfswinkel from Norwich and Kevin Monnet-Paquet from Lorient, two proven offensive talents who, especially with Monaco off-loading its top assets, had the potential to get the club over the hump.  
This season started promisingly enough, as the club reached the group stage of the Europa League, walloped Lyon 3-0 in the derby and continued to maintain a sterling defensive record. Star central defender Loic Perrin was particularly impressive, continuing his fine form from the previous season, being called up to the national team and even being heavily linked with a move to Arsenal. 
A 2-1 win at Reims in Week 20 saw the club sitting in 3rd place, behind only Lyon and Marseille. Since then, however, the wheels have come off, as the club is winless in the league in the time since, with hard-charging Monaco and PSG having passed them up. While ASSE are still 5th, they are now just one point ahead of Montpellier, who have a game in hand, and can even perhaps count themselves as benefitting from Bordeaux losing Cheick Diabate for the season to injury.    
So, what has gone wrong? While one has to applaud Sainte's ambition in bringing in van Wolfswinkel and Monnet-Paquet, neither has had the desired impact as of yet, the pair having combined for only six goals, with just one from the Frenchman. With Erding also not up to last season's level, the team have not only struggled to score, but have too often found themselves conceding just as many, as a 3-3 with Lens and a 2-2 with Marseille demonstrated. 
This week's visit to struggling Toulouse presented itself as a real opportunity to make a move, especially with Monaco hosting PSG and as likely as ever to drop points. ASSE started the match well, with Romain Hamouma as industrious as he has been all season, creating several chances and eventually winning a penalty which was expertly dispatched by Max-Alain Gradel for his sixth of the campaign. 
In the second half, however, the visitors seemed to lose their grip on the match and after drawing a string of fine saves from Stephane Ruffier, Toulouse leveled the match in the 88th minute. 
It is difficult to point to any one cause for the club's stagnation, beyond the previously stated underwhelming return from their new forwards. The defence has been uncharacteristically lackadaisical, and Ruffier seems to be coming up with a few more errors than in the past, but more than anything, the team just seems beset by a general malaise, disheartened and frustrated by continually bumping their heads on the proverbial glass ceiling that is Champions' League qualification. For as well as Christophe Galtier has done, I would not be the first to suggest that maybe he has worn out his welcome and is no longer the right choice to continue ASSE's progress. 
It may seem harsh, and even a bit of a knee-jerk reaction, but the specter of another technically limited fourth or fifth-place finish, combined with a similarly anonymous European campaign, must be seen as more than enough reason for the club to re-evaluate things at the end of the season as regards their manager's future.  
E.D.