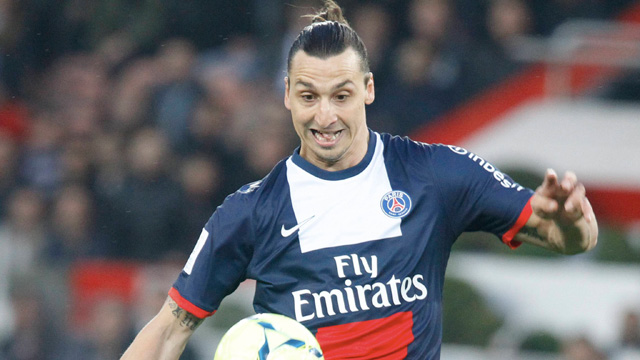 Week 27: Ligue 1 Talking Points: How will PSG find a winning identity post-Ibrahimovic?
In a brand new column, French football expert Eric Devin writes about five major talking points following each Ligue 1 weekend. In the third piece on Week 27 of French football top flight play, he identifies some of PSG's many problems this season.
3) How will Paris Saint-Germain find a winning identity in the post-Ibrahimovic era?
While not as dull as the 0-0 scoreline might suggest, Sunday night's encounter between Monaco and PSG at the Stade Louis II left much to be desired for the visitors, for despite Monaco having neatly taken apart Arsenal mid-week, they were still missing three central defenders in Andrea Raggi, Aymen Abdennour and Ricardo Carvalho. A strong performance from Jeremy Toulalan, deputising at center back for not the first time this season notwithstanding, Monaco were clearly there for the taking, but for a lack of clinical finishing on the part of the capital club.
With Edinson Cavani being given his desired role as the focal point of PSG's 4-3-3, and Javier Pastore and Ezequiel Lavezzi playing wide, this forward line struggled to finish off their chances. Even with the withdrawal of the faltering Lavezzi for youngster Adrien Rabiot late on, nothing came off, with Monaco 'keeper Daniel Subasic not having to do anything extraordinary to earn yet another clean sheet for what continues to be Ligue 1's best defence.
One can, of course, argue that the chances that presented themselves for PSG were hardly gilt-edged, and somewhat excuse Lavezzi owing to his lack of match fitness, but if the title holders are going to continue to develop in the Qatari era, better performances in matches like this have to occur. With Marseille and Lyon both having lost earlier in the weekend, this was the perfect opportunity for PSG to go to the top of the table; instead, against a Monaco side that was more than willing to absorb their pressure, the champions delivered a magnificent bowl of slop, with Cavani being the biggest culprit, missing a pair of respectable chances.
While these chances, as mentioned, were not of the highest order, one could not help but think of what Zlatan Ibrahimovic would have made of them. However, with last year's leading scorer once again injured, Cavani appears to be the focal point of the attack, andhe must start finding his best again, putting shots on target and involving his teammates with his hold-up play in the manner of the Swede.
As integral as Ibrahimovic's goals (and assists) have been to PSG's success during his three seasons at the club, this year, the Swede seems to have lost, through a combination of failing fitness and advancing age, his best form, as the team is actually faring better without him in the lineup.
While still one of the first names on Laurent Blanc's team sheet, the fact that the club have thus far accrued 1.95 points per match with Ibrahimovic playing and 2.13 without him means that a reconsideration of his role on the team is necessary, both for the present and for the future. Last season, these figures were 2.39 with and 2.00 without, with 2.29 and 1.25 in 2012-13. Averaging in excess of 2.2 points per match played is an almost certain recipe for a title, but while PSG may yet capture a third consecutive league crown, it certainly won't be down to their petulant vice-captain as in previous years, nor will it be won at a canter, as despite recent struggles, Lyon and Marseille don't appear to be going away.
That said, beyond the struggles of Cavani to live up to his fellow striker's previous impact, there have been some positives to take away from PSG's season to date. Lucas Moura in particular has looked increasingly confident and capable in an expanded role this season, but apart from the Brazilian, Blanc appears distressingly unwilling to give the side's younger players a chance. From Lucas Digne at left back to Marquinhos at center back, from Adrien Rabiot in midfield to Jean-Christophe Bahebeck up top, the squad is chock-full of young talent that needs to be developed, but which instead languishes on the bench (Digne, Bahebeck) or is only called upon when absolutely needed (Marquinhos, Rabiot).
If PSG continue this over-reliance on veteran players at the expense of developing youth, the youngsters the club has brought in may be all too eager to follow Kingsley Coman and Mamadou Sakho to greener pastures, and with Financial Fair Play limiting their ability to being in additional veterans, it will be difficult indeed to realize the owners' aspirations. Ibrahimovic is only one player, and PSG aren't definitively a "worse" side with him on the pitch, but he is emblematic of the club's problems as a whole, and were he to be made an example of in terms of playing time, perhaps some of the very palpable tension around the Parc des Princes would become excitement over a future in the hands of these talented youngsters.
E.D.