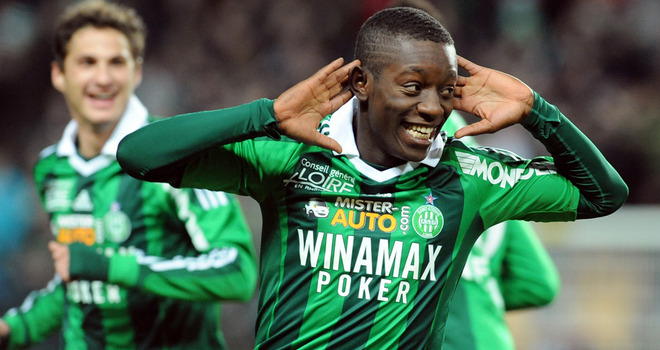 Week 30: Ligue 1 Talking Points: The Max Gradel revival
Talking Points columnist Eric Devin looks at how Saint-Etienne's Europe hopes are being kept alive by a certain Ivorian international.
Having flirted with the top three into late January courtesy of a twelve match unbeaten streak spanning the winter break, there were faint hopes that perhaps Saint-Etienne could finally crack the Champions' League places come the end of the season. While Lyon and Marseille had taken the league by storm, expected heavyweights Paris Saint-Germain and Monaco had struggled domestically, placing more importance on their Champions' League exploits.
This time, Sainte, always having been a consistent contender before falling away late on seemed to have an actual chance. Then, with the arrival of the Africa Cup of Nations coinciding with an uptick in form from the two moneyed clubs, things began to go awry. Starting with a seemingly innocuous scoreless draw at Rennes, the side ended up going winless in seven, slipping from third to fifth, scoring only six goals in that span, half of which were in a 3-3 home draw with Lens. 
Teams will go through winless runs and unbeaten runs through a season, so why mention the AFCON? After all, only reserve midfielder Ismael Diomande, reserve centre back Florentin Pogba and winger Max-Alain Gradel had departed, and none of the three were automatic selections for Christophe Galtier. Pogba would have been useful alongside Loic Perrin in the aftermath of Moustapha Sall's injury, sure, but the other two were often surplus, the arrivals of Kevin Monnet-Paquet and Landry N'Guemo often leaving them excluded from the side.  
Gradel in particular seemed to be running out of chances, forced to navigate a multitude of formations while simultaneously competing with Monnet-Paquet, Yohan Mollo and Romain Hamouma for his place on the wing.
There had been some notable performances from the Ivorian, certainly, with a pair of assists in the Rhone derby among them, but nothing transcendent enough to nail down a consistent starting place. Dogged by a knee injury last season, and having struggled to keep his place in the current campaign, Gradel's time with Saint-Etienne has been somewhat of a disappointment to date. Scorer of 18 goals in the Championship for Leeds in 2010-11, big things were expected upon his arrival, but he had failed to deliver, netting only 14 times in 70 appearances for Les Verts. 
However, in the past six matches, starting at his preferred position of left wing as part of a settled 4-3-3, Gradel has caught fire, scoring six times, four from open play. Now with ten on the season, not all of his goals have been paragons of aesthetic brilliance, but they have proved important in allowing ASSE to pile up the points. While there has been something of a poacher's luck about a few of his strikes, the Ivorian's pace and determination have been the real factors that have enabled him to begin to reap the rewards of working with a settled attacking partnership.
With N'Guemo, Fabien Lemoine and Jeremy Clement all working hard defensively in midfield, the front three of Gradel, Mevlut Erding and Hamouma have been given greater freedom to stretch play into wide areas, the wingers' pace allowing them to beat slow-footed central defenders to the ball.
Firing on all cylinders, ASSE have now scored ten goals in five matches, their most prolific such run all season, and Hamouma or Gradel have been involved in all but one of them. While it may be too late to reclaim their top three status, the next matchday's trip to in-form Monaco will go a long way towards determining which of the two will finish fourth, and with it, its automatic qualification for the Europa League.
E.D.