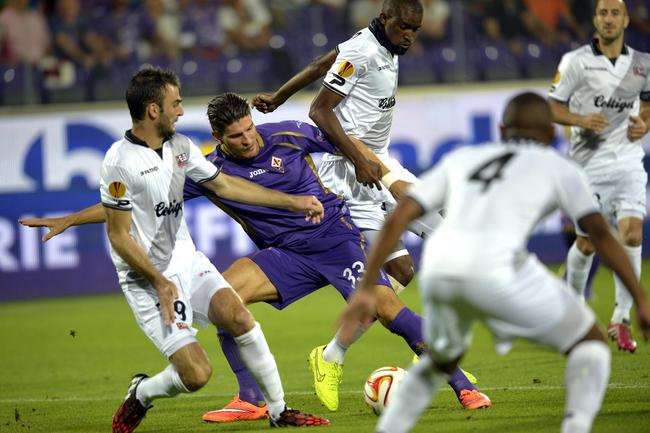 Why EA Guingamp should be proud of their continental efforts
According to UEFA, Ligue 1 is the fifth best league in Europe behind Portugal and Italy.
Despite the riches of PSG and Monaco – it is filled with many small but loyal clubs, who rely on tiny budgets. Guingamp – placed eleventh in France's top division – are one of these sides and the definition of mediocrity. They lie on 35 points after 27 matches – just six away from the relegation zone and a distant nine from European qualification.
Guingamp won the Coupe de France last season and in turn earned their place in the Europa League. Many wondered not if, but how fast the tiny club from the west of France – with an average home attendance of around just 13,500 – would be knocked out of Group K.
Having been matched against Italian giants Fiorentina, Greece's tough PAOK Salonika and Dinamo Minsk of Belarus, nobody gave France's loveable over-achievers a chance. Heading into Europe, they were first faced with the unenviable task of travelling to Florence, where they were soundly, and unsurprisingly beaten 3-0.
A comfortable 2-0 win at home to PAOK, a hard-fought 0-0 draw away at Dinamo Minsk and a 2-0 victory in France to the Belarusians put Guingamp on course for a unlikely passage out of the group. But a 1-2 home defeat to Fiorentina put Group K back in the balance.
Both they and PAOK were on seven points, and Guingamp had to travel to Greece on the last matchday in a make-or-break tie. Again, they were written off, nobody gave them a hope. But what followed was one of the great nights in Guingamp's history.
At 26, striker Claudio Beauvue has come of age.
He opened the scoring on seven minutes in Greece, but PAOK equalised halfway through the first half. A lesser side would have crumbled. But just seven minutes from time Beauvue netted his second of the game, and what turned out to be the winner. Guingamp were through – showing their Ligue 1 rivals Saint-Etienne how it was done who had come bottom of Group F.
Not only had boss Jocelyn Gourvennec incredibly steered his side to the knock-out stages of the Europa League, just three days later an arguably bigger feat was to be accomplished.
Tired after travelling to Greece, tiny Guingamp managed to beat Ligue 1 billionaire champions PSG 1-0 on a Sunday afternoon in the west of France through a Jeremy Pied goal. Following that hugely impressive win, the minnows Europa League exploits pitted them in the last-32 with Ukrainian side Dynamo Kyiv.
Guingamp had nothing left to prove going into the first-leg at the Stade du Roudourou. They had proved the doubters wrong, showing Europe the strength of Ligue 1. Their first-leg home match with Kyiv started badly, going 0-1 down after just 19 minutes.
They were dealt a lifeline though, when the Ukrainians had two players sent off before the break. Guingamp came back to win the match 2-1 – thanks to the impressive Beauvue – and took a deserved lead into the second-leg.
They headed to the Ukrainian capital with the slightest of advantages, which was wiped out after a battling first period which saw them go in at the interval 1-0 down. It got worse straight after the break when the home side doubled their lead. Guingamp were heading out. But nobody should write them off, and forward Christophe Mandanne evened the tie up on 66 minutes.
A late Oleh Gusev penalty knocked the brave French side out – losing 4-3 on aggregate. The whole match was marred by crowd trouble – with Kyiv supporters trying to attack Guingamp's small band of travelling fans.
Bernard Desplat – the Guingamp president – said after the match:
"These are not fans, they are militiamen. Restarting play?"
"How do you expect the players to focus on their game? It was extremely dangerous. This match could only have happened in Ukraine under these conditions."
He added: "I saw a stadium at war with rabid dogs that wanted to fight. There were eleven heroes in Guingamp colours on the field."
But he was not talking about the savage Kyiv fans as rabid dogs at war, he was talking about his proud Guingamp warriors. Since Monaco's highly-impressive 1-3 victory away at Arsenal in the Champions League knock-out stages last week, Europe has been quick to hail them, and rightly so.
But let's spare a thought for little Guingamp's over-achievers.They did themselves proud in the Europa League. But they also proved the quality of Ligue 1 should not be underestimated, and an entire country should be thankful for that.
Daniel Cutts