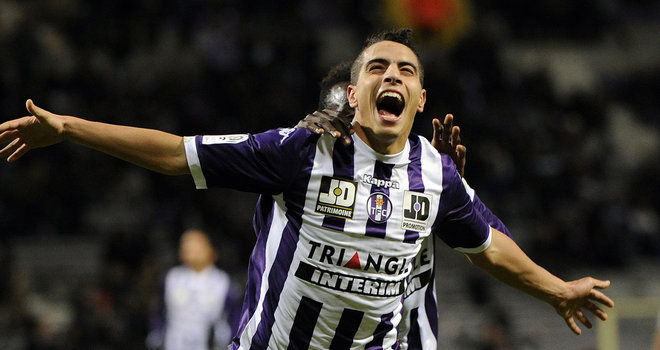 Why it is up to Toulouse to make the Ligue 1 relegation fight interesting
In a season that is turning out to be quite exciting at the top of the table (Lyon, PSG and Marseille all winning their games convincingly this weekend), the relegation fight at the bottom of the table is in serious danger of being over.
Toulouse in trouble, Metz and Lens virtually sunk.
This column has previously discussed how Toulouse were lacking a breath of fresh air after solid years of mid-table stability and also more or less officialised Lens' and Metz's speedy return to Ligue 2. However, if Toulouse do not pick up points in the next few weeks we might as well call it a day.
The 10-game run-in of Toulouse is a mixture of away games that they could get points from, but tough home games. Indeed, in the next month or so, Toulouse will play at Lens (19th), Metz (20th) and Lorient (17th) while hosting tough opposition in Bordeaux (6th) and Montpellier (7th).
Now Toulouse have only won 3 games on the road and lost the remaining 11 (only side yet to pick up a draw on their travels along with Evian and Lorient) which makes them second worst travellers in the country in front of Metz (yes, Lens have picked up more away points than Toulouse). But the fact that Toulouse will play away to 3 of the current bottom 4 in the next 40 days will go a long way to determine their strength of character.
Because, despite Friday evening's hiding, Toulouse are a good home side. Friday was the first time Toulouse conceded 6 goals in a league match since coming back up more than 10 years ago (and only the second time they conceded more than 4 goals)! Their record of having suffered only 4 home defeats is better than any member of the bottom 9. They beat Lyon 2-1 and held their own against Paris in a 1-1 draw so a tough home run-in isn't necessarily a guarantee that TFC will be going down but they will have to fight very hard indeed in order to stay up.
Truth be told, Toulouse have a ridiculously high amount of points for a side sitting in 18th place with 10 games to go. 29 points make for an average of more than a point per game which is usually enough to stay up. Indeed only 5 sides have gone down averaging more than that amount in Ligue 1 history.
However, Toulouse achieving the 10-odd points to achieve the 40-pt aim may not be enough this season. With the current make up at the bottom of the table therefore, this relegation dogfight will not be about Toulouse doing enough to stay up but finding another team who will go on a poor run and replace for that dreaded 18th spot. Let's look at who that might be.
The obvious candidate is Lorient.
They are currently 17th but haven't occupied this position very often so far this season due to their knack to consistently pick up a few wins here and there. Just like Toulouse they are a tough side to score goals against and have caused a few problems to the big sides (FCL drew at home to both Lyon and Marseille 1-1 and narrowly losing to PSG 1-2).
Their away form is very similar to Toulouse's except that they have won 4 games on the road to Toulouse's 3. In fact, on statistics alone, Lorient virtually replicate Toulouse this season. Don't scream it too loud, but we may have a mano à mano on the cards…
Then we have Evian who were on 3 straight wins until Monaco came to town. Evian are actually the perfect example for Toulouse to follow if they want to avoid relegation as Evian played away to Lens and Metz and won both games convincingly (2-0 and 2-1) thus helping them out points-wise and then winning a 6-pointer against Lorient. Those 3 wins were all against sides close to them and their run-in still includes games against bottom half teams Nantes, Nice, Guingamp, Reims and Caen. Plus the experience of previous seasons should see them through.
Nice are next up and are in trouble. They are on 3 defeats in a row and those games were preceded by 3 goalless draws meaning that they have picked up just 3 points from 6 games which is relegation form. They will have destiny in their own hands though as they play Lens and Toulouse in the last 2 games of the season.
Which leaves us with the unexplainable turn of fortune of SM Caen. The Normandy outfit had a terrible first half of the season winning only 3 games but 6 wins out of 7 (the one anomaly being a respectable 2-2 draw at PSG) from mid-January to March has completely changed Caen chances of survival. Contrary to what you may have read, they are not out of the woods yet.
Last weekend's defeat to Bordeaux means that the gap between themselves and Toulouse is only 5 points but they are the only side in the bottom half to possess a positive goal difference (beating Lens, Rennes and Reims 4-1 must helping in that regard).
Caen may well be as good as safe in two weeks' time though as they play Lorient and Metz back-to-back. 40 points with 8 games to go would take a terrible run to go down.
The problem with Ligue 1 is that the table is more often than not extremely tight. 9 points separating the 8th and 18th spots means that I very well could have included in the relegation fight the likes of Guingamp (who actually look in poorer form since getting knocked out of Europe), Reims, Nantes or… Lille (are you sure you belong here?). But those sides possess a solid enough cushion and have the quality to get the 4 or 5 wins that would mean mathematical safety with games to spare.
So there you have it. We may have a superb relegation fight which includes more than half the table or we may not have one. It all depends on Toulouse. If they give an appropriate fight, we will have a tasty end of the season, if they wither, the bottom three are simply formalities away from confirming their Ligue 2 status next season.
This weekend sees a mouth-watering clash as Marseille (3rd) host Lyon (1st). I will however have all eyes on Toulouse who go to Amiens to try to win at Lens. For lasting entertainment, Alain Casanova's side must take the points.