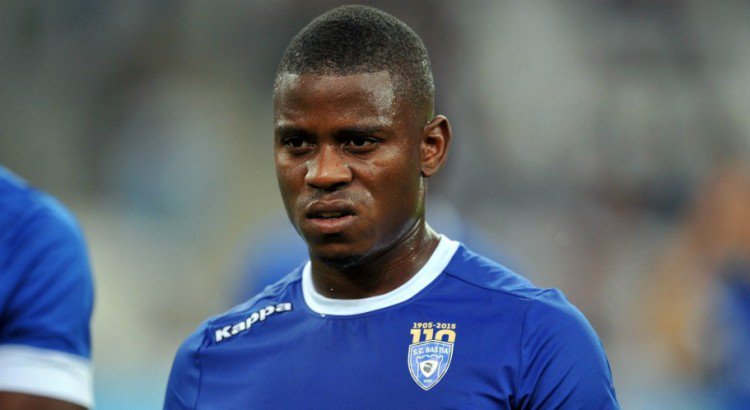 A GFFN100 Profile: Floyd Ayité
The following article is extracted from Get French Football News's 200,000 word guide to the world of French football, The Get French Football News 100 which focuses on ranking individuals' performances over the course of 2015 as a calendar year. To download the whole guide, click here.
The following piece was written in December 2015 and published on the 1st January 2016. Floyd Ayité ranked 72nd in the 2014 edition and ranked 56th in our index out of French football's 100 best players in this year's Get French Football News 100.
Bastia's form was extremely up and down during 2015, but Floyd Ayité provided a constant source of positivity for the Corsican club's fans. The winger managed to play with genuine enthusiasm even during Bastia's rough patches and over the course of the year became one of the first names on head coach Ghislain Printant's team sheet.
The 27-year-old started his career at hometown club Bordeaux, but after loan spells at Angers and Nancy, left for Reims in 2011 after making just eight appearances in all competitions for Les Girondins.
After slowly working his way into the Reims team, Ayité enjoyed a highly successful 2013, scoring five times in the the league, but a series of poor performances followed the year after and as a result, Ayité lost his place in the starting eleven.
It was little surprise then that Reims decided not to renew the Togolese winger's contract when it ran out in July 2014, with Ayité subsequently joining Bastia on a free transfer. He became one of 13 players that Claude Makelélé signed after taking charge of the club earlier that summer.
Over the course of his first campaign with Bastia, Ayité made 33 appearances and scored nine goals, six of which came in 2015.
He got the year off to the perfect start, scoring both of Bastia's goals in a 2-0 win over Lille in the first round of the Coupe de France. His first was far from spectacular, but it was caused entirely by Ayité's tenacious closing down of the opposition.
The winger chased down a Lille back pass in the fifth minute, which led to goalkeeper Steeve Elana firing his clearance straight into the Bastia man, and the ricochet flew into the net.
His second of the night came 20 minutes later. Ayité was played clean through, one on one with Elana and the winger kept his cool to fire over the diving keeper and into the top corner. It was a match-winning performance from Ayité and the best possible start to the new year.
His form continued on into February, when he scored in consecutive league matches, against Nantes and, once again, Lille. His goal against Nantes was, truthfully, down to extremely bad defending, as Ayité was allowed to run freely in the final third of the pitch, before firing a shot past the keeper from just outside the box.
His goal against Lille, however, was far more impressive. Ayité provided the perfect end to a Bastia counter attack, receiving the ball and letting fly from outside the area. His shot was unstoppable, flying past Vincent Enyeama and into the top corner. The goal also turned out to be the match winner, as Bastia won 2-1.
It was not until May that Ayité scored again, but he bagged another two vital goals in the final month of the campaign, scoring the only goal in a victory over St Etienne and the equaliser in a 1-1 draw with Caen.
After flirting with relegation for a long period of the 2014/15 campaign, Ayité played a crucial role in Bastia's revival. Many of his goals directly influenced the result of the game and Bastia certainly would not have finished as high as 11th without the efforts of the winger.
Ayité started this season in a similar vein of form, netting in Bastia's opening two league games. In their first match, at home against Rennes, Ayité equalised after Rennes had taken the lead in the first half. It was another stunning finish from the winger, whose acrobatic volley hit the underside of the crossbar and before going in.
One week later, Ayité was again on the score sheet, this time away at Lorient. The Togo international scored after the four minutes, latching on to a through ball, before brilliantly escaping the challenges of two Lorient defenders, rounding the goalkeeper and swivelling to fire the ball into the net. It was a goal worthy of all three points, but Lorient snatched an injury time equaliser thanks to a Benjamin Moukandjo penalty.
Ayité's form has dropped off slightly since; those two goals remain his only strikes so far this campaign, but he did manage to claim three assists during the run up to the winter break.
Meanwhile, on the international scene, Ayité made three appearances for Togo during 2015, scoring in their 2-0 African Cup of Nations qualification victory over Djibouti in September. He now has a total of 20 caps for his country.
On the pitch, Ayité is capable of playing in a number of different attacking positions, including all across the front three. Since Ghislain Printant took over at Bastia, Ayité has been utilised on both the left and right wings, as well as up front on a few occasions. It is no secret that he is most comfortable on the left; his pace and trickery make him extremely hard to stop once he gets going. Plus, in this position, he is able to pick up the ball, drift into more central positions and fire long range efforts at goal.
Indeed, Ayité's long shots are one of his strongest features; as his high percentage of goals scored from outside the box will attest.
One area in which the winger could improve is his ability to stay onside. His attacking instincts naturally mean he will be caught offside more often than most, simply because of the high number of runs he makes, but Ayité can sometimes stray needlessly and frustrate the Bastia faithful as a result. If he can time his runs a bit better, then his goal tally could increase exponentially.
Overall, though, Ayité has proven himself to be a deadly weapon at times and it is now just a case of continuing to improve. At 27 years of age, a big money move may just be beyond the winger, but there is no reason why he can't truly establish himself as Bastia's main man in the years to come.