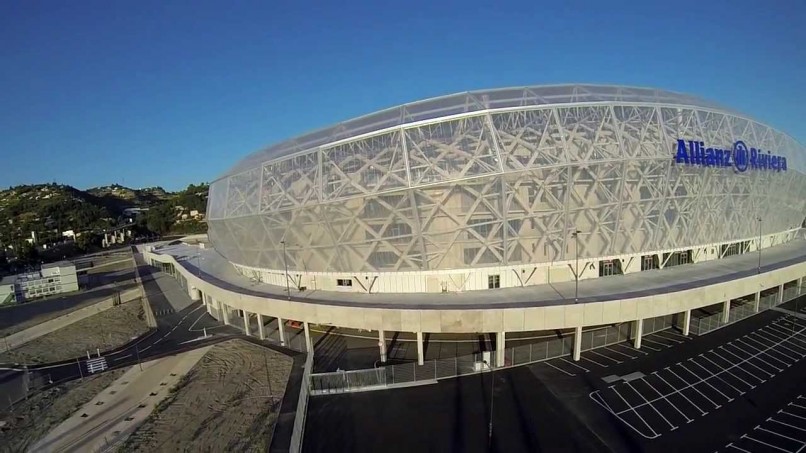 A GFFN100 Profile: Nampalys Mendy
The following article is extracted from Get French Football News's 200,000 word guide to the world of French football, The Get French Football News 100 which focuses on ranking individuals' performances over the course of 2015 as a calendar year. To download the whole guide, click here.
The following piece was written in December 2015 and published on the 1st January 2016. Floyd Ayité ranked 43rd in the 2014 edition and ranked 57th in our index out of French football's 100 best players in this year's Get French Football News 100.
One of Ligue 1's brightest young stars is OGC Nice's Nampalys Mendy, who has had a wonderful calendar year in which he has shown real development and progression as he looks to raise his game to the highest level.
At just 23 years of age, Mendy is actually one of the older members in a youthful OGC Nice setup, but that responsibility has not prevented him from putting in performances that have forced critics and fans alike to notice him. One of a new breed of defensive midfielders who are physically small but great on the ball, Mendy has all the attributes required to become one of French football's greatest talents.
Mendy's team, OGC Nice, have had a calendar year in which they have gone from strength to strength, improving throughout the 12 months to an extent to which now puts them as one one of the league's top teams.
Having finished the 2014/15 season in 11th place, by no means a disaster but for a club of high ambition not where they want to be, Nice looked at the 2015/16 season as the campaign where they might push themselves to the next level. They have done exactly that this season, as they sit pretty in 5th place in the table, just three points behind second placed AS Monaco, and with the second best attacking record in the league after runaway leaders PSG.
Nampalys Mendy has been a crucial part of OGC Nice's successes of the last 12 months. He played the full 90 minutes in 36 of the club's 38 Ligue 1 games last season, and in all 19 of the club's league games this season, meaning he is one of the few players who has played every minute of every game.
He has also captained the side in 23 of those league games over the last season and a half, showing tremendous leadership skills for someone of such tender years. Nice also seem to have a considerably better defensive record when the Frenchman is captain; they have conceded 0.75 goals per game when Mendy has captained the side, compared to 1.55 when he has not.
As we mentioned before, Mendy is not your typical type of defensive midfielder. If you expect him to be someone who is physically intimidating and wins all the challenges in the air, then you will be disappointed.
But Mendy is part of what seems to be a new class of defensive midfielder, those who are of a smaller physical stature, but are fantastic on the ball, without of course shying away from any defensive duties. Standing at 1.68m, Mendy will likely be one of the smallest players on the pitch, very much in the mould of a Marco Verratti of PSG or Ngolo Kanté of Leicester City, but these types of players have strengths that many defensive midfielders do not.
The first of these is an expert ability on the ball. It is very rare to see Mendy misplace a pass, as he is very clever in his selection of pass and has the technique to execute it effectively.
As a result, he has maintained a very impressive 92% pass success rate in Ligue 1 so far this season, a considerable improvement from the 84% he had last season. In addition, he does not tend to make simple passes back to his defenders, he looks up the field to try and drive his side towards the opposition goal.
This is evidenced by the fact that 68% of the passes he has made this season have been forward passes. His ability on the ball allows him to dictate the pace of the game very effectively from his midfield berth, and is one of the many reasons why Nice are doing so well so far this season.
That is not to suggest, though, that Mendy neglects his defensive duties, which are his primary goals as a defensive midfielder. This season, he averages three defensive actions per game, and is yet to make a defensive error that has led to a goal.
However, whilst these statistics are good, they are not quite at the level of the top defensive players in the league. If Mendy is able to improve his game so that he contributes a little more to the side defensively, his proficiency on the ball will allow him to really stand out amongst midfielder plying their trade in France.
What we also cannot forget when analysing Nampalys Mendy is that he is only 23, although it is very easy to forget that if you look at the maturity of his performances. At 23 years of age, the fact that he has captained his side Nice so many times over the last 12 months shows what kind of character he is.
He is a player who will give his all out on the pitch, and his energy and enthusiasm will inspire others to do the same, especially when he is the captain of the side. Such a wise head on young shoulders will stand Mendy in fantastic stead for the rest of his career; it is very useful to already have the experience and pressure of captaining a side at a young age.
Mendy has already represented France at every level from U17 to U21 and, if he continues to improve and grow as a footballer as he has done of over the course of the last 12 months, it could only be a matter of time before he earns that all important first cap for Les Bleus.
Mendy's career is on the right path: he is playing consistently for one of Ligue 1's most in form sides, even captaining the side many times, and his game is improving every week. Having enjoyed success both individually and as part of the OGC Nice team so far this season, Mendy will be enjoying his winter break and, no doubt, be looking forward to another 12 months of success in 2016.