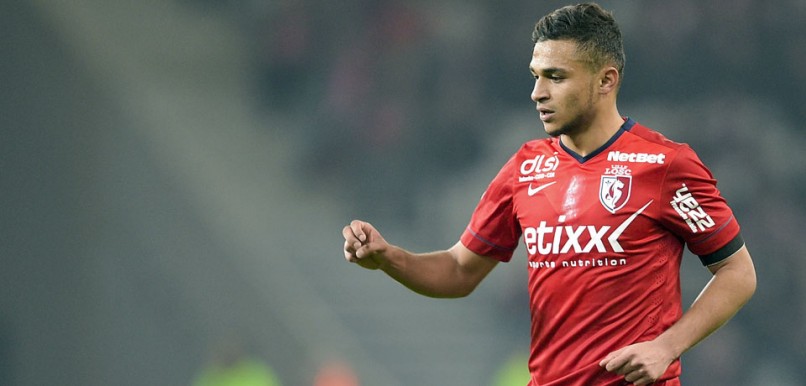 A GFFN100 Profile: Sofiane Boufal
The following article is extracted from Get French Football News's 200,000 word guide to the world of French football, The Get French Football News 100 which focuses on ranking individuals' performances over the course of 2015 as a calendar year. To download the whole guide, click here.
The following piece was written in December 2015 and published on the 1st January 2016. Sofiane Boufal was a new entry in our index out of French football's 100 best players in this year's Get French Football News 100, ranking an astonishing 8th.
2015 has been quite simply a life-changing year for Sofiane Boufal. The twenty-two-year-old moved to Lille from then mid-table Ligue 2 side Angers in the January window, and since then, his rise from promising Ligue 2 pépite to one of Ligue 1's hottest and most exciting products has been nothing short of incredible.
His career so far has been the stuff of Hollywood movies – the young kid from a working-class area hit the big time with his local side before moving onto to bigger and better things with one of the country's biggest clubs, Lille. Boufal is not yet the finished product – but the potential is there. If he continues his career in the same manner in which he has started, he will surely go on to be one of the best French-born players of his generation.
Boufal first broke onto the scene in the first-half of the 2014/15 season, when he dazzled potential recruiters with his skills in France's second-tier, Ligue 2. On one particular occasion, he gave a clear indication of things to come on a cold November evening, when he scored a sublime solo effort in a home match for Angers against Dijon. The three points won in the game would eventually go on to have a massive effect on the club's promotion hopes.
Picking the ball up the left-wing, the then twenty-one-year-old cruised in from the sideline to effortlessly glide by four opposing defenders before slotting the ball past the helpless goalkeeper. It was a goal that not only caught the imagination of the Angers support, but one that also made pundits and recruiters alike realise that Boufal was more than just your average bright young prospect.
Having previously scored two goals before against Créteil and Laval, 'Soso' as his family, friends and teammates know him, would go onto score another goal against Orléans for his boyhood heroes before he made the move north to Lille just two months later.
In the face of transfer offers from overseas, Boufal showed great maturity in electing to sign for Lille, highlighting the importance of the opportunity to play first-team football in his decision. It has proven to be a decision that the youngster has not lived to regret, as since his move he has played twenty-nine times in Ligue 1.
He moved to the club for a fee believed to be in the region of €4m, and he committed to Les Dogues for a period of four years. This will surely prove to be an extremely shrewd investment, as Boufal has not only proved to be an inspired signing on the pitch, he is more than likely to be sold on in the future for a fee which will command a rather heavy return on the modest sum with which he was signed from Angers.
The characteristics that first caused attention to be drawn to Boufal are still there. He delights with his composure on the ball, and the ease at which he appears to drift by opponents, even when he is being double-marked by opposing sides, at the behest of coaches who realise the potential threat the young Franco-Moroccan poses.
His consistently impressive form has earned him the well-deserved reputation of being considered as a technically-gifted player, as he is equally comfortable using either foot, and he uses this ability to aim both well-directed longshots and pick out crosses and passes from both sides of the park.
Though he is equally comfortable playing on either flank, Boufal's most exciting dimension is the potential he could offer playing in the number ten role.
With his ability to almost effortlessly beat players, his pace, his ability to shoot with success and his ability to thread complex passes through defences, he could develop into a truly world class central attacking midfielder.
He has evolved from the skilful winger that he was at Angers, into one of the most versatile attacking midfielders in the league, as he is comfortable playing anywhere across the three in a 4-2-3-1 formation.
One area in which Boufal has notably improved has been his ability to score – the twenty-year-old has netted eight goals since joining from Lille, and his tally of five goals this season so far is certainly likely to increase in the second part of the season. If his goal on matchday 19 against Toulouse is anything to go by, Boufal's ability to shoot is becoming increasingly clinical.
At the moment, Boufal can be comfortably described as one of the most exciting prospects in French football, but if he is to turn that potential into truly world class ability, there are certainly some specific areas of his game that need to be evaluated and improved.
Boufal has always impressed with his humble nature on and off the pitch and he has largely managed throughout his young career to keep his emotions under control, but he recently let himself down when he lost his temper against SC Bastia.
In a pressure-filled match, emotions appeared to get the better of Boufal when he recklessly stamped on Mathieu Peybernes' outstretched the leg. This resulted in an instant dismissal, and Boufal would later receive a three-match ban for the offence. His playing style dictates that he often draws fouls from the opposition, but this season he has begun to increase his own foul count himself.
The midfielder has committed a staggering thirty-two fouls in just fifteen Ligue 1 games this season, and having received six bookings already, he is one of the top-flight's most booked players. If he is to become a top player, he will need to show perhaps a little more reserve when he plays in order to avoid further dismissals that could cost his side dearly.
Criticism could also be levelled fairly at the twenty-two-year-old in terms of his sometimes apparent reluctance to come back down the pitch and help defend – with his pace and stamina, this is a task to he should be more than able to fulfil comfortably, and with more experience, one which he should fulfil instinctively.
Last season, Boufal stood out as a result of his unique creativity in a Lille side that at times was criticised for its lack of ingenuity. With his ability to spot key complex final passes in the final-third, and his two-footed crossing ability from the wings, Boufal managed to rack up an impressive tally of five assists in his first half-season in Ligue 1. This equated to an assist every three games.
However this season the Lille number 7 has only managed to create one assist, serving Djibril Sidibé with a clever in-field pass from the wing in LOSC's three-nil win against Lorient on matchday 18. Given his form last season in terms of creating chances, few would have expected that Lille fans would have to wait so long for Boufal to provide his first assist of the season, and he will be hoping to increase this tally in the second half of the season.
Boufal is a modest character – his main objective remains to be his ambition to make his family proud of his performances – but he is also self-assured and believes in his own ability, and given his form over the past couple of seasons, he has every right to do so. He is also ambitious – just a year on from making headlines from the first time with Angers, Boufal revealed in a recent interview with France Football that receiving a call-up to French international set-up is one of his firm ambitions.
The criticisms levelled at Boufal in this report are not unfounded, nor do they take anything away from his incredible potential.
If Boufal can address the areas in his game to which he draws criticism, he truly could become one of the best European-born players of his generation. If 2015 has been the stepping stone with which Boufal has reached the limelight, 2016 could be the year in which he truly begins to shine.