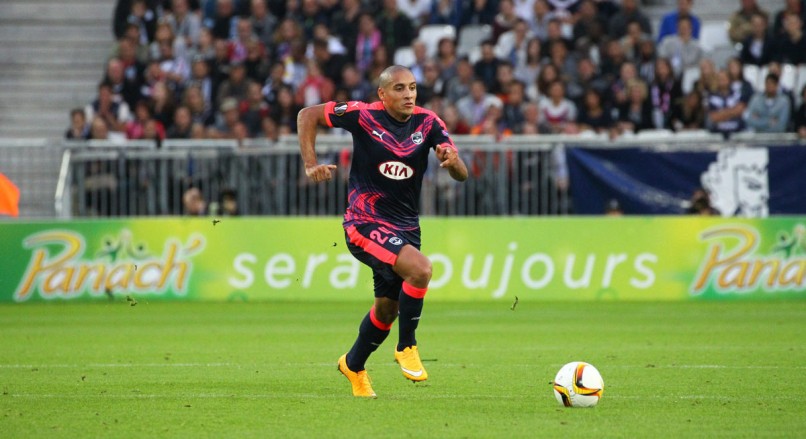 A GFFN100 Profile: Wahbi Khazri
The following article is extracted from Get French Football News's 200,000 word guide to the world of French football, The Get French Football News 100 which focused on ranking individuals' performances over the course of 2015 as a calendar year. To download the whole guide, click here.
The following piece was written in December 2015 and published on the 1st January 2016. Wahbi Khazri ranked 41st in the 2014 edition and ranked an astonishing 14th in our index out of French football's 100 best players in this year's Get French Football News 100.
SC Bastia have always been, but particularly now under Ghislain Printant, a rather dour affair. Survival has been scraped rather than easily achieved, and few of their players who have displayed any promise have stayed, the club relying on a mix of aging veterans, loanees and their own unproven youngsters to drag themselves over the line.
There have certainly been exceptions, including Floyd Ayité at present, but in general football in Corsica has been a hammer and tongs affair, the raucous crowd at the Furiani being as important as any individuals on the pitch or touchline. Think, then, how the club could look in attack at present were they to have retained all of Wahbi Khazri, Florian Thauvin and Ryad Boudebouz.
While the trio would still need some sort of outlet up top, the combination of pace and dribbling ability would certainly provide for entertaining football. Then again, any opposing full back would more than fancy their chances on the counter, and one could easily imagine a flurry of 5-3 score lines, with Bastia on both ends.
While this imagined trio of attackers would likely never see the pitch even when they were all still at the club, they serve as a fine metaphor for the careers of each individual as well. Each have had brilliant stretches of play alternating with sluggish and indifferent performances, looking like world beaters one moment and ineffectual luxury players the next.
However, with Thauvin struggling to make an impact at Newcastle and Boudebouz arguably still yet to find his feet at Montpellier, perhaps there is hope yet in the shape of Khazri, whose play has been a barometer for the success of Bordeaux since his arrival in the southwest some eighteen months ago.
Born in Corsica, as are most of Bastia's youth products, Khazri started out training for Ajaccio-based side Jeunesse before moving to the island's most historically powerful club in 2003. He eventually made his debut for the first team in 2009, his playing time and goals and assists rising as he gained maturity and confidence, eventually firing Bastia into the top flight on the back of nine goals and seven assists from 33 appearances in 2011/12.
His creativity was instrumental in keeping the club up for the next two seasons, but as has been the case with Boudebouz and Thauvin, the club was in dire financial straits and was forced to sell him to Bordeaux in the summer of 2014.
While generally an attacking midfielder, Khazri is an exceptionally versatile player, as he is able to play wide on either flank or even up top, his decent height (1.82m) and wiry strength allowing to handily battle opposing centre backs.
Quick, if not remarkably so, he is at his best with the ball at his feet, able to not only take defenders on himself but also to shoot from distance, favouring his right foot but being adept enough with his left so that he does not really have a weak side.
This talent is in evidence at free kicks as well, as whether it is going for goal or floating in a ball for the likes of the powerful Cheick Diabaté, his dead ball deliveries have been one of the best assets of his play, the basis of four of six assists in the league.
That being said, even though he does have a powerful foot, his shooting accuracy could certainly be improved upon, although he has bettered himself in that respect since the beginning of the season.
Besides the previously stated inconsistency, or lack of focus, Khazri has a few other foibles which have kept him from maximizing his obvious talent. The first is likely his selfishness. Given that he has never really had to battle for a place in a given starting eleven throughout his career, there is something natural about this.
If a player is an automatic selection week after week, season upon season, whether or not a manager is actively boosting a player's ego, the subconscious absorbs the fact that most other teammates, especially those in similar positions are of a necessarily lower quality. This, in turns leads not only to an inflated sense of one's own ability but also to a lack of trust in teammates.
On the pitch, this manifests itself in Khazri's game via an eagerness to shoot when a pass might be the better option, running at defenders when trying to link play along the ground could be more productive and expressing open disgust when his teammates fail to convert chances he has manufactured for them.
Even though his numbers for goals and assists are considerable, especially on a per-minute basis for teams who are not exactly elegant in attack, if he embraced a more truly creative role, while he might score a bit less, he would likely rank among the league's leaders in assists.
Granted, he has done better in this respect this season and last, forming a very copacetic relationship with Bordeaux's quartet of young strikers, willing to let his relative experience be their guide, but even in that period, he has still gone dark for long periods of time.
He has only notched only one assist since early October. In that time frame, Bordeaux have just three times in the league, two of those being against Guingamp and Troyes, current residents of the relegation zone.
While the Europa League and a host of injuries and suspensions have certainly had their role to play in Bordeaux's poor Ligue 1 season, the unevenness of Khazri's form, particularly as the club have no credible option to replace him is the most obvious target.
Beyond this inconsistency, Khazri has also generally demonstrated a marked lack of willingness to exert himself defensively. While last season's 4-3-1-2 was built around his opportunistic play, shielding him from most of his duties in terms of tracking back, the current campaign has seen a more holistic approach necessitated by the team, and not only has Khazri not been helpful, his discipline has further added to the club's malaise.
Never one to be far from an entry in the referee's notebook, Khazri has taken his exploits to a new level this season, receiving five cautions in the league, as well as a dismissal in Europe.
In a young team short on leadership, if Khazri is really to prove himself to be the type of figure who can create a consistent positive impact on a club, he will need to curb his impetuousness.
All the ingredients are present for Khazri to become one of Europe's leading attackers, not just a better than average presence in Ligue 1.
At 24, though, he is no longer a prospect, and playing with maturity in all phases of his game is sorely needed for him to push on from his current level.