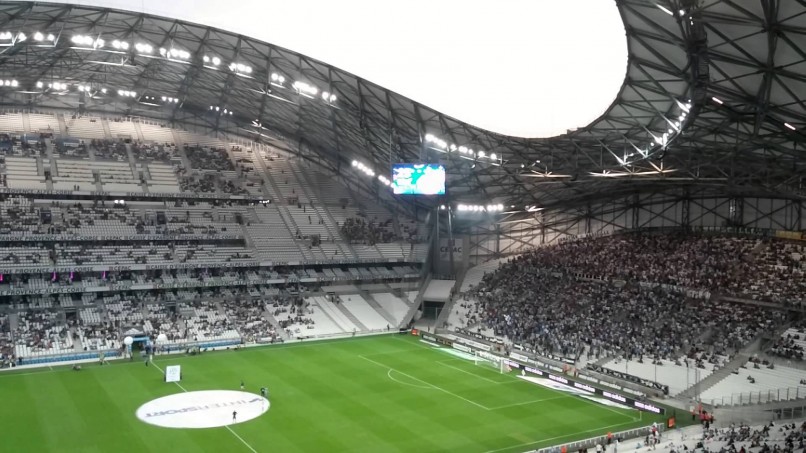 THE VERDICT | Brice Dja Djédjé – what can he achieve at Watford?
As the Premier League continues to plunder the depths of Ligue 1 and Marseille, who are particularly exposed with money issues and board problems coming out of their ears, it is no surprise that another side have plucked one of their players.
Watford signed Ivorian international full back Brice Dja Djédjé on Thursday on a deal in the region of €4m but will he be a big improvement on what they have? And what kind of ability will he bring to Vicarage Road next season?
Brice Dja Djédjé started his ascent to Ligue 1 stardom at second division side Evian Thonon Gaillard. He helped Les Roses reach the top flight in his first season and was instrumental at the club over his career there, helping them maintain their Ligue 1 status until his departure to Marseille in January 2014.
Since that move, Dja Djédjé became a prominent option at right back at the Stade Vélodrome. It did not take him long to oust Rod Fanni from the starting position at the club and he finished the season strongly for Marseille.
His position was altered slightly under new boss Marcelo Bielsa, who wanted the team to operate in a 3-5-2 with the Ivorian playing in a more advanced role, effectively an ultra-attacking wing back. Dja Djédjé took to the role like a duck to water, eager to show his ability in going forward and supporting attacks from out wide.
When the Argentine left, the team moved back to a more orthodox 4-2-3-1 and that is where he started to struggle. Often caught too high up the pitch or too deep, Dja Djédjé was neither here nor there as injuries and form saw him eventually surrender his place to loanee Javier Manquillo.
The 25-year-old is a solid full back who has shown capabilities of playing both in a standard back four or as a wing back in a back five. Although last season was not the best example of the Ivorian's talents, it was not particularly pleasant for anyone in and around Marseille, he certainly has the ability to perform at the required level for top flight football.
Quick, willing to dribble at opponents, but nothing better than an average crosser of the ball, he has all the tools that you would expect from a modern day full-back. Good at timing his tackles and a good reader of the ball, Dja Djédjé does not shirk his defensive responsibilities either, unless he is caught out from pushing too far forward.
However, the worry comes from the fact that while a solid tackler, he does not get involved with the physical side often enough. Picking up just two yellow cards should be seen as a positive but when combined with just 1.2 tackles per game, it is clear that he is not doing enough to disrupt the opposition's attacking flow.
Add to that his slender frame and his small stature, then you have a player that can struggle one-on-one that isn't helped by his lapses of concentration. That is especially apparent in the air, where he does not rise high enough to compensate for his height and will be regularly beaten when challenged with balls over the top as he can fail to register runs in behind his position.
The game that highlights all of what he could bring was against champions Paris Saint-Germain in February, where he essentially gave them the lead in the first few minutes. Caught flat footed, he allowed Maxwell easy passage in behind before making a gentle job back as cover came across that allowed the Brazilian to put in a superb cross for Zlatan Ibramhimovic to slot him with ease.
It did not stop there as he fell asleep again, allowing Angel Di Maria through on goal but the Argentine luckily pulled his shot wide. He recovered in an attacking sense, hitting the bar and almost setting up the equaliser, but in the second half he dived in at Di Maria, who simply shifted his feet to score PSG's winner.
It was a very lax game for Dja Djédjé that highlights his struggles but also his positives in one game. His lack of concentration caught him out twice, his ability going forward almost lead to two goals before rashness allowed the opposition to profit.
New Hornets boss Walter Mazzarri is keen for the club to return to the 3-5-2 formation they have employed successfully in the past and in this kind of set up, Dja Djédjé is more likely to shine. There is less pressure on him to fulfil his defensive duties and with added cover, he will be able to enjoy attempting to find the heads of Odion Ighalo and Troy Deeney in the box on a weekly basis.
Should the formation bomb and Dja Djédjé have to revert further back, then it will really become a concern. With the pace and strength of some very intelligent wingers in the Premier League, he could become exposed and on a team that isn't guaranteed to avoid a relegation fight, that sounds like it could be a recipe for disaster.