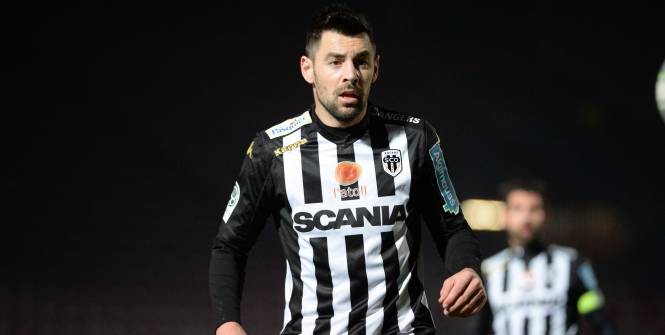 Angers SCO – The French Foxes?
Like many of my compatriots in the world of football, the story of Leicester City's incredible title-winning campaign was arguably, the biggest highlight of the 2015/16 football season.
Tipped for relegation after the "disastrous" appointment of Claudio Ranieri, the fantastic foxes, armed with a never-say-die work ethic and an unbreakable team spirit, fought their way to the top of the Premier League. In doing so, they showed the world of football that a David vs Goliath story was still possible in this age of financially superior mega clubs and 90m+ transfers. Now, the East-Midlands club are preparing for Champions League football, living the footballing dream. But could such a story ever repeat itself? Could this ever happen in Ligue 1?
Such a thought is hard to consider, especially after PSG's most recent domination in 2015/16. With a club of their size, and a spending power that cannot realistically be matched in Ligue 1, could any smaller French team ever imagine the idea that they might be able to challenge for the limelight? For the title? Perhaps not, but there are teams who can certainly shake up the establishment. Leicester City have shown us this is possible, and a team that I believe could do this in 2016/17, are Angers SCO.
Upon their arrival back in Ligue 1, there were not many in the world of football that expected much from Angers SCO last season.
Despite a fantastic promotion campaign, Angers SCO were many fans' pick (myself included) for relegation back to Ligue 2, especially after losing their star-striker Jonathan Kodjia to English Championship side, Bristol City.
Kodjia, a player who now attracts interest from big English clubs such as Everton, Aston Villa and Derby County, was the stand-out player in SCO's promotion campaign.
His strength and natural finishing ability, combined with his blistering pace, would surely be impossible for Angers to replace. But Angers were ready to show that they were not just a one-man team, and were not going to go down without a fight.
What followed was a start to the season that had French football pundits pulling their hair out. A comprehensive 2-0 victory against Montpellier HSC in their first game of the campaign set a precedent; that Angers SCO were not going to be rolled over by anyone, a work-ethic that was typified by their brave and resilient performance against PSG, where they held the French giants to a 0-0 draw.
Angers were not going to be disheartened by the loss of one of their star players, and in Kodjia's place, many players stepped up to the challenge. Slowly but surely the small French club climbed their way up into the Champions League places; a rise that mirrors that of Leicester.
The departures of some key players, like wide-man Abdoul Camara who left to join Derby County in January, slowed the Angers march considerably towards the end of the 2015/16 season, but none can deny that to finish 9th, for a club of the size of Angers, is an incredible achievement.
But how did Angers do it? The answer is not too dissimilar to those given for the rise of the foxes.
First of all, their style of play is, in some ways, quite similar to that of Leicester. The foxes dominated the midfield battles last season. N'Golo Kante (now at Chelsea) fought relentlessly to win the ball back, eventually earning the title of 'Europe's top tackler' last season, with 105 successful tackles won. Sat next to him was Danny Drinkwater, whose impressive distribution allowed the talented attacking players, like Riyad Mahrez, to roam forward with confidence again and again. Everything that went well for the foxes last season started at the base of midfield; a tactic they shared with Angers SCO.
Hardened veterans like Thomas Mangani and Cheikh N'Doye, as well as midfielder Romain Saiss, provided a solid framework in the centre of midfield. Mangani protected and organised Angers' defence admirably and chipped in with an impressive five goals (not bad for a defensive midfielder!).
However, the show was stolen by his Senegalese teammate. N'Doye successfully occupied every role you could ask him to as a midfielder last season. Winning the ball back, distributing to the wide players, charging the ball forward and scoring with his feet and his head were but some of the accolades he can be noted for, and clearly, he was a key part of Angers SCO's success.
This solid framework allowed the more creative, attacking players, such as Camara, Capelle and Ketkeophomphone, to expressive themselves without fear. They hit teams on the break well at a relentless pace (a tactic utilised by Jamie Vardy and his Leicester teammates) and this led to players from all sorts of positions chipping in with important goals. This Angers side, epitomised by their desire to fight and win for each other shone through what was a murky and miserable season for clubs in general in Ligue 1.
But what does the future hold for Angers? Like the beginning of last season, the departures have again been significant. However, they have actively recruited well by bringing in two of Ligue 2's best forwards in Famara Diedhou and Karl Toko Ekambi. If these two can add goals to this Angers side, who knows how far they can go? After Leicester's remarkable achievement last year; who dares write them off?!
Stephane Moulin has created an atmosphere where the pride of wearing the black and white shirt is key. If Angers can keep hold of the heart of their team (like players such as N'Doye, Mangani and Saiss) and provide their new signings with the kind of service that can get them goals, then maybe they can shock Ligue 1 again.
It is important, I really do believe, to all of Ligue 1 that they do so. French football, and football in general, needs more teams like Angers SCO and Leicester City. Teams that force people to stop saying 'luck!' and start saying 'Look! Look what they did!'