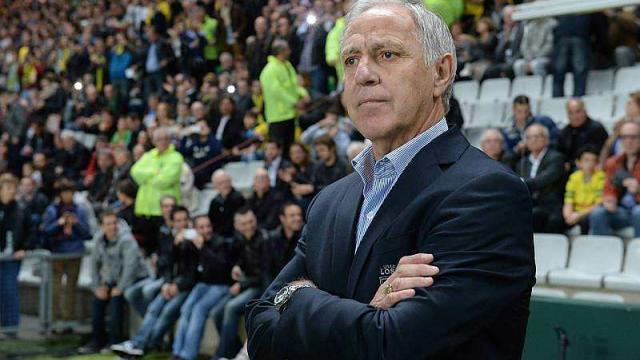 Barren Beaujoire – René Girard's mission at Nantes is clear: Goals
With Michel Der Zakarian swiftly moved along, René Girard is now preparing to assume managerial responsibilities as Nantes' Head Coach. Despite Der Zakarian's tenure being characterised by defensive solidity and consistency, a distinct lack of attacking thrust and cutting edge was always painfully evident.
Can the experienced Girard fulfill his remit of adding a degree of ruthlessness and a pinch more style to Les Canaris' play, returning them to the top 6 and a place in European competition in the process as the fans and the club president expect? At the top of his to-do list, one word will be underlined and written in bold: 'Goals'.
A misplaced pass from Rod Fanni, a slip from Steve Mandanda and Nantes have the lead. It's April 2015 and Serge Gakpé claims the only goal of an exciting encounter at Stade de la Beaujoire to give Les Canaris a decisive three points in their efforts to avoid the gaping hole at the foot of French football marked 'Ligue 2', while simultaneously ending any lasting hope of Marcelo Bielsa's Olympique Marseille side claiming a title that they had looked to be front runners for at Christmas.
As Armenian coach Michel Der Zakarian celebrated, his tactical switch was seen by some as a potential turning point for Nantes. In recent campaigns, in a league where goals can be a little sparse, Nantes have stood out.
Despite that win over OM helping Der Zakarian's side to what turned out to be a relativity comfortable 14th place finish, Nantes ended the 14/15 season with a tally of just 29 goals. Outscored by both Lens and Metz who suffered disastrous seasons and were swiftly relegated along with Evian who bested Nantes' record by 12, meaning Les Canaris finished up as Ligue 1's lowest scorers.
In an attempt to combat the lack of goals Der Zakarian had moved away from a blunt 4-5-1 set up, Gakpé and American international Alejandro Bedoya employed in wider roles with the outstanding Jordan Veretout in support of a lone frontman, usually Yacine Bammou, to a 4-4-2 featuring a diamond midfield.
Gakpé, now partnered by Johan Audel in attack, pressed, stretched and harried the OM back line and ran the channels superbly allowing Veretout and primarily Bedoya to support from midfield. Audel's and Gakpé's pincer movement and pace gave the side far more dynamism and verve.
The win over OM ended a run of just 2 wins in 13 Ligue 1 fixtures, the performance a class apart from the insipid slow and defensive style Nantes had displayed for much of the campaign.
However, Der Zakarian's side still lacked one thing; Goals. Despite the tenacity of their forwards and the dominant display overall, the lead had been gifted to them by Mandanda and Fanni and they were unable to find a second killer strike in the remaining 70 minutes.
This theme continued for the rest of the season. In spells Nantes looked as ferocious as they had against Gignac, Batshuayi and co that Friday night but still clearly lacked genuine cutting edge. Bammou, Audel, Gakpé and Ismael Bangoura continued to be wayward at best in front of goal.
Scoring goals was again the issue in 15/16. The arrival of Icelandic striker Kolbeinn Sigthorsson was hailed as something of a marquee signing by the club; finally they had a striker who should guarantee double figures. Just 3 all year, and some dreadful displays along the way, proved otherwise.
Despite this, Der Zakarian did manage to cagoule his charges into some excellent performances. The acquisitions of bright, dynamic attacking midfielder Adrien Thomasson and particularly the calm and imperious Belgian sentinel Guillaume Gillet effectively complimented Bedoya to make for an exciting and forward thinking midfield trio with the tricky Brazilian Adryan buzzing around in support. Thrilling displays against Lorient and Gazelec Ajaccio marked the zenith of a 13 match unbeaten league run.
Even here, however, a lack of ruthlessness cost them. Nine of those 13 matches were draws and 5 of those ended 0-0. Chances were created but rarely finished. Coming into the derby with Rennes, a win could have put Nantes into the Champions League places but an embarrassing 4-1 defeat, the now Dortmund bound Ousmane Dembele on scintillating form, ended their long unbeaten run.
Half a dozen defeats in their remaining 10 matches saw Der Zakarian's side slump, incredibly, to another 14th placed finish, only 4 goals better off than the previous season with the same goal difference and only the hapless Troyes below them in the 'for' column.
Der Zakarian's time was up. A former player at the club and in his second spell on the coaching staff, after stints as reserve, assistant and head coach between 2006 and 2009, MDZ's association with Les Canaris is a long standing one. However, over the course of last season a rift formed between the Armenian and club president Waldemar Kita, Kita openly criticising his manager's performance in the media.
Their relationship proved to be irreparable and Der Zakarian's contract was left to run it's course this summer, the hostility between the two men exemplified by Kita ordering the stadium announcer to drown out Der Zakarian's farewell speech at his final home game with music from the tannoy system.
An appalling lack of respect for a man who returned Nantes to Ligue 1 and left the club comfortably in mid table despite significant restraints.
Kita wasted no time in appointing a successor. Former Lille and Montpellier coach René Girard was unveiled three days later, charged with the task of conjuring the exciting brand of football and return to European competition that the president and the fans crave.
With the forward thinking Christian Gourcuff repeatedly linked to the role, the move initially seemed to be a surprisingly conservative one from Kita. Nevertheless the experienced Girard has continually proved to be a wily, thoughtful and thorough coach throughout his management career which now surpasses a quarter of a century, the highlight of which undoubtedly being guiding Montpellier to their surprise Ligue 1 triumph in 2012.
Girard left is his last post as Lille head coach at the end of a poor 14/15 season, with LOSC finishing 8th and posing little threat in the Europa League, citing differences between his and the board's intended direction for the club and the squad. The former France international midfielder now has much to do to steer Les Canaris back to their 80s and mid 90s prime.
The club have already moved to plug the Youssouf Sabaly shaped hole in their defence, the right back returning to PSG at the end of his loan, with attacking Brazilian 24 year old full back Lucas Lima after his impressive season in making the Europa League with Arouca in Portugal. Liga NOS was again plundered in adding Lima's countryman and fellow defender, Estroil's Diego Carlos (23).
Maintaining defensive solidarity will be a key concern of Girard's. As, despite MDZ's inability to find a consistent attacking solution, Nantes have been consistently difficult to breakdown in the last two years. But with doubts continuing over Lorik Cana's future and fitness as well as the slowing Oswaldo Vizcarrondo alongside him, stability here is crucial.
As will be nurturing the small but promising group of academy products at the club. The efficient, if still a little raw, Koffi Djidji (23) may be expected to assume more responsibility at centre back, especially as Cana moves on.
Full-back Leo Dubois (21) may become undisputed first choice in 16/17 looking to build on a solid start to his Ligue 1 career at the back end of last season, while the return from injury of 21 year old central midfielder Valentin Rongier will a boon for Girard as he picks up the reigns from MDZ.
Rongier, despite only become a regular at the end of the 14/15 season, quickly became first choice in the Nantes' engine room after some stirring outings in the autumn.
The 20 year old showing his energy and assuredness in possession to excellent effect before a knee injury cruelly ended his campaign just as it was getting started. Given Girard's work with a variety of junior Les Bleu sides, he will be seen as the right man to develop these three prospects into assets.
Job one, however, is finding that rarest of Ligue 1 breeds; a genuine goalscorer. Despite being far from the first name on the team sheet, Emiliano Sala ended the season as top scorer with a grand total of 6, the erratic Bammou behind on 4.
Most disappointingly of all, Sigthorsson finished with just 3 Ligue 1 goals. Despite a burst of form at Caen in 14/15, Sala managed only one notably impressive outing in Nantes colours, netting twice in the March Eastern Derby victory over Angers, while the lumbering Sigthorsson, albeit troubled with injuries at times, suffered through a lacklustre season rarely troubling a 6 or higher in L'Equipe come Monday morning and little else to show for his debut season in France.
The issue now is, as is often the case in France, that the options are a somewhat limited. A proven Ligue 1 forward would be ideal. Benjamin Moukandjo managed 13 for Lorient last season but only netted twice after mid-November and doubts remain over his finishing ability in the long run, besides it would be unlikely Nantes could afford him, the case being similar with Wissam Ben Yedder or Martin Brathwaite of Toulouse and Caen's Andy Delort.
A loan for Valère Germain from Monaco also seems unlikely, as the promotions of Hicham M'Laab and Thomas Henry from the CFA side proved unsuccessful. Girard will likely have to look abroad or down to Ligue 2 where options also seem thin.
Le Havre forward Lys Mousset has joined Bournemouth while Bourg's Pape Sane and Clermont's Famara Diedhiou have already realised their Ligue 1 moves in signing for Caen and Angers respectively.
Overseas may provide the answer and more in keeping with Nantes' budget. Austrian Alex Gorgon is a free agent after leaving Austria Vienna following a 19 goal season in the Bundesliga although he is more of a winger, Mbaye Leye had an excellent end to the year in Belgium for Zulte Waregem with 7 of his 20 goals coming in the championship playoff rounds but is now 33.
Additionally, 22-year-old Frenchman Sebastian Haller was consistently amongst the Eredivisie goals for Utrecht (18) and could be an option as could Legia Warsaw's 25 goal Hungarian, Nemanja Nikolics.
Cyril Thereau from Udinese or Levante's Deyverson maybe more speculative options within the club's means, as would be Estoril's Leo Bonatini or Rafa Martins of Moreirense.
As René Girard settles into his first pre-season with Nantes, moulding the side into a more progressive outfit will be his primary concern, as decreed by Kita. Despite the lack of striking options, the base on which he must build is a sturdy one and with a talented midfield quartet at his disposal, he has been given a headstart.
Considering the dearth of strikers available that fit his budget, the solution may come, as it did briefly for Michel Der Zakarian, in the shape of a diamond.
Girard has used the set up well in the past and it could provide Kolbeinn Sigthorsson with the support and space he requires to manufacture and take more goalscoring opportunities, not to mention the fact that it would suit Bedoya, Thomasson, Rongier and Gillet in the midfield as well as the attacking full back play that was a feature last season.
Whatever Girard decides, he needs goals, and soon.
[Image: OF]