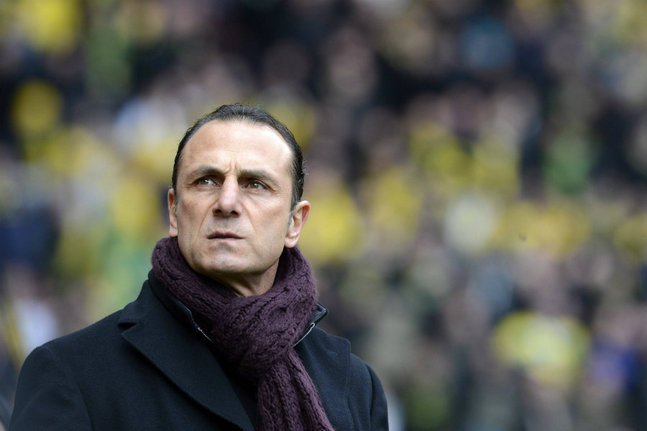 BIG PICTURE | Get ready for a big Ligue 1 summer manager merry-go-round
With just three fixtures left for most Ligue 1 outfits, French football's elite are beginning to prepare for the next campaign in 2016/17. A large part of these preparations involves confirming or identifying who might run the on-pitch activity at the club next season, i.e. who the club's manager will be.
With contracts expiring and certain managers having underperformed this season, the summer transfer window looks as if it will not only see considerable movement in terms of players in Ligue 1, but also in terms of managers. Here, we highlight what those changes are likely to be.
Laurent Blanc: Another Chance
PSG President Nasser Al Khelaifi confirmed last weekend that Laurent Blanc would be the manager next season, despite failing to meet the objective of progressing further than the Quarter Final stage of the Champions League. This announcement has all but quelled rumours linking José Mourinho to the French capital, which makes sense considering that the former French national team coach recently signed a two year contract extension with PSG in February. Laurent Blanc is therefore set to have another bite at the cherry with PSG in the Champions League next season.
Marseille: Will new investment attract a high calibre coach?
Last week Marseille officially placed manager Michel on gardening leave in a move that will eventually lead to the Spaniard being released from his contract (which runs until 2017) when a mutual termination fee is agreed between now and the end of next month.
In truth, it has been one of the most disastrous seasons in Marseille's Ligue 1 history, at least in the 21st century. With just 3 matches left to play, OM remain in danger of slipping into the relegation zone, currently sitting five points away from 18th.
Alongside the fact that they have made it to the Coupe de France final, the other piece of good news for Marseille fans was the announcement two weeks ago that club owner Margarita Louis Dreyfus was officially putting the club up for sale, with sources indicating to us that MLD is confident that she will have sold the club by the end of June.
With the promise of new ownership therefore, will Marseille be able to attract a competent, high-calibre coach who can excite the fans with attacking football and restore OM's status as one of France's most successful clubs?
Marseille had already been looking to replace Michel at the end of the season since January, with much despised president Vincent Labrune having already spoken to intermediaries about making contact with former Chile boss Jorge Sampaoli, who has in the meantime been in serious contact with three other European sides (Swansea?) and has an offer from two Middle East outfits.
Other names that have been mentioned include recently departed AS Roma coach Rudi Garcia, Guingamp's want-away boss Jocelyn Gourvennec and St Étienne's Christophe Galtier.
It is not clear if Marseille have been in contact with the final two on that list, but OM are understood to have made an initial approach for Rudi Garcia.
The plan prior to the announcement that Marseille was for sale was to go all in for Bielsa's disciple Jorge Sampaoli and, failing that, to go for a French coach who has Ligue 1 experience, but new ownership might bring with it an entirely new strategy…
Lyon: Bruno Génésio or twist?
Lyon President Jean Michel Aulas has been quite clear with his intentions regarding the current OL manager situation. Aulas would prefer to confirm current interim boss Bruno Génésio on a full-time basis for next season, with the latter's results since taking over at the turn of the calendar year from Hubert Fournier so far being of an exceptional standard.
Should Lyon manage to finish second or third and thus qualify for the Champions League next season, it is almost inconceivable for Aulas not to take the cheap option and give Génésio full reign next season.
However, reports from L'Équipe several weeks back suggests that Aulas is at least keeping his options open, with the club president understood to have initiated contacts for former Roma and Lille boss Rudi Garcia.
It seems very unlikely that Aulas will shy away from the Génésio option unless something catastrophic happens and OL fail to qualify for the Champions League or unless a great, internationally-renowned option, becomes available.
Nantes: A shortlist of three
Nantes will certainly have a new manager next season. Current boss Michel der Zakarian announced yesterday following Les Canaris's draw with Marseille that he would not be extending his contract with the Brittany side, which is currently due to expire next month.
As a result, owner Waldemar Kita is understood to have already been in extensive contacts with several possible replacements even before der Zakarian made his announcement.
His current shortlist appears to have three names on it: the first and prime target is former Algeria boss Christian Gourcuff, but the ex-Les Merlus boss is understood to be in advanced negotiations with Rennes about joining them for next season.
The other two individuals that Kita is understood to have already sounded out are RC Lens boss Antoine Kombouaré and the currently unemployed and former Ligue 1 winner René Girard.
Guingamp: Jocelyn Gourvennec wants out
After rejecting two offers last summer, the much understated Guingamp manager Jocelyn Gourvennec is looking increasingly likely to be on his way out of EAG this summer.
After recently hiring the now infamous French agent Jean Pierre Bernes in order to orchestrate a summer move for himself, Gourvennec has considerable interest from Ligue 1 and abroad.
Specifically, OGC Nice have been in contact with Claude Puel's future still not assured with Les Aiglons. Bernes has offered his client to Bordeaux, Marseille could be interested in the Frenchman as could St Étienne should Christophe Galtier leave Les Verts.
From a Guingamp perspective, they have specifically sounded out Michel der Zakarian, having been in informal contact with the Armenian for several weeks now. Antoine Kombouaré is also a name that is being thrown up in local press in Brittany.
It is not a foregone conclusion that EAG will let Gourvennec go, but if they do, then he will certainly have immediate interest from Red Bull Leipzig, who have been in intense talks with him over the course of 12 months now.
Monaco: Leonardo Jardim is tempted by Russia, ASM want Puel
Monaco Vice President Vadim Vasilyev recently claimed that there was no doubt that Portuguese manager Leonardo Jardim would be the manager at the club next season, but that was a bit of a white lie.
In truth, Jardim might have reached the end of his tether at the Principality outfit. He is still furious with Monaco's previous summer transfer window. Jardim's anger specifically emanates from the club's decision to sell Anthony Martial with just hours of the window remaining, leaving Monaco no time to find an adequate replacement and the board's decision to block Aymen Abdennour from playing in the Champions League play-off matches against Valencia, the club that the defender would eventually sign for.
Zenit St Petersburg, who will see André Villas-Boas depart at the end of their campaign, have concretely approached Jardim, who also has interest and contacts from Portugal.
Jardim's future remains uncertain because he refuses to give the board any hint as to his desires until the season is over. As a result, ASM have had no choice but to start to look for alternatives should Jardim walk out.
As a result, the club has wined and dined current OGC Nice manager Claude Puel, an experienced coach with a history of successfully developing young talents and whose contract with Les Aiglons expires at the end of the season.
These very talks between Monaco and Puel are the reason why the latter has refused to discuss his future with Nice until the end of the season.
Vasilyev however remains convinced that Jardim is still the man for the job and will do whatever he can to convince the Portuguese manager to honour his contract with the club.
OGC Nice: Puel holds all the cards
OGC Nice's incredible rise and excellent footballing displays this season are almost motion picture worthy, but reality could come crashing down on the club all too quickly at the end of the season if current boss Claude Puel decides not to sign a contract extension.
Puel's current contract expires next month, but for AS Monaco related reasons (see above), the former Lyon boss has refused to hold any meaningful discussions with club president Jean Pierre Rivère until the season is over (incidentally when Monaco will have a clearer idea of whether or not Jardim will remain).
As a result, football's answer to vultures (agents) have begun to circle. Jean Pierre Bernes has offered Nice both Jocelyn Gourvennec and Michel der Zakarian, with the Côte D'Azur side preferring the former over the latter as an option.
Ideally, if they must replace Puel, Nice would like to sign Christian Gourcuff, and while talks are understood to have occurred in some form, the recently departed Algeria coach who likes Nice's project, was left unimpressed by the relative uncertainty of whether or not the club would be able to offer him a job at the end of the season (should Puel extend or not), compared to his concrete offer from Rennes.
Nice are in a sticky spot and Puel holds all the cards.
Bordeaux: Ramé or Girard?
Girondins de Bordeaux are another outfit who could be in the market this summer for a change of management. Ulrich Ramé was brought in to replace Willy Sagnol on a interim basis, but the former has generally exceeded expectations and is now in contention for a full-time job next season.
René Girard is another option that Bordeaux have explored extensively, with contacts having been initiated already several months ago. Hubert Fournier is also looking for work and is of the right profile should FCGB decide to oversee his catastrophic second season with Lyon.
Rennes: A Christian Gourcuff shaped coup?
You might have figured out by now that Christian Gourcuff is hot property on the French football manager market at the moment and it is Rennes who are leading the race to snap him up.
Having only just recently appointed Rolland Courbis to replace Philippe Montanier during this campaign, it appears that President Rene Ruello has considered that Gourcuff's availability is simply too good an opportunity to miss out on.
Ruello, who has a very close relationship with Gourcuff, is already understood to have offered him a two year contract.
Should this deal go through, Courbis would receive a payout worth around 2 million Euros.
St Étienne: Christophe Galtier's future depends on opportunity
The final club of note that could be in for a change at the top this summer is St Étienne. Christophe Galtier has worked miracles for Les Verts season after season and has earned an incredible amount of good faith with the St Étienne board.
Should an opportunity come knocking that Galtier considers to be too good to turn down, Romeyer and co. are unlikely to stand in his way.
Gourvennec has already been sounded out…