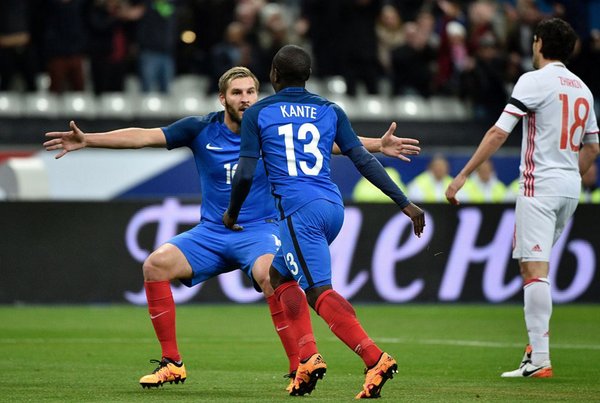 EURO 2016: What France's squad is expected to look like
Get French Football News reveals the likely 23 man squad plus the seven reserves that Didier Deschamps will announce that he has picked this evening for EURO 2016.
Goalkeepers:
Captain Hugo Lloris and Steve Mandanda are absolute certainties in the number one and number two spots. Alphonse Areola and Stéphane Ruffier were considered, but the latter's conversations with Didier Deschamps ensured that the St Étienne man made it clear he had not intention of being France's 3rd choice goalkeeper.
As a result, Rennes's Benoît Costil, despite having a disappointing season, is expected to grab the final goalkeeper spot with Alphonse Areola named among the seven reserve players.
Full-Backs:
Didier Deschamps is expected to pick a total of eight defenders in his 23-man squad and therefore four full-backs. Patrice Evra and Bacary Sagna are dead certainties, with the other two spots a little less clear.
AS Roma's Lucas Digne is expected to pip PSG's Layvin Kurzawa to the second spot available to a left-back after a good end to the season with the Italian side, even though he has disappointed for France recently. Kurzawa would not be a surprise on the reserve list.
At right-back, it was a straight shootout between Mathieu Debuchy who has returned from injury and played a handful of games for Bordeaux, and Lyon's Christophe Jallet, who has profited from the Arsenal man's absence in recent French squad announcements but has yet to convince in a Les Bleus shirt. However, with the news that Debuchy is out with a thigh injury, Jallet will grab the spot.
Central Defenders:
The headline in this department is that Mamadou Sakho will not be picked this evening by Didier Deschamps, with his ongoing doping investigation seen as too much of a potential obstacle for France to pick him in their EURO 2016 squad.
Raphaël Varane and Laurent Koscielny will therefore be France's starting central defensive partnership at EURO 2016, with Eliaquim Mangala likely to profit from his impressive Champions League performances for Manchester City to re-earn his place in the squad.
The final centre back slot is likely to go to Barcelona's Jérémy Mathieu, with Lyon's Samuel Umtiti expected to make the list of seven reserves.
Midfielders:
In midfield, we will see Didier Deschamps remain loyal to the individuals that he picked for France's last set of friendlies back in March. Lassana Diarra, Paul Pogba, Blaise Matuidi, N'Golo Kanté, Yohan Cabaye and Moussa Sissoko are expected to be announced by Deschamps in this area of the pitch.
Morgan Schneiderlin came close and will be on the list of seven reserves.
Attackers:
Despite Alexandre Lacazette's exceptional second half of the season form for Lyon, he is expected to fall just short of the final hurdle and only make the reserve list. As is one of Nabil Fékir or Hatem Ben Arfa.
Instead, Deschamps will go with known quantities at international level, with Olivier Giroud, André Pierre Gignac, Antoine Griezmann and Dimitri Payet all certainties.
Youngsters Anthony Martial and Kingsley Coman are projected to round of Deschamps's 23-man squad.
Projected France squad for EURO 2016:
Goalkeepers: Hugo Lloris (Tottenham), Steve Mandanda (Marseille), Benoît Costil (Rennes)
Defenders: Patrice Evra (Juventus), Lucas Digne (AS Roma), Laurent Koscielny (Arsenal), Raphaël Varane (Real Madrid), Eliaquim Mangala (Manchester City), Jérémy Mathieu (Barcelona), Bacary Sagna (Manchester City), Christophe Jallet (Lyon)
Midfielders: N'Golo Kanté (Leicester), Blaise Matuidi (PSG), Lassana Diarra (Marseille), Paul Pogba (Juventus), Yohan Cabaye (Crystal Palace), Moussa Sissoko (Newcastle)
Attackers: Anthony Martial (Manchester United), Olivier Giroud (Arsenal), André Pierre Gignac (Tigres), Dimitri Payet (West Ham United), Kingsley Coman (Bayern Munich), Antoine Griezmann (Atletico Madrid)
Reserves: Alphonse Areola (Villarreal), Layvin Kurzawa (PSG), Sébastien Corchia (Lille), Samuel Umtiti (Lyon), Morgan Schneiderlin (Manchester United), Hatem Ben Arfa (OGC Nice), Alexandre Lacazette (Lyon).