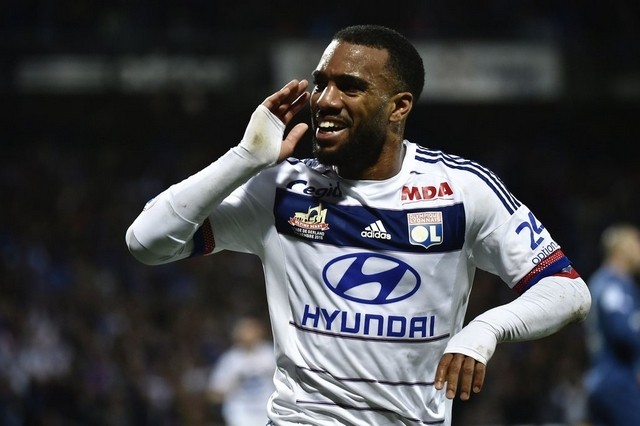 Euro-Bleu Tracker – The Race to Clairefontaine – Week 11
With only one round of fixtures remaining in most leagues, as well as the odd cup final, it is well and truly crunch time for the hundreds of players vying for a place in this summer's European Championships. Didier Deschamps has shown a marked resistance to surprises in his past squads, but a combination of injuries and potential suspensions have combined to leave the manager with some tough choices.
The battle for the forward positions, in particular was left finely sharpened after this weekend's results, but so too the choice of third goalkeeper, fourth-choice center back and a few other places at the margins. Statistics encompass matches played through May 9, and always, players' names are listed along with their club and the last date at which they were a part of the national team.
Performing: 
Alexandre Lacazette, Olympique Lyonnais (11/10/2015) 
6-1 win v AS Monaco, 90′, 3 goals, 1 assist 
Granted, Alexandre Lacazette's hat trick against Monaco was far from a compendium of wonder strikes, but the occasion, a must-win match for Lyon with direct qualification to the Champions' League on the line, was massive, and the striker duly rose to the challenge. Given Lacazette's finishing ability and versatility, Deschamps must be careful as regards what message he is sending Ligue 1 should he fail to pick the division's top-scoring Frenchman.
Mapou Yanga-Mbiwa, Olympique Lyonnais (14/11/2014) 
6-1 win v AS Monaco, 90′, 2 goals 
Much like Lacazette's goals, the brace notched by Mapou Yanga-Mbiwa wasn't much to look at, particularly against ten-man opposition. That said, given the former Roma man's experience with Les Bleus and resurrection under Bruno Genesio, could Deschamps do worse given the issues of Sakho, Zouma and Mathieu?
Lucas Digne, AS Roma (29/03/2016) 
3-0 win v Chievo Verona, 90′ 
In desperate need of a win against Chievo as Serie A winds to a close with Roma jousting with Napoli for second place, Digne and co delivered in style against the Gialloblu. Consistently a threat going forward, but also assured in defense, Digne delivered the kind of class performance that justifies his inclusion in the squad, his battle with Layvin Kurzawa for the role of Patrice Evra's deputy now all but over.
Mathieu Debuchy, Girondins de Bordeaux (07/09/2015) 
3-0 win v FC Lorient, 90′ 
As Christophe Jallet finally started a match and his own match fitness is still recovering, Debuchy is unlikely to be part of Deschamps' 23 come tomorrow. However, given his form in the last month, one has to wonder what his relationship to the national setup would be had he not had a lengthy injury lay-off so soon upon his arrival on loan. Still just thirty, Debuchy will harbor hopes of reclaiming the right back role in the build-up to the World Cup in two years' time, providing Bacary Sagna and Jallet call time on their international careers.
Olivier Giroud, Arsenal (29/03/2016) 
2-2 draw at Manchester City, 90′, 1 goal, 1 assist 
Despite a generally solid record for Arsenal since his arrival from Montpellier, Olivier Giroud has undergone a difficult stretch for the club in 2016, having failed to score in the league since January. In breaking that streak at the Etihad on Sunday, Giroud not only chose an opportune occasion but also showed how sublime his link-up play can be, an important factor given the proclivity of much of his fellow attackers for one-touch football. While Lacazette is in ferocious form, given Giroud's experience and aerial ability, can Deschamps afford to leave him out?
Underperforming: 
Alphonse Areola, Villarreal (n/a) 
3-0 loss at Liverpool, 90′ 2-0 loss v Deportivo la Coruna, on the bench 
After missing the team's first leg win over Liverpool, Areola was back between the sticks at Anfield Thursday, and failed to deliver, turning in a decidedly poor performance against the Reds. His future remains bright, as his fine season with Villarreal illustrates, but with France in good position to win the tournament, Areola's youth underscores why the likes of Stephane Ruffier and Benoit Costil are better choices for the summer.
Nabil Fekir, Olympique Lyonnais (04/09/2015) 
6-1 win v Monaco, 15′
Nabil Fekir's season was derailed by a serious knee injury, but given the fine form of those young players who have stood in for him, the club decided not to rush his recuperation.
That is surely a disappointment for the player as regards this summer's tournament, but given his age and long-term potential, is the more pragmatic choice. His inability to play a full match at this point means he is too much of a risk this summer, but should re-focus his ambitions on Russia 2018.
Benoit Tremoulinas, Sevilla (07/09/2015) 
3-1 win v Shakhtar Donetsk, 74′, 4-1 loss v Granada, not in the squad 
The performances of Digne meant that Tremoulinas' inclusion this summer was always unlikely, even having featured for the team in September, but any lingering doubt was erased last weekend.
The news that Tremoulinas had suffered a ruptured meniscus and would miss the rest of the season and summer came as a blow to his club but less so to France, given the abilities of Digne and Layvin Kurzawa, a disappointing end to what had been a strong campaign.
Anthony Martial, Manchester United (29/03/2016)
1-0 win at Norwich City, not in the squad 
Despite a stellar injury record over a very busy season, Martial's absence for a crucial trip to Norwich City is a source of frustration for the young forward. There is still hope that he can recover for today's trip to West Ham, and while he should easily feature in the tournament, even the slightest injury can be a cause for concern at this point in the season.
Given the immense pressure under which Louis van Gaal finds himself, here's hoping the manager doesn't feel pressure to rush the former Monaco man back to action.
Eliaquim Mangala, Manchester City (11/10/2015) 
1-0 loss at Real Madrid, 80′, 2-2 draw v Arsenal, 90′
Two matches, two disappointing results as Manchester City saw what looked to be a decent season on the verge of collapse. Granted, Mangala is far from the primary reason for his side's slide, but given the fine performances by the likes of Samuel Umtiti and Loic Perrin in their clubs' run-ins, Mangala's massive price tag looks to be the only justification for his potential inclusion, a gambit Deschamps would do well to ignore.