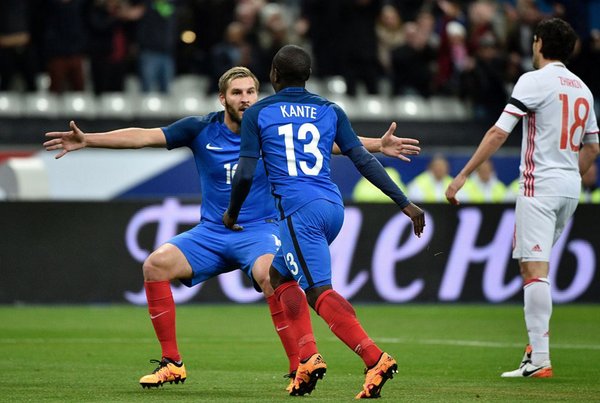 Euro-Bleu Tracker – The Race to Clairefontaine – Week 4
With France's final two in-season friendlies now in the books, this week's Les Bleus Tracker takes a look at which players included in the squad did the most to hurt and help their chances of inclusion come the summer.
Given the nature of France's wins, with seven goals scored and four conceded, the two lists naturally skew a certain way. That being said, the performances on the whole were encouraging, and France did nothing in the last week to suggest that they wouldn't be favorites come June, especially given their hosting the tournament.
Performing:
Dimitri Payet, West Ham United 
3-2 win at the Netherlands, 90′, 4-2 win v Russia, 28′, 1 goal, 1 assist 
Finally succumbing to public pressure, Didier Deschamps at last recalled West Ham's electric attacker, and Payet responded in kind. While his time on the pitch against the Dutch didn't result in any telling statistics, his tracking back set up Anthony Martial to assist Blaise Matuidi's winner and he was easily man of the match. Against Russia, having already likely done enough to secure his place in the 23, he pressed his advantage with an assist and a superb free kick, making himself the presumptive starter on the left of France's 4-3-3 come June.
Andre-Pierre Gignac, Tigres
3-2 win at the Netherlands, 27′, 4-2 win v Russia, 79′, 1 goal
Give that Alexandre Lacazette has started to return to some sort of for Lyon, as well as Gignac's similarity in terms of playing style to Olivier Giroud, the former Marseille forward's inclusion was somewhat of a surprise. However, he showed that despite having left Europe, he is still up to a high level in terms of fitness and capability, scoring a fine glancing header against Russia. Being a slightly more mobile option than Giroud, Gignac may have even played himself ahead of the Arsenal player with his performances; a job well done for a player whose international career had looked to be over before it started.
Anthony Martial, Manchester United 
3-2 win at the Netherlands, 45′, 1 assist 4-2 win v Russia, 45′
Showing good energy and enterprise in both matches, Anthony Martial may have also cemented his place among the 23. His form at Manchester United having been somewhat erratic, as one would expect from a teenager, Martial showed that he is still the same all action attacker that he is for his club at his best, but is also able to do a job in multiple positions. With Deschamps having shown in the past that he values versatility, (Jeremy Mathieu, Moussa Sissoko) Martial admittedly could've been a bit sharper against Russia, but probably did enough in the two matches to remain in the manager's good graces.
N'Golo Kante, Leicester City 
3-2 win at the Netherlands, 45′, 4-2 win v Russia, 90′, 1 goal 
Displaying all of the coltish eagerness one would expect from a player making his international debut against the Netherlands, Kante's performance certainly wasn't lacking in verve, but could've used a bit more restraint as befits the holding role in a 4-3-3. Played further forward against Russia, opposite Paul Pogba, who was shifted to the left, occupying Blaise Matuidi's role, Kante looked much sharper, scoring a goal and functioning as the destroyer-creator hybrid that has been so key to Leicester's title challenge. Kante is ultimately unlikely to displace any of Diarra, Pogba or Matuidi in the starting eleven come June, but he undoubtedly has given Deschamps food for thought.
Kingsley Coman, Bayern Munich 
3-2 win at the Netherlands, on the bench, 4-2 win v Russia, 45′, 1 goal 
His importance for his club in the Champions' League firmly underlined thanks to Bayern Munich's defeat of Juventus a fortnight ago, Kingsley Coman's nascent France career also took a big step forward against Russia. Coming on for Anthony Martial at half time, Coman marked his first international goal, but more than that, showed how he can be the perfect impact substitute.
A persistent menace, Coman was constantly drawing free kicks and getting at the Russian defense in a manner well beyond his years, and although nominally deployed on the left as Martial's replacement, he also showed a good understanding of the positional fluidity that has become France's hallmark, frequently appearing on the opposite flank as well.
Underperforming: 
Christophe Jallet, Olympique Lyonnais 
3-2 win at the Netherlands, 90′, 4-2 win v Russia, on the bench 
The veteran Lyon right back didn't exactly have a match to forget against the Dutch, but nor did he exactly seize the chance to be the starting right back with both hands. Frequently hugging the touchline, Jallet showed little of the thrust and directness that have marked him at his best in the past, and also demonstrated a poor understanding at times with Paul Pogba. Things did improve as the match wore on, and in the absence of Mathieu Debuchy, Jallet is still a likely member of the 23-man squad, buthe will have to rue his missed opportunity.
Bacary Sagna, Manchester City
3-2 win at the Netherlands, on the bench, 4-2 win v Russia, 90′ 
Surprisingly assured at the back barring his failure to track the run of Oleg Shatov for Russia's second goal, Sagna still leads the race to be the starting right back, if only just. His pace badly lacking at times, Sagna rarely got forward, and looks a shadow of the player that he was during his best days at Arsenal. While more match time at Manchester City after a brief injury lay-off will undoubtedly help, Sagna could've firmly shut the door on Jallet's chances on Tuesday, but instead only added to the worry surrounding what is probably France's weakest position.
Moussa Sissoko, Newcastle United 
3-2 win at the Netherlands, 3′, 4-2 win v Russia, 20′
The former Toulouse player has admittedly looked better in his two matches under Rafa Benitez, but his inclusion in the current squad has been the source of some frustration. Were both Nabil Fekir and Hatem Ben Arfa fully fit, there would likely be even more furore, but as things currently stand, Sissoko's positional versatility stand him in good enough stead to continue to be picked, his pair of anonymous cameos a nod to his perceived importance. That being said, the number of minutes played by Sissoko are a disappointment for a player who started two matches in Brazil.
Yohan Cabaye, Crystal Palace
3-2 win at the Netherlands, on the bench, 4-2 win v Russia, on the bench 
The only outfield player not to see the pitch in the two friendlies, the improvement made by Kante and the assured displays of Lassana Diarra will surely be gnawing at Yohan Cabaye as his club seek to right themselves.
After a fine start to the season in his return to England, Cabaye has been undistinguished of late, and his failure to be included in either match firmly underlines his role in the team, Deschamps clearly preferring more physical and direct players at the base of midfield. Cabaye may yet make the squad, but one has to question whether, especially give the former Lille man's age, whether Deschamps wouldn't do better with a more orthodox defensive midfielder, a la Joshua Guilavogui or Maxime Gonalons.
Mamadou Sakho, Liverpool 
3-2 win at the Netherlands, on the bench, 4-2 win v Russia, 90′ 
Having relegated Laurent Koscielny to the bench after an indifferent display by the Arsenal man against the Netherlands, Sakho was presented with the opportunity to shake off his uneven club form and reclaim his positions as the starter. However, much like Sagna, Sakho was unimpressive, leaving France with no assurances about their preferred centre back pairing.
The injury to Jeremy Mathieu means that there is one less competitor for a place in the squad for the Liverpool player, but even if Sakho enters the summer as a starter for Deschamps, it will be more down to a lack of options than any good work by the player.