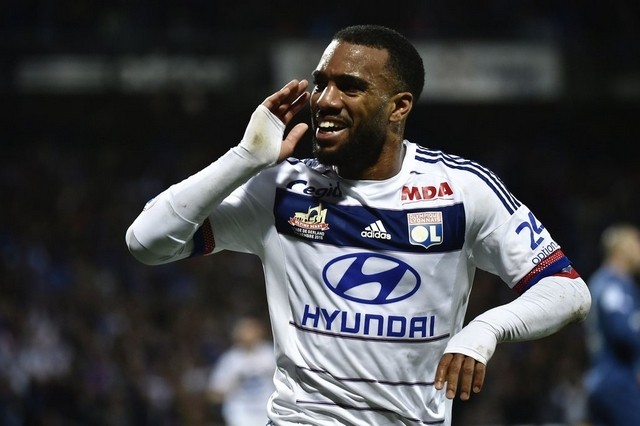 Euro-Bleu Tracker – The Race to Clairefontaine – Week 5
With France having flexed their offensive muscle amidst an uneven defensive display against Russia and the Netherlands last week, this weekend saw Didier Deschamps' charges return to their clubs.
From England to France, from Italy to Mexico, from Champions' League quarterfinals to relegation scraps, the contenders for Euro 2016 are well and fully in the run-in, their last chance to show what they can do before the summer's tournament. As always, here are five players who performed at the weekend, and five who didn't. Each player is listed with the matches their club played, their individual statistics as well as the last date at which they received a call-up to the national side.
Performing: 
Ousmane Dembele, Stade Rennais (n/a) 
3-1 win v Stade de Reims, 68′, 2 goals 
The hype around Rennes' young attacker, Ousmane Dembele, continues to grow, and he showed no signs of stopping at the weekend, leading his club to a crucial victory in the chase for the Champions' League with a brace. Coupled with the indifferent form of Moussa Sissoko, the versatility and talent of Dembele is giving Deschamps a very tough choice, no matter his age.
Christophe Jallet, Olympique Lyonnais (28/03/2016) 
3-1 win at Lorient, 90′ 
Despite underwhelming in the early stages of France's victory over the Netherlands, Jallet did improve as the match wore on, but his club situation was another story, as Rafael had started Lyon's previous two matches, relegating the former PSG player to the bench. With the Brazilian serving a suspension, Jallet was given his opportunity, and while the attack took most of the plaudits, his commanding presence at the back was instrumental in limiting the dangerous Raphael Guerreiro.
Dimitri Payet, West Ham United (28/03/2016) 
2-2 draw v Crystal Palace, 90′, 1 goal 
While a late equalizer by Dwight Gayle may have thrown some shade on West Ham United's Champions' League hopes, the result coupled as it was with wins from both Manchester sides, Dimitri Payet had little to do with it. His incandescent form continued, scoring a free kick to give the Hammers the lead, and he looks set to continue a superb season for the club, with European football looking all but assured at this point. For a player who a player who was persona non grata at the season's start, Payet has become redemption defined.
Alexandre Lacazette, Olympique Lyonnais (18/11/2015) 
3-1 win at Lorient, 90′, 2 goals 
Olivier Giroud, Antoine Griezmann, Andre-Pierre Gignac and Kingsley Coman all got on the scoresheet for Les Bleus in the two friendlies, but the recent form of Alexandre Lacazette means that the attacking positions for the team aren't yet a closed shop. Admittedly there was a moment of fortune in the buildup to both of his goals against Lorient, but there was no hesitation on either of his finishes, Bruno Genesio's 4-3-3 showing that last season's tremendous campaign may not have been an aberration, after all.
Loic Perrin, Saint-Etienne (18/11/2015) 
2-0 win at Gazelec Ajaccio, 90′ 
With the injury to Jeremy Mathieu, there is likely a vacancy for a fourth center back in the squad this summer, and Les Verts' veteran captain returned with a vengeance on Saturday. Despite Gazelec Ajaccio being less than stern opposition, Perrin provided several fine moments in the match, including a important block on a shot by Khalid Boutaib early on. Mathieu may yet return for the summer, but with Deschamps continuing to ignore the likes of Samuel Umtiti, more performances like this are surely putting Perrin in the driver's seat to be the fourth central defender.
Underperforming:
Layvin Kurzawa, Paris Saint-Germain (18/11/2014) 
4-1 win v OGC Nice, on the bench 
Lucas Digne having failed to impress as Patrice Evra's understudy, Kurzawa might have held out some hope that he could be included in the squad come this summer, particularly as his club face a rather meaty fixture list across four competitions in the next six weeks. Even with an important match against Manchester City looming, Maxwell continued to get the nod over the former Monaco player; without a chance to see pitch, Kurzawa will have to wait for his turn.
Geoffrey Kondogbia, Inter Milan (07/09/2015) 
1-2 loss v Torino, on the bench 
Inter's massive summer outlay has done little to improve their standing in the table, as they sit firmly ensconced in the Europa League positions in Serie A, a revitalized Roma and Fiorentina blocking their path to the Champions' League. It would be hard to lay much of the blame at the feet of Kondogbia, but given the fee paid for the player over the summer, this second consecutive match on the bench is a worrying sign indeed. Yohan Cabaye had failed to feature in the two friendlies, leaving some suggestion that his place might be in contention, but by failing to break into Inter's first eleven, Kondogbia is doing himself no favors.
Lassana Diarra, Olympique de Marseille (28/03/2016) 
1-2 loss at SC Bastia, 68′, yellow card 
While Diarra is still all but assured a place in the 23 come this summer, having been one of perhaps two players (along with Steve Mandanda) to emerge from Marseille's horrific season with much credit, the injury suffered Sunday will see him out for up to three weeks, damaging his hopes for a starting role come the summer. It is difficult to pass this kind of judgment against Diarra given where he was a year ago, but with N'Golo Kante also in form and some six years younger, Deschamps must also start building toward Russia 2018, where he looks set to have one of the most talented squads.
Bacary Sagna, Manchester City (28/03/2016) 
4-0 win at Bournemouth, on the bench 
Neither Sagna nor fellow right back Christophe Jallet are first choice at their club, and while Manuel Pellegrini may have been rotating his squad ahead of today's clash with Paris Saint-Germain, given that Sergio Aguero, Kevin de Bruyne and David Silva all also featured, that is  hardly an excuse for the former Arsenal man. Having failed to capitalize on an uneven performance from Jallet in the friendlies, Sagna's inability to displace Pablo Zabaleta may prove to his undoing come the summer, as a lack of match fitness will surely dissuade Deschamps from making him the starter.
Raphael Varane, Real Madrid (28/03/2016) 
2-1 win at FC Barcelona, not in the squad
Compounding an uneven showing in the friendlies, Varane missed the Clasico on Saturday, and the time-table for his return to the squad is uncertain due to an ankle injury. While Laurent Koscielny and Mamadou Sakho were similarly less than impressive in central defence last week, the mere fact that they continue to play, and are first choice for their clubs puts them in the driver's seat ahead of the summer. Not only will Varane have to regain his fitness but also displace Pepe to fully convince Zidane and Deschamps of his worthiness, leaving the young center back with an arduous journey to the starting eleven for both club and country.