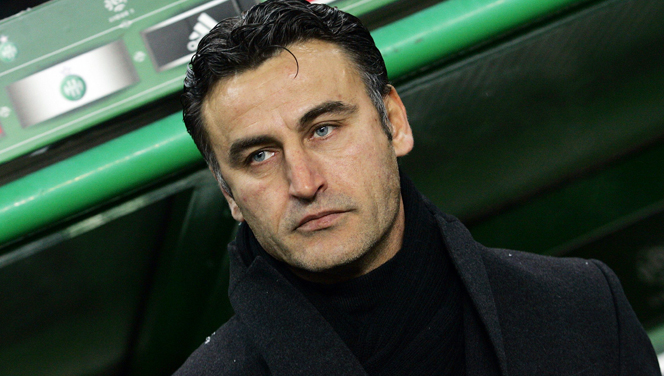 Europa League PREVIEW | Anderlecht 1-1 St Étienne (8/12/16)
This game between Belgian side Anderlecht and Saint-Etienne will decide who goes through in Group C as group winners, with a win for Les Verts all they can aim for.
With qualification to the knockout stages of the Europa League already assured for both sides, this game is all about who wins the group and potentially gets an easier tie on Monday's draw in Nyon.
Anderleht know that a draw will be enough for them to top the group, but a win for Saint-Etienne will be the only result possible if they want to top the group, making this game in Belgium an important fixture for the ambition of both sides.
Team News:
For Anderlecht they have almost a full compliment of players at their disposal, with the only players not available being Andy Kawaya (fractured tibula), Sofianne Hanni (muscle injury) & Dennis Appiah (disrupted calf muscle).
These injuries won't hamper their preparation too much, however, as they over came Kortrijk 1-3 in the Jupiler League this past weekend, but the captain on that day Sofianne Hanni will miss out.
The Belgians played a 4-3-3 with Youri Tielemans playing in the number 10 position, and Lukasz Teodorczky being the central striker and playing as the focal point of the attack.
The holding midfielders of Leander Dendoncker and Nicola Stanciu provided solid protection for the back line, with the latter opening the scoring before getting sent off for a second bookable defence.
If this game is anything to go by, then the key for ASSE will be to stop Tielemans and the wide players, because if they prevent the ball from reaching Teodorczky then they stifle Anderlecht's biggest goal threat. The two players to stop will be Tielemans and Teodorczky, but as this weekend showed Stanciu can grab goals from the midfield.
As for domestic matches, Anderlecht are in fairly good form, winning their past two games against Kortijk and a convincing 7-0 victory over Royal Excel Mouscron.
The victories put Anderlecht 3rd in the Jupiler League, only three points off of top spot. If they can finish top of their Europa League group then they will have time to keep their form domestically and maybe be the next round of European fixtures they could be top.
This game is huge for Saint-Etienne, as they come into this fixture off the back of a poor loss away from home to Rennes, a result that left them 9th in Ligue 1. Les Verts lined up in an attacking 4-3-3 with Ole Selnaes playing as the only holding midfielder.
In general, Christophe Galtier's side just wasn't good enough on the day and maybe they had one eye on this Europa League fixture, but nevertheless their form in Ligue 1 has been less than ideal.
ASSE are currently five points off of a Europa League place, which is bad viewing considering they have only won one game in the league in their last six games.
The Europa League may be a welcoming distraction for Christophe Galtier, but if they don't start bucking their ideas up in Ligue 1, they may not even be in the Europa League next season.
For this game against Anderlecht I expect ASSE to line up in a similar formation, with Nolan Roux leading the line in place of the already injured Robert Beric (hamstring). Ronael Pierre-Gabriel (hamstring) will also miss out, but it's likely that Saint Etienne will maintain their line up from their 2-0 loss this past weekend.
Danger Men:
Nicola Stanciu (Anderlecht)
The Romanian will be a key part of Anderlecht's play Thursday evening, after his goal at the weekend. His midfield partnership next to Leander Dendoncker allows those in front of them like the youngster Youri Tielemans to flow forward and support the attack a lot more often.
Stanciu can also support the attack himself seeing as he has been known to be able to play at central attacking midfield from time to time.
Despite his red card, the Romanian has been touted as a future star for a bigger European club, and if he can help Anderlecht to a good run in the Europa League then maybe him and some other members in this squad can secure some top moves in the summer.
Despite being known predominantly as a central attacking midfielder, Stanciu has adapted well to a more reserved central midfield role where he can run into the box from deep and chip in with a few goals as well, but also has the physical toughness to break up play and get stuck in when called for.
Jordan Veretout (ASSE)
The former Aston Villa midfielder has been a key player for Les Verts this season, but a big performance from Veretout is needed this Thursday if he wants to help his team finish top of Group C.
Veretout will need to link the play together and control the pace of the game in the middle and basically needs to be the man to run the show Thursday evening.
Feeding off of second balls and making late runs into the box may be the way to go if he's to grab a goal, but his dead-ball skills are arguably his most important feature and could be a threat from outside the box.
ASSE will need to make sure that Veretout isn't exposed as he does occasionally have lapses in concentration and may let his man slip by him, but if the rest of the midfield can help him out then he can be key.
Score Prediction:
Anderlecht 1-1 Saint Etienne